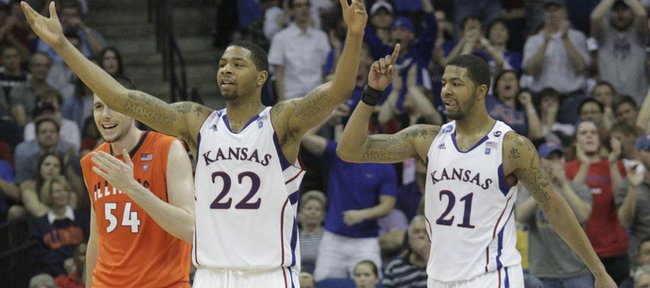 Game time info
If Kansas defeats Richmond on Friday, it would play at either 1:10 or 4 p.m. on Sunday, according to KU officials. The time likely won't be released until after KU's matchup on Friday.
Those who look at remaining seeds — and only seeds — have to consider Kansas University's basketball team the overwhelming favorite to emerge as the Southwest Regional's representative in the 2011 Final Four.
The top-seeded Jayhawks must defeat No. 12 seed Richmond at 6:27 p.m. Friday in San Antonio, and the winner of a semifinal between No. 10 seed Florida State and No. 11 Virginia Commonwealth on Sunday, to advance to the Big Dance from April 2-4 in Houston.
"You can't look at seeds now," said KU senior guard Brady Morningstar. "As long as a team is playing well, they are very capable. That's the key to the NCAA Tournament, playing well. Richmond is playing as well as anybody in the country, it looks like."
The Spiders (29-7) of the Atlantic 10 Conference have won nine consecutive games and 16 of 18, including NCAA Tourney victories over No. 5 seed Vanderbilt and No. 13 Morehead State.
"Maybe to fans because we are a higher seed," Morningstar said of some assuming KU's remaining road to the Final Four will be without any bumps, "but we know as well as anybody you can lose to anybody. In college basketball, crazy things can happen. We've got to stay focused."
No. 2 seed Notre Dame, No. 3 Purdue, No. 4 Louisville, No. 5 Vanderbilt and No. 6 Georgetown all went down in opening week Southwest Regional tourney action.
"I don't consider any of those games upsets," KU junior Marcus Morris said. "Those teams that are still playing are good. Richmond is a great team. I haven't seen VCU that much. They have to be some kind of good. They beat Purdue (94-76). You have to be a good team to beat Purdue."
A quick look at the three other regionals shows a bit more balance, on paper at least.
The East Regional teams still standing include seeds No. 1 (Ohio State), 2 (North Carolina), 4 (Kentucky) and 11 (Marquette). The Southeast Regional has seeds 2 (Florida), 3 (BYU), 4 (Wisconsin) and 8 (Butler). And the West regional has seeds 1 (Duke), 2 (San Diego State), 3 (UConn) and 5 (Arizona).
"We've got a 10, 11, 12 left, but it's not seeds, it's matchups," KU coach Bill Self said of the Southwest Regional contenders. "Those teams can all play. VCU beat Purdue by 18? Florida State by 20 (71-57 over Notre Dame after leading by as many as 23)? Richmond has probably played better than we have so far.
"We saw an 11 seed an eyelash away from beating us in the Elite Eight. We know we've got to be ready," added Self, recalling KU's narrow 59-57 victory over Davidson during the Jayhawks' run to the 2008 national title.
KU's players watched a lot of tourney action on TV in Tulsa last weekend, which helped the Jayhawks gain an even greater respect for the field.
"I watched those guys play. Richmond is a good team. They beat some teams that everybody would lose to," junior Tyshawn Taylor said of a squad that during the regular season beat Purdue, Seton Hall, Wake Forest, Arizona State and VCU, but lost to Georgia Tech, Bucknell, Iona, Georgia Tech and Old Dominion.
"We'll come in there well-prepared and play them like we do everybody else," Taylor added.
Motivation will not be a problem in the Sweet 16.
"It's the time of year we get up for anybody. It could be a high school team we are playing and we'd be pumped and ready," senior Tyrel Reed said. "We respect our opponent. Those teams (in region) are all playing well this time of year. That's a credit to them."
Richmond is the only team in NCAA Tournament history to win games as a 12, 13, 14 and 15 seed. The Spiders beat Charles Barkley and Auburn in 1984, defending national champion Indiana and Georgia Tech in 1988, No. 3 seed South Carolina in 1998.
Richmond became the first No. 15 seed to knock off a No. 2, topping Syracuse in 1991.
"They've had some big upsets in the tournament," Reed said. "They've played very well. We respect them and have to play our best."
Practice
KU's basketball team will practice from 2:10 p.m. to 3 p.m., Thursday at the San Antonio Alamodome. The practice is open to the public. Richmond will hold an open practice from noon to 12:50 p.m.