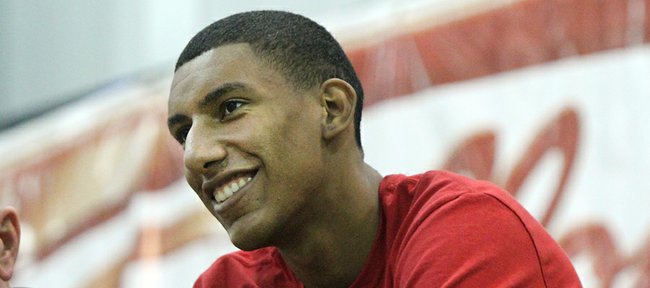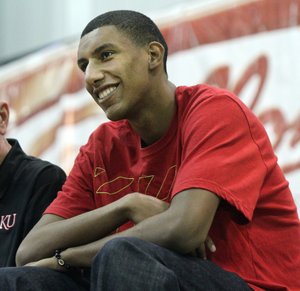 A possible participant in the 2012 Olympic Games on Friday joined Kansas University's basketball team.
Kevin Young — a 6-foot-8, 215-pound shooting guard/small forward who played two years at Loyola Marymount University before working as a volunteer assistant coach at Barstow Community College during the 2010-11 school year — in July will try out for Puerto Rico's Olympic squad.
"I am pretty confident I can make the team," Young told the Journal-World on Friday afternoon after signing a financial-aid agreement with KU.
In July of 2009, Young, whose mom is Puerto Rican, led Puerto Rico to a 5-4 record at the Under 19 world championships in New Zealand.
In averaging 7.7 points and 5.0 rebounds, he exhibited some of the tools necessary to play Big 12 Conference as well as international ball.
"I think it's fun to just run up and down the court. I like to please the crowd with dunks and all that good stuff — blocks and steals," said Young, who averaged 10.7 points and 5.6 rebounds as a sophomore at Loyola Marymount after breaking LMU's school freshman marks for rebounds, steals and blocks.
"I try to play with high energy all the time," added Young, who had 19 rebounds in a game his freshman year against New Mexico State.
Until this week, it was assumed former Perris (Calif.) High standout Young would be resuming his playing career at San Diego State. He signed a financial-aid agreement with Steve Fisher's Aztec program last November. Now attending summer school classes at KU, Young is on a financial-aid agreement here.
"It's a great school as well," Young said of SDSU. "There's nothing they did wrong or anything that made me change my mind. I just figure this is a bigger stage and a lot more opportunity."
KU coach Bill Self sees an immediate opportunity for Young. The Jayhawks lost seven players off last year's 35-3 team.
"I thought we definitely needed a playmaker, and we were able, at a late date, to fall into Kevin, and we couldn't be happier," Self said. "He's 6-8, thin and can play multiple positions. He reminds me a lot of Julian Wright — very bouncy, very athletic. He will most definitely be an impact player for us next season."
Young's goal, of course, is to play as many minutes as possible in his two seasons here.
"I was looking for a place to get a chance to play at. It'd be a great achievement to play at a school like this," Young said. "It wasn't only that, but the coaching and players as well.
"It's a great atmosphere. They take a lot of pride in their school and basketball. They are pretty great teammates. I've met them already. They are good guys. I can't wait to play with them."
Loyola Marymount coach Max Good gives a resounding recommendation of Young.
"To be honest, Kevin wants to play 45 minutes of a 40-minute game. He goes that hard. He's the Energizer bunny," Good told the San Diego Union-Tribune. "I really think Kevin can help most teams in the country in some way, shape or form. There aren't many better run-and-jump athletes in the country."
Young left LMU and headed to juco for academic reasons. Self said Young graduated from junior college and had two years left to play.
"We're really happy," Self said. "I know he wants to be here. It's amazing how recruiting works. You work so hard for some guys and don't get them, and sometimes great opportunities just happen to come your way, and this is certainly a great opportunity for us."
Young had an opportunity of a lifetime last school year, coaching on a volunteer basis at Barstow.
"I helped out coach (Reggie) Howard. I got to run with the guys a little bit to stay in shape," Young said. "I think coach wanted some fresh ideas. It was a great experience, a fun experience. I got to learn a lot about the game from the other side.
"I'd ask the coaches why we do this, do that. It made me realize a lot of things about coaching."
Barstow coach Howard likes what he observed in Young last season.
"He's a tremendous athlete that plays above the rim," Howard told sandiegostate.rivals.com. "He's a quiet kid. I call him the 'Quiet Assassin.' He's got speed, and he plays at 100 percent. He's easy to coach and open to things. If he makes a mistake, he still plays hard. He'll make several plays above the rim."
Young, who figures to gain a lot practicing with his new teammates the rest of June through most of July, is eager to learn more and more about KU.
"The tradition is great. Hearing all the stories right now, I just can't wait to actually create some history myself," Young said.
Notes
KU, which has 11 scholarship players counting former walk-on Conner Teahan, has two scholarships left to give in recruiting. KU has been mentioned as a possible destination for Merv Lindsay, a 6-7 small forward out of Canyon Springs High School in Moreno Valley, Calif. He's visited both KU and Marquette after decommitting from Texas Tech. Also listing KU: Andre Walker, a 6-7 former Vanderbilt player who has one year of eligibility remaining, and Ryan Taylor, a 6-6 former University of Louisville commit (out of Louisville) who has heard from KU, Indiana, West Virginia and South Carolina. ... KU senior Tyshawn Taylor's U.S. team defeated Young's Puerto Rico squad, 82-61, in the 2009 U19 Worlds. ... Young actually completed his associate's degree at San Bernardino Community College last year, while working at Barstow. ... Young said he expected to play "shooting guard and small forward, a little of both," at KU. ... Self on Friday hosted the seventh Bill Self/Lawrence Parks and Recreation Department Golf Classic at Eagle Bend.