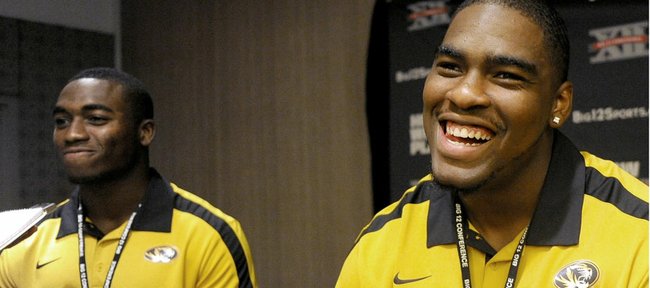 Dallas — A few years ago, Missouri left tackle Elvis Fisher viewed Florida vs. Florida State as the fiercest rivalry in college football. Understandable, considering the 6-foot-5, 295-pound senior grew up in nearby St. Petersburg, Fla.
After three years of playing at Missouri, though, Fisher's idea of the most bitter rivalry took a sharp turn and headed West of the Mississippi River.
"MU-KU is even bigger," Fisher said Monday during Big 12 football media days at the Westin Galleria.
Fisher, alongside MU coach Gary Pinkel and teammates Jacquies Smith, T.J. Moe and Kenji Jackson, met with the media inside the Westin on a 105-degree day in North Texas. Kansas University coach Turner Gill, along with players Tim Biere, Jeremiah Hatch and Steven Johnson, will meet with reporters Tuesday.
"KU, now that's different," Missouri senior defensive end Smith said. "That's something else. No rivalry compares to KU. Any team we play, it doesn't compare to trying to get up and get ready for KU. The rivalry runs deep."
The Border War, which dates back to 1891 in football, has spanned 119 games. The rivalry is so intense the two schools can't even agree on the status of the all-time series. MU contends it leads, 56-54-9, while KU has the series knotted at 55-55-9.
The Tigers have the recent edge in the showdown, winning four of the past five contests, including a 35-7 drubbing of KU on Nov. 27, 2010, in Kansas City, Mo.
For the past four years, Arrowhead Stadium has played host to the Border War. The series is scheduled to take place at Arrowhead through the 2012 season.
"I'd rather play it at Arrowhead just because it's a neutral site in the middle," Fisher said. "It's great because it's kind of like a bowl-game atmosphere when you go there. Everyone gets up for that, and it's just a really good time."
Missouri and Kansas enter the 2011 season with vastly different expectations. The Tigers, picked fourth in the Big 12 in the preseason media poll, return 15 starters from a squad that went 10-3 last season. Missouri figures to roll out an elite defense that ranked No. 1 in the conference and No. 6 in the country last season in scoring 'D' (allowed 16.1 points per game).
Kansas will open the 2011 season with little to no expectations after being picked last in the Big 12 in the preseason media poll. Second-year coach Turner Gill struggled to a 3-9 season in 2010. The rigorous schedule this year, including nonconference tilts against Northern Illinois and Georgia Tech, combined with a round-robin Big 12 slate, suggests the Jayhawks' record might not improve too dramatically.
"I'm still expecting 100 percent effort from those guys (Kansas)," Fisher said. "This is our rivalry game. I mean, they could lose every game and could come out and play their best game ever against us. We could also lose every game, and we're going to bring our best game for KU. That's just how it is. You can't help it.
"I'm not looking ahead to that game (11 a.m., Nov. 26, Arrowhead)," Fisher continued. "But I know when it's KU week."
Media days lineup
Texas A&M;, Baylor, Oklahoma State and Texas joined the Tigers during Day One of media days Monday.
Tuesday's lineup: Texas Tech (11 a.m.), Kansas (11:20 a.m.), Iowa State (11:40 a.m.), Kansas State (noon) and Oklahoma (12:20 p.m.).
Blackmon doesn't regret decision
Oklahoma State wide receiver Justin Blackmon was straightforward when asked about his decision to return to Stillwater, Okla., for his junior season instead of chasing millions of dollars in the NFL.
"I had a lot of people telling me I was pretty dumb for coming back," said Blackmon, who led the country with 20 touchdown catches last year, to go along with 111 grabs and 1,782 yards. "I don't know … They're (doubters) looking at the short term instead of the long term. They're thinking of the quick, easy money. They're not looking at the big picture."
Oklahoma State went 11-2 last season, recording the most victories in school history. The Cowboys have never won a Big 12 Championship.
"I know how great this team can be," Blackmon said. "I know what goals we have set and what we're all striving for … My goals are more team-oriented. I want to win the Big 12, and I want to have a chance to battle for a BCS Championship."
More like this story on KUsports.com