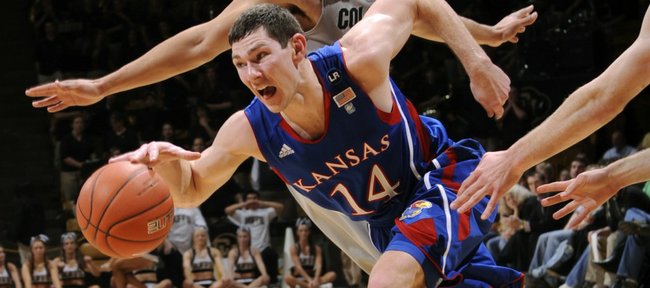 Tyrel Reed, who is the only Kansas University basketball player to have started all 28 games during the 2010-11 season, has proven as steady in the classroom as on the court.
The 6-foot-3 senior from Burlington on Tuesday was named first-team Academic All-America. It's an award chosen by the College Sports Information Directors of America and sponsored by Capital One.
"What a great achievement for Tyrel," KU coach Bill Self said. "To have two guys on the first team back-to-back years is a great accomplishment to the academic support we have here for our guys. This honor is a testimony to how hard Tyrel has worked. I couldn't be happier or more proud of an individual. To me, this is bigger than making any athletic team," Self added.
Reed's former roommate, Cole Aldrich of the NBA's Oklahoma City Thunder, was a first-teamer last year as well as Academic All-American of the year.
Butler's Matt Howard won the top honor this year. He and Reed were joined on the first team by Notre Dame's Tim Abromaitis, Northern Colorado's Devon Beitzel and North Carolina's Tyler Zeller.
"This is an amazing award and I'm just so excited about receiving it," Reed said. "We have a great support staff here with Scooter (Scott Ward, associate AD) being a great academic adviser. I credit my teammates who supported me as well as a great coaching staff."
A pre-physical therapy and exercise science major with a 3.65 grade-point average, Reed graduated from KU in December.
"My goal when I got here was to be the best student I could be and have something to fall back on when I am done with basketball. It's just a really cool honor to get and I am very blessed," Reed said.
Reed became KU's 15th basketball Academic All-America first-team selection. The others: Bud Stallworth (1971), Tom Kivisto (1974), Cris Barnthouse (1977), Ken Koenigs (1977, 78), Darnell Valentine (1979, 80, 81), David Magley (1982), Jacque Vaughn (1996, 97), Jerod Haase (1997), Ryan Robertson (1999) and Aldrich (2010).
Reed intends to earn an advanced degree in physical therapy at KU Medical School, but isn't sure when he'll do that.
"I talked to the PT school and I can defer my acceptance for a couple of years," Reed said. "I'm excited about that."
He will look into playing ball professionally.
"I'd love to see what my opportunities are in that direction and just kind of go where the wind blows me," said Reed, who averages 9.8 points a game, fourth-best mark on the team. He's made 38.8 percent of his threes and 83.1 percent of his free throws.
"I give a lot of credit to my parents," Reed said of his father Stacey and mother Debbie. "They raised me and my sister (Lacie) in a household that fostered an environment that was conducive to learning and always wanting us to strive to do our best."