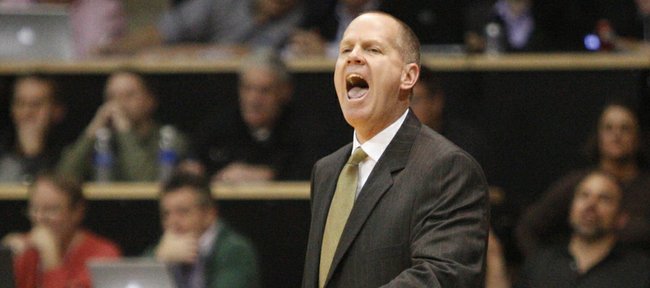 Kansas University point guard Tad Boyle and Oklahoma State floor general Bill Self met 10 times on the hardwood during their college basketball careers, which spanned from 1981-85.
Bragging rights went to .... neither player.
KU, coached by Ted Owens during Boyle's first two years and Larry Brown the final two, and OSU, directed by Paul Hansen, went 5-5 in that span.
"Tad really liked it when they played Oklahoma State and I really liked it when we played Kansas because we were the only guys in the league slow enough to be able to guard. That's a true story, not trying to be funny at all," eighth-year KU coach Self said, cracking a smile.
The two guards — probably known for their shooting and ball-distribution more than their athleticism — will coach against each other for the second time today.
Self's Jayhawks, who beat Boyle's inaugural Buffs' team, 82-78, on Jan. 25 in Boulder, will again meet the Buffs at 1 p.m. today in Allen Fieldhouse.
"I think Tad is a really good coach who has done a great job in the short amount of time he's been there," Self said. CU enters 16-10 overall and 5-6 in the league. KU is 24-2, 9-2. "He's put his system around some good players. He's going to do a great job there. I anticipate him being very successful there."
Boyle — he started 34 games his first two seasons at KU, then came off the bench his final two seasons — played on two NCAA Tournament teams (1984, '85) and was part of the 1984 Big Eight postseason tourney championship squad. He served as team captain his senior year, which was Danny Manning's freshman season.
Rest assured, Boyle — who told CUBuffs.com he has "no preconceived expectations" about how he'll be welcomed by KU fans today — figures to receive a loud ovation during pre-game introductions.
"I don't know, it's been so long since I've come out of the home locker room, it's hard for me to remember," he said, asked by CUBuffs.com how he'll feel being in the visitor's locker room. "I haven't thought about it a lot, to be honest with you.
"I'm sure there's going to be a lot of memories that flow through my mind and body ... but right now I'm just thinking about how we can prepare our team as best we can to go in there and give them a battle."
Boyle — he's worked as head coach at Northern Colorado and as an assistant at Wichita State, Jacksonville State, Tennessee and Oregon — hasn't been back to Allen Fieldhouse in a long time.
He attended a KU-Iowa State game "22 or 23 years ago. I've seen one game since I graduated, which is sad. But when you get into coaching, you're hopping around and there's not a lot time for trips to go back," Boyle said.
Colorado, which has dropped 16 consecutive games to KU overall and 27 in a row in Lawrence, last won in Allen on Feb. 10, 1983. Boyle played for Kansas in that 75-74 setback.
"I remember Jay Humphries (CU guard) had a heck of a game ... he stole my ball at halfcourt. Other than that, I don't have a lot of recollection. But he ripped me at halfcourt, I do remember that," Boyle told the CU Website.
Larry's tree: Self and Boyle are both part of the Larry Brown coaching tree; Boyle playing for Brown and Self working as a graduate assistant on Brown's 1985-86 KU staff.
"There are a lot of similarities (between the two)," Brown told the Denver Post. "The kids come first with both of them. Everybody looks at them as being really nice guys, but there's a real toughness but fairness to both of them. Their values are the same. The program comes first. As talented as their kids may be, they have to learn to play the right way. That's playing hard, playing unselfishly, making their teammates better, having respect for the game."
Boyle told the Post he phoned Brown when Boyle decided to leave his job as a stockbroker to seek a career in coaching many moons ago.
"He told me that he didn't have a lot of advice," Boyle said, "but if my teams rebounded and played defense, I'd have a chance to win just about every night out."
Period of rest: CU hasn't played since last Saturday's 58-56 home victory over Kansas State.
"I think it's a great time for us," Boyle said of the break, one in which point guard Nate Tomlinson has tried to bounce back from an ankle injury that's kept him out two games. "Obviously, coming off two close games (including 73-70 overtime loss to Texas A&M; on Feb. 9 in Boulder), we were a little physically tired and maybe a little mentally tired as well. It comes at a good time, to get our batteries recharged."
More like this story on KUsports.com