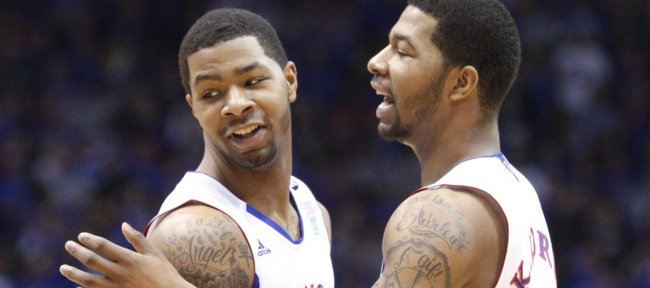 Podcast episode
The Kansas University men's basketball team's most recent loss — 84-68 to K-State in Manhattan on Monday — left many Jayhawks scratching their heads about what went wrong. In this "Spodcasters" episode, the guys (Matt Tait, Tom Keegan and Gary Bedore) discuss what led to the Jayhawks' undoing and what ...
Some highly publicized transgressions on the court during the 2010-11 basketball season have called into question the character of Kansas University's Morris twins.
"What you see on TV and that kind of stuff is not necessarily who they are," KU coach Bill Self stated emphatically on Wednesday's weekly Hawk Talk radio show.
He was speaking two days after Markieff Morris was called for an intentional foul for clipping Jacob Pullen in the face while setting a screen in Monday's KU-Kansas State game. Markieff also committed an intentional foul on Feb. 7 versus Missouri.
Marcus Morris, meanwhile, was ejected for committing a flagrant foul on Dec. 22 at Cal-Berkeley and also whistled for a 'T' on Feb. 5 at Nebraska.
"During games, at times when emotion gets involved, the emotion gets the best of them. It's not really who they are, but it's a maturity thing," Self said.
"They have developed a reputation that is not favorable at all. It is to the point now it's going to cost them. We thought we had this thing addressed to the point we wouldn't have to revisit it again. We have had to revisit it."
Self said any punishment would remain in-house. But he's certainly not taking the repeat intentional fouls lightly.
"I'll deal with it my own way with them, but certainly it hurts everybody associated with our program," he said, adding, "To me, it's bigger than that. To me, it hurts everybody that supports KU because that is not who we are. That's not what we stress. They know that. They understand that. They get that, but still yet it happens."
Self said replays showed Markieff did deserve the whistle Monday, because of a new rule that automatically calls for an intentional foul when a player hits another above the shoulders.
"I think the reason they got the foul is because it was a twin. That's my personal opinion, but still it was the right call," Self said. "Kieff said, 'I didn't intentionally do it.' I said, 'I know you didn't.'
"He was screening. You've got a 5-foot-10 guy running through there, (he) ducks down, and it's kind of the perfect storm, so to speak. I think it was the right call based on a bad rule.
"I don't care what anybody says. Every official tells me it's a bad rule. But it is a rule. It should have been an offensive foul (on Markieff), no question. Anything above the shoulders is an intentional foul so that's frustrating. It was not like an intentional deal, 'I'll go do this,' but it was a lack of discipline, without question."
The bottom line is, Self supports the twins 100 percent.
"They are good kids. They are fun kids, and I enjoy coaching them. They drive me absolutely nuts, but their personality ... I love coaching 'em. You can ask any of our players. They are great teammates."
Message forgotten
Self was disappointed his squad lost its composure two days after meeting with former New York Knicks great Bill Bradley, who spoke with the squad about teamwork and other things before the Iowa State game.
"I told the team, 'That speech lasted 72 hours,''' Self said on Hawk Talk. "It's so disappointing two days after we talk about this — and guys buy into it — how quickly it can change when things don't go your way. You've got guys on an island trying to survive, as opposed as knowing somebody's got your back. That's what happened in Manhattan.
"We didn't have a group that night that rallied around it (loud Bramlage Coliseum crowd). We weren't a team. We were individuals."
Still, as Self said, "It's one game in a very long season. It's a marathon. We got our butts whipped there in '08 (and still won national title). The difference is after losing three of five that year, the guys said, 'OK, that's enough.' This team has to say that, even though it's just one bad performance."
KU also lost that season, 61-60, at Oklahoma State before rattling off 13 wins in a row to win the NCAAs.
"On the bus coming back from Stillwater, we said, 'We won't win another game. We are so soft. We can't guard. We don't care and this, this and this.' All that team did was go on to win 15 (13) in a row to end it.
"I know there's a chance we can get this thing turned around. It's sports. How many great pitchers go out and get shelled in three innings, and you think they're never going to win another game? Until they take the mound again?"
He did say this team has to develop a tougher defensive mind-set before thinking about accomplishing what happened in the postseason of '08.
"That team hung its hat on guarding people. This team hangs its hat on scoring. It's a different mind-set, not what I like, but it's been the makeup of this team so far. If we get better, we'll have a shot. If we don't, we won't have a shot. It's not that complicated, but I know the guys care."
Injuries
Self said he hoped sophomore forward Thomas Robinson (meniscus surgery) would be available for the Oklahoma game on Feb. 26. He said freshman Josh Selby (stress reaction, right foot) is still "probably a week away from really being able to help us. He practiced full-speed today. He looked better. He's a little ways away from giving us that punch we need him to give us."
Chol decision Thursday
Angelo Chol, a 6-9, 210-pound forward from San Diego's Hoover High, will choose either KU, Arizona or North Carolina in a 2:45 p.m. news conference at his high school.
More like this story on KUsports.com