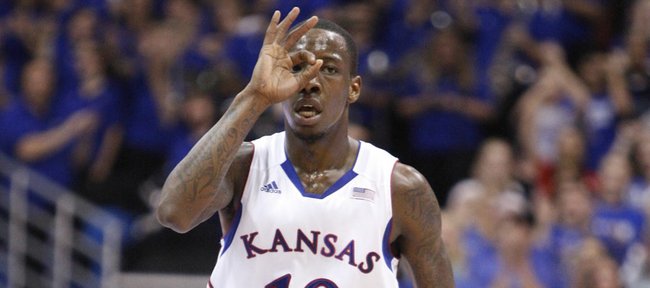 Kansas coach Bill Self believes guard Tyshawn Taylor is taking more criticism this season than is warranted.
"I can do that probably more so than anybody, because he's the point guard and he's the quarterback and he's more responsible than anything," Self said during his Hawk Talk radio show on Monday. "But the bottom line is, instead of seeing sometimes what he doesn't do, I think we should look at what he does do. Because if you look at us, we don't beat Long Beach State if he doesn't play. And we certainly don't beat Ohio State if he doesn't play."
Playing with a torn meniscus in his right knee, Taylor scored 12 points with four assists and five turnovers in 34 minutes against LBSU on Dec. 6.
Against Ohio State, Taylor contributed nine points to go with a career-high 13 assists in 35 minutes. He also had seven turnovers.
"He can do so many things to get in the paint to force help to get us easy baskets that when he doesn't make some plays, we look at the negatives as opposed to all the positive things that he does," Self said. "He's got to tighten his game up. We've talked about it. We're going to watch a lot more tape. He's got a chance to watch a lot of tape right now and (we can) try to help him with that.
"But gosh, does he have a lot of talent. I mean, that is one talented kid that's a phenomenal athlete."
Self has his own theories about why Taylor is criticized more than others. For one, the guard has been at Kansas a long time. He's also had some off-the-court incidents in the past.
Taylor had surgery to repair the torn meniscus Sunday. The senior could miss up to three weeks depending on his recovery time, though Self said it's possible Taylor could be back as soon as KU's game Monday against Davidson.
"Nobody anywhere can question how much it means to him to be out there and how much he wants to play and wants to win," Self said, "because there's a lot of people that would say, 'No, no, no, go ahead and do this (surgery),' and, 'I don't want to risk anything.' Not that he was risking anything from a medical deal, but he put it in his rear-view mirror and never looked at it again."
Self said Taylor didn't use his injury as an excuse.
"That's what toughness is — if you know something's going on, and you're able to put it in your rear-view mirror and not even think about it," Self said. "He did that, and of course, because of that, we had a pretty good week."
Taylor's effort Saturday came against one of the top point guards in the country.
Ohio State sophomore Aaron Craft posted 11 points, six assists, five rebounds and two steals to go with three turnovers in his team's 78-67 loss to Kansas.
"Here's what I think, and I could be wrong," Self said. "I think that Craft is the best defensive guard that we'll see all year. I think he's the best true point guard we'll see all year. I think he's as tough as any guard we'll see all year. I think he's as smart as any guard that we'll see all year. And I think Tyshawn Taylor is just as good.
"So that's how I feel about Craft, that he's terrific, but I think Tyshawn is too. He's just got to make some better decisions."
Robinson wins award
Kansas forward Thomas Robinson was selected as the Oscar Robertson national player of the week by the U.S. Basketball Writers Association.
As the Big 12 conference player of the week, Robinson was nominated for the weekly award, which is chosen by a representative of the USBWA board of directors. The 6-foot-10 Robinson is the first recipient of the award this season.
Robinson, a junior from Washington, D.C., averaged 23.5 points and nine rebounds in victories last week over Long Beach State and Ohio State.
Holiday Clinic
The 2011 KU men's basketball Holiday Clinic will be from 1-3:30 p.m. on Tuesday, Dec. 27, at Allen Fieldhouse for boys and girls in second through sixth grades.
The annual clinic is $85 and will include instruction, a camp T-shirt, a Junior Jayhawk Basketball, a 2011-12 KU basketball team picture and one GA ticket to KU's Dec. 29 home game against Howard. There also will be an autograph session afterward.
For more information or to register for the camp, go to billselfbasketballcamp.com.