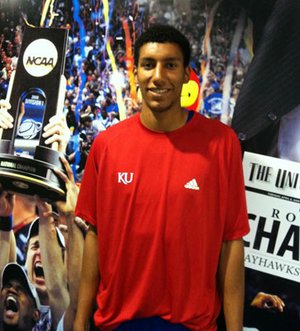 Kansas University basketball newcomer Kevin Young didn't cite Tyshawn Taylor's speed, Thomas Robinson's strength and/or Elijah Johnson's hops when asked to identify what's impressed him the most so far about the 2011-12 Jayhawk team.
The 6-foot-8, 190-pound junior transfer out of Loyola Marymount University named an intangible — one that figures to serve the squad well in a rebuilding/reloading season.
"It's the high level of basketball IQ," said Young, who arrived on campus in mid-June — and, save for a two-week trip to his hometown of Perris, Calif. — has been busy bonding with his new teammates.
"Like before we went out to play open gym yesterday, the older guys took me aside and a couple other younger guys and taught us the plays to let us know what's going on. While we play, if we make a mistake that they know coach (Bill Self) would get on us for, they get on it themselves to mentor us," Young added.
He said the main leaders in daily pick-up games have been juniors Robinson and Johnson and senior Taylor.
"It's mostly a group effort. Everybody has something to say," Young said. "In the post, if I don't seal the right way, Jeff (Withey) or Justin (Wesley) will come over and say, 'You've got to do it like this.' If I don't cut to the basket, (Conner) Teahan or Jordan (Juenemann) will be, 'Hey, you've got to do this.' It's a great team and great bunch of guys to be around."
It goes without saying Young has also been impressed with the actual action on the court.
"Tyshawn and Thomas — those two on the court at the same time — it's pretty amazing," Young said. "(Robinson) is very smart and very skilled. He wants to push us as much as we want to push ourselves. Tyshawn will sit there and coach us on the side when we are not in the game or when we are in the game he'll push us as much as T-Rob."
Young — he didn't play last year while focusing on academics and completing his associate's degree at San Bernardino Valley College, while also working as a volunteer assistant coach at Barstow CC — is part of a large incoming class that includes Braeden Anderson, Ben McLemore, Merv Lindsay, Naadir Tharpe and Jamari Traylor.
"I guess more knowledge to the game, seeing it the way a lot of others haven't seen it," Young said, asked what he brings to the table. "Running up and down the court even in open gym, hustling for every play, diving for loose balls, all the little things.
"I can shoot a little bit," noted Young, who hit 45.4 percent of his shots in two seasons (242-533) at LMU, including 27.3 percent of his threes (38-139).
"I love to go get the ball because it's the one aspect of the game you can be selfish in. When it comes to rebounding you can go get every rebound. I like to look at every missed shot as a pass to me pretty much. As long as I think of it that way I am going to go get every rebound or at least try to get every rebound."
His teammates have noticed a focused player.
"He's real active. He works hard with and without the ball," KU junior forward Travis Releford said of Young, who has gained 10 pounds since arriving at KU, with designs on weighing 215 by the start of the season. "One of the big parts of his game is running the floor, making hustle plays. His jumper is good. He's a good kid on and off the court."
KU coach Self noted that Young, who averaged 10.7 points and 7.2 rebounds a game his soph season at LMU, "is a guy who gives us a perimeter athlete who is long. Travis is the only one we have like that. Kevin gives us a second one. He can play the 3, 4, wherever. He can play the 2. He's so mature."
The maturity was helped by Young spending a lot of time around coaches last season. He worked for Barstow coach Reggie Howard the first semester and practiced with the women's team at San Bernardino Valley the second semester.
"I helped out, gave coaching drills," Young said of his work at Barstow. "Seeing the way players view coaches from the other side ... just the body language and the little comments or small remarks, sometimes they are unacceptable. To see that from the other side made me grow as a person and player both."
With the women's program at Valley ... "I ran through drills with them," he said. "The coach (Susan Crebbin) helped me with my jumper. It wasn't about working on what I was good at. It was about working on my ballhandling, my passing, my setting screens, all the little things to make my game better."
Young is highly-regarded enough to have landed an invitation to this summer's Puerto Rico Olympic training camp where he likely would have earned a spot on Puerto Rico's 2012 Olympic team. Young declined in order to spend some time with his family in California and also not miss any class time at KU. If all goes well, he'll play in the Olympics in 2016.
"My grandparents grew up there. They've passed a rule that third generations can play on national teams," Young explained. "I took advantage of that and played for the 19 and under team (last summer when he averaged 7.7 points off 55.2 percent shooting in winning five of nine games at U19 championships). It was a great experience. It showed me what I had to do to help the team win was more important than being the best player on the team, than becoming the star of the team."
He said he's ready to take on whatever role is asked of him at KU.
"I'm approaching it like I'm a new guy to the team and I've got to earn my spot. I'm staying in the gym as much as I can," Young said. "There's been so much hard work to get here. I will keep working hard every day.
"I want to help bring another title here. Walking through the hallways, seeing all the pictures up there (of 2008 title team) and seeing all the history ... I think we can be part of that as well here, not just being another player that goes through Kansas or just being another team. I feel like we can actually win it all."
More like this story on KUsports.com