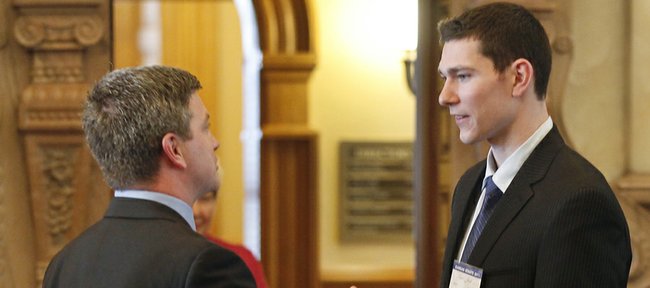 Topeka — Tyrel Reed, the winningest player in the history of Kansas University men's basketball, was honored Wednesday by the state Legislature.
Reed, accompanied by his parents, Stacy and Debbie Reed, was commended in both the House and Senate for his athletic and academic achievements and for being a role model to young people.
"Tyrel Reed exemplifies excellence in basketball, academics and life," said Sen. Jeff King, who serves Kansas' 15th District, which includes Burlington, Reed's hometown. "I am honored to join Senator Jeff Longbine in recognizing Tyrel's many accomplishments and the fine example he sets for Kansas kids."
Rep. Barbara Ballard, D-Lawrence, introduced the Reeds on the floor of the House of Representatives. The three-time academic all-Big 12 pick who graduated from KU in 3 1/2 years as a pre-physical therapy and exercise science major with a 3.65 GPA received a standing ovation.
"It's really cool to be recognized for something besides basketball," Reed said. "Basketball is part of it, but trying to be a good person, it's pretty cool. I'm just a normal kid. I don't deserve any of these awards in my eyes, but it is really cool to be recognized for something like this.
"Live your dream. If you want to be a Jayhawk, play basketball, football or go to any of our other state schools, go after your dream as hard as you can and pursue it," he said. "If you believe hard enough and work hard enough, it will happen."
Reed graduated from Burlington High School where he led his team to three state playoff appearances, one title and a 95-4 record. He has been accepted to the physical therapy program at KU Medical Center.
— Assistant sports editor Gary Bedore contributed to this report.
More like this story on KUsports.com