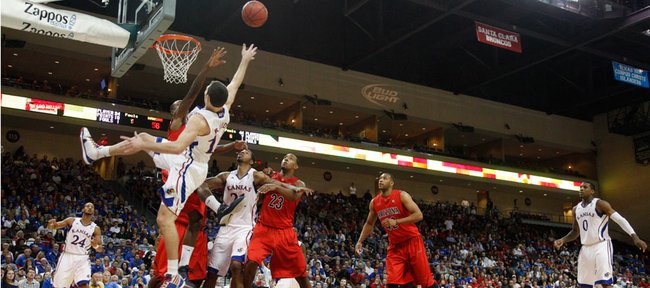 Podcast episode
Kansas coach Bill Self talks to reporters following the Jayhawks' 87-79 victory over Arizona on Nov. 27, 2010.
Las Vegas — Kansas University's basketball players rejoiced during the first of what they hope will be a batch of mid-court trophy-raising ceremonies on Saturday night at Orleans Arena.
Jayhawk seniors Tyrel Reed and Brady Morningstar hoisted the silver Las Vegas Invitational Cup up high after a thrilling, closer-than-the-score-indicated 87-79 championship victory over Arizona.
"Coach said when we are in a tournament our goal is to win it, whether the Big 12 regular-season, the postseason, the NCAA Tournament or any preseason tournament," said Reed, whose bank shot and free throw sliced a 60-56 deficit to one point with 9:31 left. Tyshawn Taylor followed with two free throws to give KU the lead, and Reed hit the lane for a driving layup and Markieff Morris an inside shot, putting the Jayhawks on top for good, 65-60.
"We'd definitely like some more of these," Reed added.
The Jayhawks' victory over Arizona came a day after a 57-point rout of Ohio. KU had won its first five games of the season by an average of 40.8 points a game.
"It was a great win," said tournament MVP Marcus Morris, who sat for a long second-half stretch after picking up his fourth foul with 16:11 to play. "It was our first close one without Sherron (Collins) and Cole (Aldrich). It was a good test for us."
Morris finished with 16 points and grabbed nine rebounds while playing just 25 minutes. His brother Markieff (15 points, three boards in 20 foul-plagued minutes) and Travis Releford (10 points, four rebounds) also made the all-tournament team.
"Every huddle I pulled 'em together and said, 'Finish the game up,''' Marcus said. "After the game I said, 'Way to stick with it.' They knew they had to."
KU survived a 27-point onslaught from Derrick Williams, who made the all-tourney team with Solomon Hill (nine points).
"I don't think anybody would argue he (Williams) was the best player on the floor tonight," said KU coach Bill Self, happy to see Williams foul out with 2:27 to play.
The Jayhawks led, 67-65, with 5:07 left, then went on a 8-3 run to lead, 75-68, at 3:37. Thomas Robinson had a vicious dunk off a lob from Tyshawn Taylor and had six of his 14 points in that surge.
"They are a good team. I think they were picked second in the league," Self said of Arizona and the Pac-10. "It was good to play a good team and play a close game.
"We won and had to make some plays to do it, to play smart down the stretch. It will be a good teaching tape."
Some keys?
"I thought the twins and Travis were good," Self said. "Thomas Robinson off the bench really bailed us out. We played our experience down the stretch. Thomas had an unbelievable play on that lob."
Kansas led a fast-paced game by a whopping 16 points early (31-15 at 11:21), but that lead dipped to five (33-28) at 7:13. The Jayhawks, who were paced by Releford's 10 points, nine from Marcus Morris, eight by Robinson and seven by Markieff Morris, led, 44-39, at the break.
KU opened with a 6-0 lead, forcing Arizona coach Sean Miller to call a timeout at 18:40. Markieff Morris and Marcus Morris scored off feeds from Taylor, who had a breakaway layup.
Up 15-12, KU rolled, 16-3, to grab a 31-15 lead. Robinson scored six points, Marcus Morris three, Releford three and Elijah Johnson and Tyrel Reed two.
Arizona used a 10-0 run to slice a 33-18 deficit to 33-28. At that point, Self called timeout.
Out of the timeout, Releford scored seven straight points for KU.
KU will meet UCLA at 8 p.m. Thursday in Allen Fieldhouse.