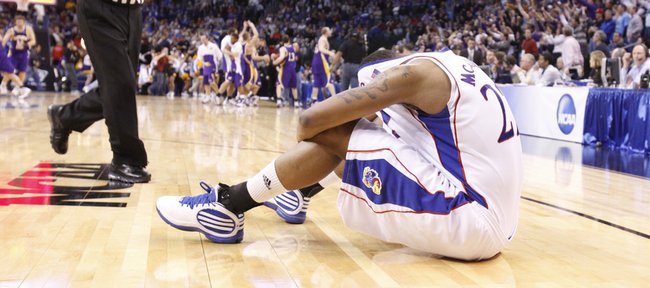 KU scoring — Marcus Morris 16, Aldrich 13, Colllins 10, Markieff Morris 10, X. Henry 8, Reed 8, Taylor 2.
KU was 24-for-54 from the floor (44.4 percent), 6-for-23 from three (26.1 percent) and 13-for-18 from the free-throw line (72.2 percent).
UNI was 22-for-55 from the floor (40 percent), 9-for-26 from three (34.6 percent) and 16-for-19 from the free-throw line (84.2 percent).
KU out-rebounded UNI, 38-30. KU had 15 turnovers, while UNI had nine.
UNI defeats KU, 69-67
Farokhmanesh is fouled, and he makes the first free throw to seal it. He adds the second for good measure.
Marcus Morris hits a three with 0.4 seconds left, but it's too late. UNI inbounds the ball, and the clock runs out.
Marcus Morris drops to his knees, openly weeping on the court. It takes a couple minutes for teammates to pick him up.
UNI completes the 69-67 shocker.
UNI 67/KU 64 — 6.2 seconds left in game
Ahelegbe is fouled, and he makes one of two free throws.
Collins misses the Mario Chalmers play drawn up for him. Taylor misses a three. Reed gets the tip-in, but KU needs a true miracle to win this one.
UNI 66/KU 62 — 23.4 seconds left in game
UNI breaks the press, and Farokhmanesh is left by himself. He thinks about taking the three, then takes it. Swish. UNI up four again.
Reed passes up a three, and he drives to the lane, banging into the UNI defender for a charge before getting a pass off. He lays his head on the court for a few seconds after the call.
UNI 63/KU 62 — 42.8 seconds left in game
Farokhmanesh misses a three. KU with the board.
Marcus gets another generous whistle inside, and he makes one of two free throws.
Reed with a remarkable steal, saving the ball from going out of bounds just like Collins did two years ago in the title game. KU can't capitalize, though, as Xavier Henry misses the front of a one-and-one.
Jake Koch is fouled, and he calmly sinks two free throws.
Collins takes it all the way to the basket, but he's called for a charge. Self screams to himself on the sideline, in disbelief about the call. It did look like the UNI defender was still sliding defensively.
Adam Koch with another offensive rebound inside, this time over Collins. The conference player of the year slams it home, giving UNI a seven-point lead.
Taylor is fouled, and he makes two free throws with 1:07 left.
UNI launches its inbounds pass the length of the court out of bounds, and that's the steal that KU needed.
Marcus Morris gets the benefit of a late, late call underneath, and he makes both free throws. KU is down three with 53.8 seconds to go.
Marcus gets away with a push on the full-court press, and Ahelegbe steps on the end line. Another backcourt turnover for UNI.
Collins forces things, taking two steps in the lane before putting in a short floater. Timeout KU, which has cut the lead to one.
UNI 59/KU 53 — 3:38 left in game
Markieff Morris with a two in the lane, drawing a rare foul on a shot attempt. He makes the free throw — just KU's seventh free throw attempted today.
Marcus drives into traffic, bangs into two bodies, then gets a foul call on UNI. That whistle was questionable. Marcus makes one free throw, and KU is down five.
Adam Koch gets away with an offensive foul inside, using his head to shove off Markieff Morris before putting in a turnaround. Self jumps twice up and down on the sidelines, furious for the no call.
KU gets it to Markieff inside, and he puts in the bunny.
Marcus steals it away on the other end, and Collins is grabbed in transition. He makes both ends of the one-and-one, and this place is going nuts with KU down just three.
Johnny Moran answers with a three from up top — the biggest shot of the game for UNI.
Taylor and Collins both miss threes, and UNI comes down with the board. Even with the comeback, KU still is in a deep hole with 3:38 left.
UNI 52/KU 45 — 6:54 left in game
Collins puts in a floater in the lane, but on the other end, Adam Koch throws in an uncontested alley-oop. Give those two points to Jacobson on the sideline.
If KU is going to press, Self needs to put Taylor back into the game. Reed has improved his defense, but Taylor's the guy you need for steals.
Aldrich gets it inside, and he puts in another jump hook.
Farokhmanesh misses a three, but Collins is out of control in the lane, turning it over yet again. He's a liability out there for the Jayhawks right now.
Marcus Morris with a spin move in the lane, and the Jayhawks cut the deficit to seven. Jacobson's "shoot-whatever-shot-you-want" philosophy served the Panthers well in the first 30 minutes, but it hasn't in the last three, as UNI is taking some wild shots.
UNI 49/KU 39 — 11:03 left in game
Aldrich with an offensive rebound, and he puts in a jump-hook for two.
Finally, KU presses, and Marcus Morris gets a steal on the sideline. Collins' layup is swatted, but Marcus comes away with the loose ball. Xavier Henry uses good body control to avoid a charge and put in a short shot in the lane.
Timeout UNI, as Jacobson will reset his team's offense.
Kerwin Dunham follows with a drive for two with a foul, and UNI has quickly regained its 10-point lead and the momentum.
UNI 47/KU 35 — 12:31 left in game
Collins with a turnover, and his bad day continues.
Xavier Henry puts in a three from the corner. That's big, but KU hasn't put together many runs all game.
Add another turnover to Collins' stat line. He's trying to do way too much out there.
Jake Koch buries a three for UNI, and the lead is up to 12. Timeout Self. KU hasn't tried anything new defensively, and it seems like it's about time to try something.
UNI 42/KU 32 — 15:26 left in game
Collins with a drive to the rim, and he drops the ball to Aldrich for a layup.
Aldrich blocks Eglseder on the other end, and KU gets possession after the ball caroms out of bounds off a UNI player.
Farokhmanesh with a behind-the-back pass in transition, and Adam Koch puts in the layup.
Eglseder follows with a shot over Aldrich, and the lead is up to 10.
Collins with a layup, but Eglseder with another jumper. He screams out to the crowd to get the fans going.
Self has to throw a press at UNI. The Jayhawks are running out of time, and they need to speed the pace of the game up.
Collins forcing things now, as he puts up a guarded 18-footer that bricks away. That's going to cost the Jayhawks 30 seconds on the other end.
KU scoring — Marcus Morris 7, Aldrich 7, Reed 6, Markieff Morris 3, X. Henry 3, Collins 2.
KU was 10-for-24 from the floor (41.7 percent), 4-for-11 from three (36.4 percent) and 4-for-6 from the free-throw line (66.7 percent).
UNI was 12-for-26 from the floor (46.2 percent), 6-for-12 from three (50 percent) and 6-for-8 from the free-throw line (75 percent).
Both teams had 16 rebounds at halftime. KU had eight turnovers, while UNI had four.
Halftime thoughts
• An eight-point lead is more daunting against a team like UNI. The Jayhawks will need to outplay the Panthers by quite a significant margin to make up eight points in 20 minutes, especially when the possessions are going to be so limited.
• Sherron Collins hasn't been able to get anything going against UNI. He was just 1-for-4 in the first half with two turnovers. UNI is packing everything into the lane, making it difficult for him to drive. Which leads me to my next point ...
• KU needs to start firing away from three. Because the Panthers are focusing their defense in the middle, the opening appears to be on the outside. The Jayhawks also have had some success getting offensive rebounds on three-point tries.
• Just like last year against Michigan State, turnovers are just killing the Jayhawks. UNI forces just 12.1 turnovers per game, but KU has eight giveaways already. The Jayhawks absolutely have to value every possession from here on out to have a chance at a comeback.
UNI 36/KU 28 — Halftime
KU is getting beaten badly on the offensive boards. Not only does one UNI possession take a minute off the clock, but Lucas O'Rear ends the possession with a tip-in over Aldrich. UNI has six offensive rebounds, and there's no excuse for that for the Jayhawks.
Collins tries a drive, but good defense is waiting for him, and UNI forces a tie-up.
The Panthers don't get a shot off in the final seconds, but they still take a commanding eight-point lead into the break.
UNI 33/KU 26 — 2:59 left in 1st half
Farokhmanesh puts up a stepback, fadeaway three from the corner that swishes through. He's not missing today (3-for-3 from three-point range). Meanwhile, UNI has hit six of 10 threes (60 percent).
Farokmanesh with his first two, a fadeaway in the lane that falls through. The Panthers have their largest lead at nine. Self calls another timeout.
KU with a well-designed play out of the break. The Jayhawks run the weave, and Taylor curls into the lane before throwing a lob to Marcus Morris for an alley-oop slam.
UNI 28/KU 23 — 5:28 left in 1st half
Tyrel Reed with a wide-open three from the corner. KU now 3-for-6 from deep. The Panthers are giving up open looks from the outside.
The loudest cheer of the day comes at the 10:15 mark, as UNI is called for its first foul. A few seconds later, the ovation is even louder when the Panthers pick up foul No. 2.
Aldrich gets it in deep, and he's bumped on his way up for the shot. He makes one free throw.
KU is picking up the defense now. Eglseder has the ball slapped away in the post. The Jayhawks come up empty on two key possessions, though.
Another deep three, this time by Ali Farokhmanesh. His range knows no bounds.
Reed answers with a three for KU. He's now given the Jayhawks two big threes.
Eglseder answers, rattling in another three. He's doubled his three-pointers for the season in the first 13 minutes of this game.
Aldrich puts in a jumper, and the pace picks up. Sherron Collins takes the ball to the rim for two, and the Panthers aren't adjusting well to the faster pace.
Farokhmanesh answers once again, though, swishing an open three. KU can't get the deficit under two.
UNI 17/KU 12 — 11:44 left in 1st half
Kwadzo Ahelegbe puts in an 18-foot jumper. The Panthers have hit five of their first seven shots (71.4 percent), a trend that can't continue.
Northern Iowa doesn't force a whole lot of turnovers, but KU is still giving it away at a high rate. Markieff Morris launches a pass well over Tyrel Reed's head and out of bounds, and that's KU's third giveaway.
Marc Sonnen gets all the way to the rim for a layup, and UNI has rebuilt its eight-point lead.
Self is pretty high-strung on the sideline. He yells at Marcus. He yells at an official. He yells at Markieff. Not sure it's the best thing to do with this team playing tight already.
Marcus Morris rattles in a three. The Jayhawks' best looks are coming from deep.
After a foul from Marcus Morris, Self screams across the court to an official: "Six to nothing!" Sure enough, KU has six team fouls, while UNI has none.
UNI 12/KU 9 — 15:39 left in 1st half
Before the tip, Xavier Henry hugged each of KU's starters and whispered something in their ears. I haven't seen him do that all year.
Cole Aldrich puts in a long jump-hook on KU's first possession to start the scoring.
Jordan Eglseder was only 1-for-9 from three this entire season, but on the Panthers' first possession, he's determined to get one to go down. He misses the first, but after an offensive rebound, he drains the second.
Eglseder follows with a jumper over Aldrich, and Kwadzo Ahelegbe is fouled in the lane by Aldrich, hitting both free throws.
Marcus Morris' shot rattles out, and Johnny Moran follows with a deep three. That's a 10-0 run for UNI, and the Jayhawks have dug themselves a 10-2 hole. Timeout KU. An eight-point deficit to UNI seems like more considering how few possessions the Panthers play.
Aldrich misses inside, but he grabs the loose ball and puts in the second try for two.
Eglseder gets the ball deep inside, though, and drops it into the hoop with his left hand. Aldrich didn't offer much resistance there.
Xavier Henry knocks down a contested three for KU. Hitting those outside shots will be a huge key for the Jayhawks, as UNI gives up a lot of points from beyond the arc.
Marcus Morris with a strong move on the baseline, putting in a layup high off the glass.
Markieff Morris doesn't do something Self wants, and Self lays into him at the media timeout. Nice comeback for KU, though, to cut the eight-point deficit immediately.
4:28 p.m.
Honestly, I'm a bit shocked at our poll on the left and with the predictions below that have KU scoring 70 and even (gasp!) above 80.
Northern Iowa plays the third-slowest of any team in the NCAA at 59.1 possessions per game. KU's average is about 1.2 points per possession. Multiply the two, and KU would score about 71.
But UNI's defense is much better than an average defense. And I would think that the Panthers might even try to play slower than normal today to try to pull off the upset.
To me, this game is more likely to be in the 50s than it is the 70s.
Give me KU 62, UNI 56.
4:20 p.m.
Looks like the bad weather is keeping some folks away from today's game. With 20 minutes to go till tip, still two-thirds of the upper deck remains unfilled.
3:12 p.m.
Here are some interesting quirks I found out about Northern Iowa yesterday (that didn't make this story):
1. UNI coach Ben Jacobson coaches like an offensive coordinator in football.
The Panthers run offense much differently than many other teams in Div. I.
UNI has more than 100 plays it can run (based on 20-30 original sets), and all of those are learned through repetition in practice. In fact, 6-foot-6 junior guard Kerwin Dunham told me that it takes the Panthers at least a half-hour to go through their offensive plays in practice.
Here's where Jacobson comes in. After scouting the opposing team, he picks out a few sets that he believes will be effective against the opposition. Then, in practice, the Panthers go over those sets.
Not only do the Panthers have plays, they have counters to those plays. So if Jacobson sees his team getting defended one way, he'll run the counter play to expose the opposing team's weakness.
Much like a football offensive coordinator changing the play after the defense is set, Jacobson tries to dial up the correct set once he recognizes how the opposition is trying to defend his team.
2. UNI's players are free to take any shot they want.
"He tells us that," 6-foot-1 guard Johnny Moran said. "He says, 'I won't take you guys out for a bad shot or a turnover. But if you're not playing defense — our team defense — if you're dogging it out there, I'm going to get mad. I'm going to take you out.' He holds to it."
According to guard Kwadzo Ahelegbe, Jacobson had an interesting halftime message during Thursday's UNLV game when UNI was trailing by one:
"Do all the things defensively that I want," Ahelegbe recalled Jacobson saying, "and you guys can do whatever you want offensively within our scheme."
Koch said Jacobson won't get upset as long as his players are being aggressive offensively.
"If you have someone screaming at you all the time, you get more nervous. You get worked up," Moran said. "With him, if he is mad, he'll take you over and tell you what you need to do and put you back in the game to give you another shot."
3. Jacobson does get upset ... just not that often
Though Jacobson is known as a mild-mannered guy, Koch said there was one time during a practice that he punted a basketball.
"That's just so out of his character, it was almost funny to see," Koch said. "You wanted to kind of laugh at it, because that's not him at all."
Moran said it was a few months into his freshman year before he'd heard Jacobson curse. Finally, it happened during a practice.
"Not giving 100 percent — that's the one thing that will make him freak out," Moran said. "When you're not giving it everything you have, when you're not playing defense, that makes him mad."
Still, Jacobson seems to keep his cool even when nearly every other coach in America doesn't.
"He never gets too crazy. He never gets too low. He's, like, perfect," Ahelegbe said. "It fits for all of us. Everyone has their own individual characteristics, but it works for all of us."
2:23 p.m.
Welcome back to the Newell Post Live, coming to you from the Ford Center in Oklahoma City where the No. 1-seeded Kansas Jayhawks are getting set to take on the ninth-seeded Northern Iowa Panthers.
If you're interested in testing out a new form of live game coverage that we will be converting to in the future, send Jonathan Kealing an email at jkealing@ljworld.com with your kusports.com username in it.
Jonathan will e-mail you back with a link to the test application, and some instructions.
I'll have some analysis on Northern Iowa coming in a little while, but in the meantime, make sure to vote in our poll on the left and use the hashtag #kubball to have your Tweets appear on the left side of the page.
For more on the NCAA, check out NCAA.com.
More like this story on KUsports.com