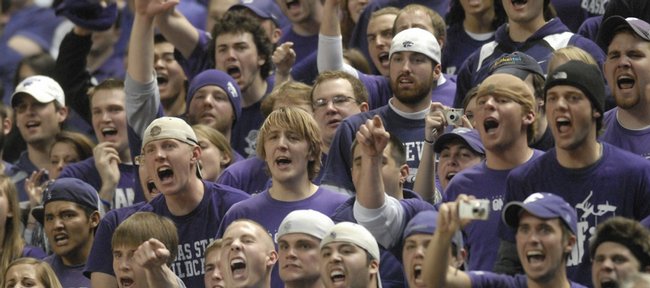 Manhattan — Kansas State nemesis Wayne Simien dodged some debris tossed from the Bramlage Coliseum stands during pregame Sunflower Showdown warmups on Feb. 9, 2005.
"A rubber chicken on a noose," recalled former Kansas University power forward Simien, who went on to hang 23 points and 13 rebounds on the Wildcats in the Jayhawks' 74-65 victory.
It was all in good fun, said the former Leavenworth High standout, who needed no extra incentive to defeat his in-state rival.
In perhaps the greatest three-game stretch against K-State in a single season, Simien as a senior scored 25 points and grabbed 20 rebounds in a 72-65 victory in Allen Fieldhouse and went for 28 points and 14 boards in an 80-67 first-round Big 12 Tournament win in Kemper Arena.
On the street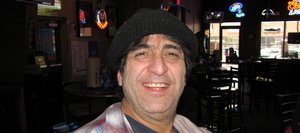 "Being a Kansas kid, knowing what that Sunflower Showdown meant and understanding no matter their record going into the game we'd get their best shot ... it was pretty important to get those bragging rights," said the 26-year-old Simien, who went 9-0 versus KSU.
He's a generation removed from a time in which K-State fans — who will again pack Bramlage Coliseum for today's 6 p.m. battle between the No. 2-ranked Jayhawks and No. 11 Wildcats — pelted KU players with live ammo.
"I remember our 105-year reunion a few years back. I met with Clint Johnson," Simien said of the former KU guard from Leavenworth, who told stories of dodging bananas and live chickens during player introductions in the mid to late 1970s."
K-State fans back in the day — and still today — refer to the Jayhawks as Chickenhawks.
"One year, I thought I'd be a good guy and I picked a chicken up and rubbed it," former KU coach Ted Owens said with a laugh. "I was carrying it back to the bench when I said, 'What if he has a few droppings?' I put it back down pretty quickly."
As far as the bananas?
Owens remembers them being hurled as missiles in just one Sunflower Showdown in his 19 seasons — KU's 75-63 victory on Feb. 11, 1978, in KSU's Ahearn Fieldhouse.
"I had gotten a call the week of the game warning me that the stores in Manhattan had sold out of bananas," Owens said.
Fruit-loving KSU fans apparently were miffed that a handful of hot dogs were tossed at Wildcat forward Curtis Redding in the Jayhawks' 56-52 victory on Jan. 21 in Allen Fieldhouse.
"I instructed our guys to go shake hands with coach Hartman as they were introduced. I figured no way they'd throw anything at coach Hartman. I think Jack thought, 'What a nice gesture.'''
The fans ended up hurling the bananas in the second half.
"There had to be a 20- to 30-minute delay while they cleaned the floor. The TV network was upset about that — think of all that air-time wasted. Coach (John) Wooden was doing color at the game and wasn't too pleased (at the lack of sportsmanship)," Owens said.
A KSU fan wore a gorilla costume to the game and stalked the KU bench.
"It ticked us off," former KU power forward Donnie Von Moore said in a 2007 interview with the Journal-World, "because at first we thought it had some racial connotations. They were basically calling us gorillas. Later they said we threw hot dogs so they threw bananas. It's just food. We beat them, so that's what mattered."
The tradition of hurling live chickens on the court was rekindled — KSU security had put a stop to it during the Roy Williams and Bill Self eras — two seasons ago. That's when a solitary chicken hit the hardwood on Jan. 30, 2008. KSU fans were all fired up as the Michael Beasley-led 'Cats downed KU, 84-75, to end KU's 24-year dominance in the Little Apple.
"I think it was fuel to the fire once our football team became more successful than K-State's," Simien said of KSU fans becoming desperate to end "The Streak."
The Bill Snyder-led Wildcats, who won 11 consecutive football games over KU, dropped three in a row in the series before bouncing back with a victory over the Jayhawks this past season.
"K-State fans always had football to hang their hat on. But when our team had that great season (2008 Orange Bowl) and had beaten them several times, I think it pushed them over the edge. It turned it into somewhat of a nasty rivalry," Simien added.
KU's basketball team recovered from that '08 loss and prevailed, 85-74, last season in Bramlage.
"All streaks come to an end. It had to happen at some point," said former KU guard C.B. McGrath, assistant coach at the University of North Carolina who hails from Topeka.
"I would say Missouri was more our rival when I was in school because they beat us. We never lost to K-State. I definitely wanted to beat them being from the state of Kansas, but the national media probably put more on KU-Missouri because we were a better team than K-State back then."
KU senior Sherron Collins, who remembers dodging the live chicken in '08, relishes every game in Manhattan.
"It's always fun there. It's always tough to win there," said Collins, 2-1 at Bramlage and 6-1 overall versus the 'Cats., "If we do what we do, we'll be all right."
As long as nobody gets clawed by a chicken.