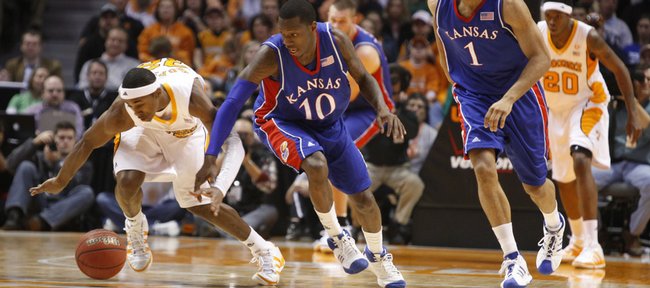 Lincoln, Neb. — Tyshawn Taylor, who was a starter last season and is a starter playing similar minutes this season, nonetheless said Tuesday he's unsure of his role on the 2009-10 Kansas University basketball team.
"We have so many people, so many players, so I feel like I don't know, sometimes I don't know how I fit, like what I'm supposed to do," Taylor said before Tuesday's practice in Allen Fieldhouse.
"Like Sherron (Collins) is a scorer or X (Xavier Henry) is a scorer. Cole (Aldrich) is our post presence. Sherron is our point guard, so sometimes I feel like I get lost in the thing. I think a lot of guys feel like that."
Sophomore combo guard Taylor, who averaged 6.8 shots per game last season to 6.1 this year, takes a 7.3 scoring mark (compared to 9.7 a year ago) into No. 3-ranked KU's conference opener at Nebraska (12-4).
Tipoff is 8 p.m. at Devaney Center, with a live telecast on ESPN2.
"I think when everybody finds out their role on this team and gets ready and everybody gets on the same page, then that's when we're going to be ready," added Taylor, who averages 23.9 minutes a game compared to 26.5 last season.
"I feel like it just hasn't been brought to the light because of our schedule so far. We got to a team (Tennessee) that had good players and maybe shouldn't have beat us, but got the best of us that day (Sunday in KU's 76-68 loss). Now we know that we've got to be ready to play every night. We can't take anything lightly."
KU coach Bill Self was not pleased to hear of Taylor's take Tuesday on players' roles.
"Well I think Tyshawn talks too much, because I've never heard that before, and I'll visit with him about it after practice," Self said. "If he's unsure of his role, then he doesn't listen very good. It bothers me that any player would say that the day before a game, but I'll address it after practice."
Later, on the Jayhawks' bus ride to Nebraska, Self said he spoke to Taylor about his comments. Self had no further comment on the matter.
No official team meetings were held after Sunday's loss but Marcus Morris said he and his brother were going to talk with Brady Morningstar over lunch at Morningstar's request.
"Me, 'Kieff and Brady actually had a long conversation on the phone," Marcus said. "Brady is one of my closest friends on the team. He felt he needed to talk to us. All of us need to get our minds right for the Big 12 conference."
The Morris twins combined for seven points and eight rebounds Sunday.
"I feel I had enough energy. I feel I just had a couple bad games, two bad games," Marcus said. "I feel I've not been in my groove offensively. I have to do other things as far as rebounding and playing defense."
Sherron Collins said Marcus Morris had the best practice of anybody during Monday's marathon session.
Freshman Xavier Henry wants to improve on a Tennessee game in which he had 10 points off 3-of-7 shooting.
"I haven't been as aggressive as I usually have been. I shot only six or seven times. I wasn't looking for it too much," Henry said. "I'm going to try to keep playing through the team and help the team win."
Collins has put up 36 shots the last two games.
"I took it not as a personal thing, (but) I just want to win, so I tried to make every play at the end of the game. I have to trust my teammates more, get 'em the ball more," Collins said.
More like this story on KUsports.com