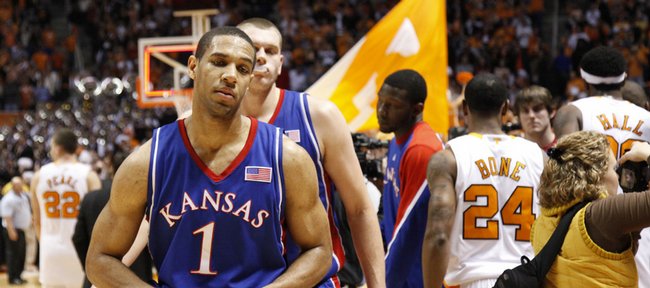 KU scoring — Collins 22, Taylor 13, X. Henry 10, Aldrich 7, Morningstar 6, Marcus Morris 5, Reed 3, Markieff Morris 2.
KU was 23-for-61 from the floor (37.7 percent), 7-for-27 from three (25.9 percent) and 15-for-21 (71.4 percent).
UT was 26-for-54 from the floor (48.1 percent), 9-for-18 from three (50 percent) and 15-for-29 from the free-throw line (51.7 percent).
KU had 16 turnovers to UT's eight. KU out-rebounded UT, 42-35.
FINAL: UT defeats KU, 76-68
Chism gets the ball on the inbounds, and Self screams for Aldrich to foul him. The big man can't reach him, so UT takes it upcourt.
And a walk-on wins the game for UT. With the shot clock at one, Skylar McBee throws in an off-balanced, leaning three-pointer over Taylor, and the crowd erupts. Taylor looks to the ceiling in disbelief.
Collins misses a forced three, and UT hits a free throw. Xavier Henry misses the next long one, and UT comes away with the rebound with 17.2 seconds left. The overrated chant starts.
Taylor misses a meaningless three at the buzzer, and Hopson chucks the ball up by the videoboard.
KU is unbeated no more, falling 76-68.
Surprisingly, the UT fans keep themselves off the floor.
UT 71/KU 68 — 1:10 left in 2nd half
KU with another steal in the backcourt, as Chism tried a behind-the-back dribble that was poked away.
Collins thought about taking a tough shot himself, but instead he kicked it out to Morningstar for a three that goes through. Self calls timeout with KU down just three. A "Let's go Jayhawks" chant faintly comes down from the rafters.
UT 71/KU 65 — 1:18 left in 2nd half
KU gets a stop, but Taylor gets in the air underneath the basket and tries a scoop pass, and the ball is stolen away. Maze makes both free throws after getting fouled.
Collins brings the ball up, but he has it stolen immediately by Prince. The guard misses both free throws, though.
Collins passes out to Reed for a three, but it clangs off the rim. That's the shot you want if you're KU. Reed immediately fouls Prince, and he makes one of two.
Collins airballs a forced three, but KU steals it on the next UT possession. Morningstar is fouled on a layup attempt, and that's Prince's fifth foul. Morningstar makes one of two.
UT 68/KU 64 — 3:15 left in 2nd half
KU forces a turnover, but Collins can't get a short shot in the lane to fall.
Following a Hopson miss, Xavier Henry makes a strong move to the rim, drawing the foul and hanging in the air to put the shot off the glass and in. His free throw puts KU down two.
Aldrich with a block, and KU runs the other way. Taylor is fouled on a layup attempt, and two free throws tie up the game. Momentum has swung to KU.
With Aldrich in his face, Maze drops a tough, 19-footer. Taylor turns it over on the other end trying to get a pass over a defender, and Hopson finishes the run-out with an emphatic slam.
Collins drives to the lane, but once again misses the short shot. Marcus Morris can't grab the board underneath, as it goes off his knee and out of bounds.
UT 64/KU 59 — 5:44 left in 2nd half
Xavier Henry checks in, and Taylor talks to him on the court, telling him not to force it offensively.
Skylar McBee, another walk-on, buries a three. UT is 8-for-17 (47.1 percent) from three this game.
After the teams trade free throws, Taylor confidently steps into a three and swishes it. The deficit is down to five.
Maze drives past Collins for a two. Collins knows he let two in defensively, so he sprints to the other end and quickly knocks in an 18-footer. This much can be said about KU: It hasn't let UT deliver the knockout blow, even though the Vols seemed on the verge of it a few times.
UT 57/KU 51 — 11:01 left in 2nd half
A UT basket puts KU down nine, but right on cue, Collins drives for two with a foul. He puts in the free throw to keep KU down six.
Just when KU gets something going — Aldrich and Taylor both hit free throws to trim the UT lead to four — Hopson puts in a jumper, then Markieff Morris tosses the inbounds pass over Collins' head and out of bounds.
Marcus Morris receives a nice pass from his brother, but he blows the easy layup. He's shooting it too quickly and short-arming it. He gets the rebound, though, and will shoot two free throws after the break.
UT 53/KU 46 — 11:01 left in 2nd half
Two breakdowns defensively put KU in a hole. Maze drives to the rim for two, and he's fouled by Taylor before completing the three-point play.
The next possession, Markieff Morris is late getting out to Chism, and the big man buries a straight-on three. Timeout KU.
Out of the break, Collins gets free in the corner and drains a three. No scream this time. It's almost a sigh of relief from the guard instead.
KU plays solid defense, but before the shot clock expires, Woolridge throws in another guarded three. That's his season-high now with 12 points.
After Reed misses an open three, Woolridge beats all the Jayhawks down the floor, and that's about the fifth time today that KU has gotten beaten back down the floor defensively. Woolridge is fouled and makes a free throw.
Collins drives and rattles in a tough, tough shot on the baseline to keep KU within striking distance at six.
KU switches to a 2-3 zone. You don't see that happen much under Self.
UT tries to steal a minute before the media timeout with three walk-ons on the court. Josh Bone — one of those walk-ons — puts in a three. I've got to wonder why KU didn't switch back to the man with such poor ball-handlers on the court.
UT 40/KU 39 — 15:47 left in 2nd half
Following a turnover, Xavier Henry checks out for KU. Morningstar checks in. Xavier just hasn't seemed like himself the last two games.
KU finally gets it in to Aldrich, and after a few hard dribbles, the big man rolls in a turn-around.
Collins follows with a lob that Taylor slams home for an alley-oop.
Another drive and left-handed layup by Prince. KU is having trouble keeping the UT guards away from the rim.
KU scoring — Collins 10 (3-for-8 shooting), Xavier Henry 7, Taylor 5, Reed 3, Marcus Morris 2, Aldrich 2 (12 rebounds), Morningstar 2, Markieff Morris 2.
KU was 12-for-34 from the floor (35.3 percent), 4-for-13 from three (30.8 percent) and 5-for-7 from the free-throw line (71.4 percent).
UT was 12-for-25 from the floor (48 percent), 4-for-8 from three (50 percent) and 5-for-9 from the free-throw line (55.6 percent).
KU out-rebounded UT, 22-17, in the first half. KU had six turnovers to Tennessee's four.
One halftime thought
It's fine for Collins to pick this team up if nothing is going right. That's what happened against Cornell. Nothing was working, no one was making shots and Collins made sure KU didn't lose.
It's a much different thing if KU starts only looking to Collins. This isn't a criticism of Collins at all for this game — he's shooting because he's had to shoot. No one else is looking for a shot.
Though it's great to give Collins props for a stellar performance, the Jayhawks can't convince themselves that he's the only talented player on the court. KU needs the open player to take the open shot to be at its best offensively instead of having everyone wait for Collins to take over.
It sure looked, to me, like that was happening in the first half.
UT 33/KU 33 — Halftime
Two straight steals for KU, and the Jayhawks seem to be picking it up a bit defensively.
Tennessee looks worn down at the end of this half, choosing to take it slower offensively.
After committing a silly travel a few seconds ago, Taylor uses a nice up-fake to get a defender in the air before driving baseline for a quick layup.
Following a UT miss, Collins makes something happen, slicing between defenders before putting in a layup with a foul. Most important, though, was that Collins drew Chism's third foul. He's one of UT's only threats inside.
Kenny Hall gets away with a travel underneath before putting in a layup, but Reed answers with another huge shot, draining a three just before the buzzer to tie the score at half.
Self is still going crazy about the non-travel call after the halftime buzzer, and assistant coach Joe Dooley wisely puts himself between the official and Self to save the head coach a technical.
UT 29/KU 24 — 3:44 left in 1st half
KU's players look tentative offensively. It's like they're reverted to last year, passing just to wait for Collins to do something cool.
Taylor misses a shot, but Aldrich gets the board and puts i his first points of the game.
Scotty Hopson uses a quick move to the rim to get a shot to go in, and Pearl pumps his arms in the air, pleading for the fans to get louder. They do.
Hopson with another burst to the basket for two, and UT has its first lead at 23-21.
Two more free throws by UT, and another drive and two for Hopson pushes the lead to six for the Vols. KU's bigger troubles are on the offensive end, where it has just five points in the last 6 1/2 minutes.
Horrible foul by Bobby Maze, who bailed out Collins on a desperation three-point attempt with a foul. Collins makes all three of the crucial freebies.
KU 19/UT 19 — 7:49 left in 1st half
Xavier Henry has lost his way offensively. He's taking all the wrong shots. He drives baseline, then tries a leaning shot that has to clear the backboard before getting to the rim. Poor, poor shot selection.
Renaldo Woolridge banks in a three from the top for Tennessee. Lucky break for the Vols.
Aldrich blows a defensive assignment that leads to a KU foul, and Self is livid. He yells at the big man, telling him to wake up and also to score on the offensive end every once in a while.
And here comes Woolridge. He drains one three, then another, tying the game at 19 and forcing Self to take a timeout. Woolridge's season-high in points is 11 and his career-high is 14. He has nine so far on 3-for-3 shooting.
KU 16/UT 10 — 11:27 left in 1st half
Tennessee does show press out of the break, but Collins breaks open and beats it easily. He lobs to Cole Aldrich, but the big man can't finish the dunk. Xavier Henry cleans up the play, though, grabbing a rebound and putting in the stickback with a foul.
Collins drives to open up Tyshawn Taylor, who swishes a wide-open three. It appears to me that Taylor could stand to look for his shot a bit more.
Brady Morningstar hits a baseline jumper, and KU's offense has been effective while being balanced so far. The Jayhawks get beat to the other end, though, and Aldrich is forced to foul Prince on his way to the basket. The Vol makes both freebies.
KU turns it over on an inbounds pass. That's one for today.
Prince gets his second foul, but he'll have to stay in there. Later, he nearly loses the ball inside, but finds the handle just in time and puts in a layup before screaming in the face of Thomas Robinson. Once again, the fans here go nuts.
Robinson uses a nice up-and-under move but misses the bunny. Markieff Morris follows with the rebound and stickback. Shortly after, though, Markieff picks up his second foul.
KU 7/UT 6 — 15:25 left in 1st half
Wayne Chism, who seems to play his best against the best competition, starts the scoring off with a three. Can't leave him alone, as he's a 35.5-percent three-point shooter this season. The crowd erupts. This is KU's first road game this year where more than 90 percent of the fans are against them.
Sherron Collins settles things once again for KU, swishing a three.
Marcus Morris buries a baseline jumper, but — this is rare — KU gets beat down the court. J.P. Prince is fouled hard, and the UT fans go crazy. It was a hard foul by Marcus Morris, but not a dirty one. The fans shouldn't be this upset.
After Prince's made free throw, the Volunteers settle back into a half-court defense. That indicates to me we won't see much (if any) pressing from the Volunteers all game because of their lack of depth.
3:39 p.m.
Tennessee loves its pyrotechnics. Plenty of fireworks and flames for the starting lineups.
And, I have to say, "Rocky Top" is 100 times better in person than on TV. Seriously. It has to be one of the best fight songs in the nation.
3:35 p.m.
Another slight for Collins. In the starting lineups, he was introduced as, "No. 4, Conner Teahan."
Oops.
3:30 p.m.
In need of some good publicity, the Tennessee players come to the court through the stands, high-fiving fans on the way down to the floor. I've never seen that in a college basketball game.
3:24 p.m.
Here some notes and tidbits about today's game.
• Tennessee's four suspended players combined for 32 points and 14.7 rebounds per game this season.
• The suspensions leave Tennessee with 11 total players and just six scholarship players. Four of those players have played 21 minutes or less this entire season.
• UT is 35-2 under Pearl in home non-conference games.
• Over Pearl's tenure, Tennessee forces more than three turnovers per game on inbounds plays alone.
• Tennessee has outscored the opposition's bench in all 13 games this season. I'm guessing it won't happen today.
• In case you're wondering, the patch on the UT players' jerseys is for sophomore forward Emmanuel Negedu, who went into cardiac arrest on Sept. 28 and had to be resuscitated by an automatic external defibrillator. He's taking off this year, and because of his heart issues, his future playing career is uncertain, though he remains on full athletic scholarship.
• Jacqui Pearl — Bruce Pearl's daughter — sings the national anthem, oftentimes during the Vols' most significant home games. She sang today (and did a good job, too). UT is 18-5 at home when she sings before tipoff.
• Tennessee forces teams into 20 turnovers per game, but also averages 20 fouls per game. Keep an eye on that, as the Volunteers can't afford many foulouts with their short bench.
2:54 p.m.
A few more observations from courtside here.
I walked over to the Tennessee student section, and UT officials were passing out orange "I Am Bruce" shirts to all the students.
Right on cue, Pearl emerged from one of the tunnels — in white button-down shirt and orange suspenders — to high five those students in the first few rows. It made for a good photo-op for the photographers nearby.
I wanted to get a feel for the "trash talk" that is being hurled the KU players' ways in the pregame, and I received my fill. Two Tennessee students were spreading the news to chant, "Jessica Brown" whenever Collins touched the ball.
Other popular jeers were, "Tubby Collins," "You got whooped, Tyshawn," and, "Our football team would beat you guys up, too."
At one point, Collins came within a few feet of the students heckling him before turning back around to shoot. He looks a bit fired up already, bobbing his head to the music on the loudspeakers while moving his arms to the beat and showing a hint of a grin.
2:15 p.m. CST
Welcome back to the Newell Post Live, coming to you from Thompson-Boling Arena in Knoxville, Tenn., where the No. 1 Kansas Jayhawks are getting set to take on the No. 16 Tennessee Volunteers.
Well, it happened today. I spoke with a twang.
It was unintentional, too. When pushing the button to an elevator in our parking garage, I asked the nice Tennessee folks around me if No. 2 was the button I was supposed to push.
"No. No. Fa-our," a lady told me.
"Oh," I replied, hitting the four button before saying the fateful sentence. "Then two's na-ott the number we wa-unt, i-us it?"
Immediately, I knew what I'd done without being able to stop myself. Our photographer Nick Krug realized it, too.
It's official: Twangs are contagious. I had always convinced myself somehow that if I moved to the South that I'd never give in to the different talking style.
Yep, I've been here one day, and already I'm talking like the locals.
As for the venue — Thompson-Boling Arena — I have to say I'm impressed by it. The building is much larger than I was expecting it, with one of the highest ceilings on any basketball-only arena I've ever seen. The black seats are new and so are the video boards (I count six of them to go with two ribbon boards).
Tennessee also takes advantage of three levels of donor suites, but all of them are near the top of the arena. In fact, I think it's safe to say that the top two levels of donor suites are higher up than any seat at Allen Fieldhouse. I'm not a big fans of suites and college arenas, but at least these suites seem like they're up and out of the way of the good seats.
I've seen a lot of KU fans in the last two days around town, so it wouldn't surprise me to see 2,000 or so KU fans here today. If we hit capacity of 20,000 or so, though, the KU contingent won't be as noticeable as it was at Temple.
One more thing to watch: Tennessee places some of its students directly in seats on the court in one of the corners. Usually, schools try to avoid this to keep rabid students away from opposing players/referees, but as I'm typing, the students on the court are giving the KU players right in front of them an earful of smack talk.
We'll have more analysis as we get closer to gametime. For now, vote in our poll on the left and also use #kubball on Twitter to have your tweets appear on the left side.
Oh, and http://justin.tv/sremlahc10, password: phog could be a helpful site for many of you today.