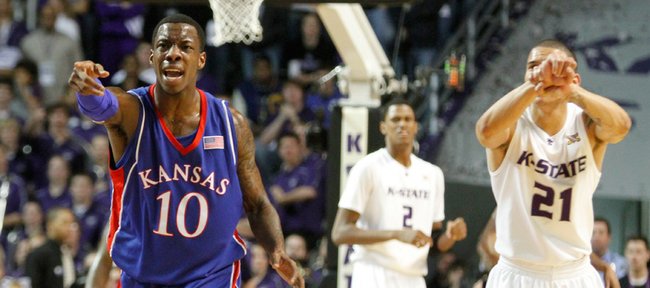 Sometimes a starter, sometimes a sixth man, versatile Kansas University combo guard Tyshawn Taylor will start Saturday's KU-Colorado game, set for a 3 p.m. tip in Allen Fieldhouse.
"I'm happy. I'm just going to try to make the best of the opportunity," said Taylor, who has started 15 games and come off the bench in 11 others during the 2009-10 campaign.
Taylor — he's said in the past that he prefers starting over relieving — at least temporarily replaces Brady Morningstar, who started the last nine games. Taylor opened the season as a seven-game starter only to give way to Elijah Johnson for a pair of contests before winning the job back, and losing it again.
"This is not a reflection of Brady playing poorly," KU coach Bill Self said of junior guard Morningstar, who has 19 assists against three turnovers the last five games, but has hit just six of 22 shots in that same span.
"I love coaching Brady. He's been great for us. Whether he's coming off the bench or a starter he's played very well for us. Tyshawn is a guy who makes plays you can't coach. He's a difference maker from a speed standpoint and that kind of stuff. I think we've got to get more out of Tyshawn moving forward for us to have a chance to do what we want to do," Self added, noting the move also was made to add "more speed and more oomph starting the game."
"He (Taylor) has to become one of the premier players on our team and doing this with him I'm hoping will help him get to that point," Self said. "And I know it's not going to hurt Brady. That's what we're going to do short-term wise to see if that works out a little bit better."
Taylor scored four points and had two assists against one turnover while playing 22 minutes in Monday's 59-54 victory at Texas A&M.;
"I didn't mind coming off the bench. I did my best coming off the bench," said Taylor, a sophomore from Hoboken, N.J.
"I think it was a motivation factor, just to see how much he could get out of me coming off the bench," Taylor added of his stint as sixth man, which had its stormy moments including one in which he told reporters he was unsure of his role on KU's team.
"I think I've been doing some good things, playing good defense. I am going to continue that as a starter. I don't think it's that big a deal. I think it's more about who finishes. I do like starting, but coming off good games off the bench, I want to do the same things starting."
Self indicated: "From my vantage point we've got his attention, undivided. He's trying real hard. I thought our team was best the last two games when Tyshawn was in the game."
Senior Sherron Collins thinks the move will benefit soph guard Taylor, who averages 6.8 points a game with 83 assists against 48 turnovers.
"Brady is the type of player, he'll give the same effort no matter if he starts or comes off the bench," Collins said. "It won't affect Brady at all. I think it'll give Tyshawn a confidence boost, a chip back on his shoulder. I think it (not starting) feels like someone took it from him. I know he brought it on himself. I think it helps the team a lot when Tyshawn plays well."
More like this story on KUsports.com