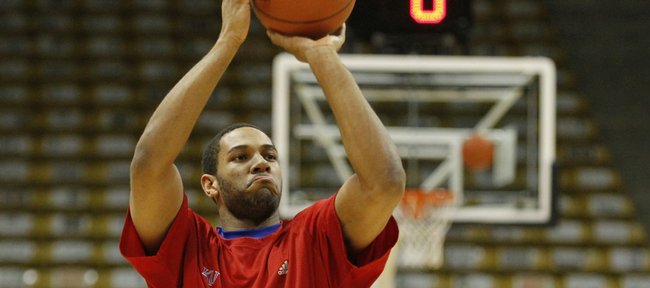 Xavier Henry's coaches and teammates tell him there's one sure-fire way to break out of a slump.
"Keep shooting," said Kansas University's 6-foot-6 freshman guard, who plans to do just that during today's 5 p.m. home battle against Nebraska, Monday night's contest at Texas and down the line the rest of the 2009-10 basketball season.
"They say, 'Keep playing, keep going to the rim, keep going hard.' So that's what I'm going to do," Henry added.
The sweet-shooting, high-scoring McDonald's All-American out of Putnam City (Okla.) High, who averaged 15.7 points a game off 49.1 percent shooting in 15 nonconference games, has dipped to 7.7 points a game off 28.8 percent marksmanship in seven Big 12 contests.
He has cashed nine of 35 three-pointers (25.7 percent) in Big 12 play after canning 33 of 72 (45.8) during the nonconference season.
"Yeah, a little bit," Henry said Friday, asked if he has paid any attention to his recent scoring numbers and shooting percentages, "but I've just got to keep playing hard. I've been working hard on defense, so I've been having better defensive games and stuff. The offense will come around.
"I think I could have a breakout game any time now. It's just a matter of time. I'll play well soon enough. I'm not even stressed about it."
KU coach Bill Self has not lost any sleep over Henry's recent struggles on the offensive end of the floor.
"He hasn't made shots. But he's a good shooter that hasn't made shots. If he was a bad shooter that hadn't made shots, then you'd worry about it," Self said. "When he comes out of it, he'll come out of it in a big way."
Self has been around long enough to realize that, for whatever reason, shooters get in funks.
"I watched a great player last night they were saying was shooting under 30 percent in league play from three, and he goes 8-for-10," Self said of Duke's Kyle Singler. "He's going to have a bust-out game (eventually)."
Self has been quite pleased with aspects of Henry's game that do not involve shooting and scoring.
"I think he's obviously a better defender (than he was in high school). I think he has a better feel on how to play," Self said. "I think he's learned how to make others better and play with other good players. He's done a lot of things well.
"I do think so much of his game is predicated on scoring, in his mind he's probably not playing well unless he's making shots. In our mind, you can play fine and not make shots. Scorers have that mind-set that that's what they do. If his confidence has fallen a little bit, we need to make sure we do everything we can to get it picked back up."
Sounding confident in a short chat with reporters before practice Friday, Henry stressed that he has been putting in overtime working on his game.
"I go over film with 'D. Mann' (assistant Danny Manning), just watch it and watch when I quick-release it," Henry said. "Some things I do while I'm shooting ... it looks like I'm not concentrating as much as usual. I've just got to keep practicing hard."
Henry said he has been in shooting slumps before.
And after this one, regrettably he'll at some point enter one again.
"It's a thing that happens (to shooters). Mine is happening now," Henry said. "I'm practicing as hard as I can so I can get out of it."
He said it's encouraging that his coach hasn't lost faith in him.
"That's always good," said Henry, who scored six points off 2-of-8 shooting in KU's 84-72 victory over Nebraska on Jan. 13 in Lincoln. "That means I'm still bringing something else to the table other than just my offense. I'm starting to take more pride in defense and stuff like that."
Of course, he wouldn't mind scoring in double figures as soon as today. He has hit for single digits in five of seven conference games after scoring 10 or more points in 14 of 15 non-con clashes.
"He's in a little bit of a slump now. He's a freshman. You will have ups and downs as a freshman," junior Tyrel Reed said. "You talk to him, tell him it's going to be all right. He's a great player. He will come out of this fine. Once he does, he'll be even better."
"He's fine," Self said. "He's a great kid, has a great heart. He thinks the right thoughts. He wants to do all he can to give us the best chance to win. He'll come out of this, going through things all freshmen go through a little bit."