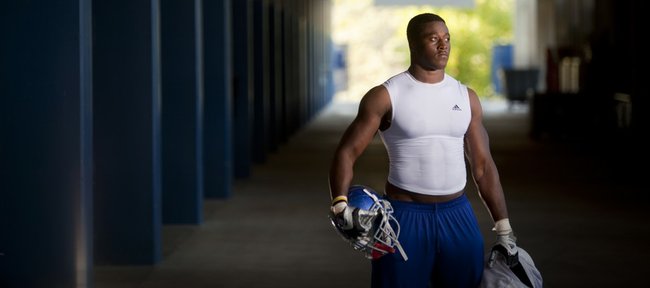 This past Thursday, Harry Jones made his way down to the oceanview fitness center at the Marriott Harbor Beach in Fort Lauderdale, Fla. It was time for his early-morning ride on the stationary bike.
Jones, a pastor from Media, Pa., was celebrating his 30th anniversary with his wife, Dorrine, during a weeklong vacation.
When he arrived, a young man — blond hair, blue eyes — was making his way from machine to machine, sporting a heavy brace on his leg.
"What's going on with you?" Jones asked him.
"I tore my ACL," the young man replied.
★ ★ ★ ★ ★
Steven Johnson sits on the steps on the north side of the Kansas University football practice facility, his arms resting on his knees in front of him.
The junior linebacker — with brown eyes, curly black hair and a few scraggly hairs on his chin straining to form a goatee — wants to talk about the upcoming season.
"I kind of like to think of this whole team as like a quiet storm," Steven says. "Nobody really knows about us."
The same can be said about Steven. How did he get to KU? Where did he come from? And why, after three years in the program, has his playing time been limited to mostly meaningless snaps here and there?
The answers are all out there. To find them, you'll have to talk to the father who supported him, the coach who admired him, the mentor who looked out for him.
They'll tell you the story of Steven Johnson: a man who persevered when it would have been much easier not to.
★ ★ ★ ★ ★
Jean Wootson was always encouraged to keep her son in football.
Even when Steven Johnson was only 5 years old, others were telling his mother that he needed to keep playing the sport — that he was going to be somebody someday.
Steven didn't need much convincing.
"Every high school paper, every high school report, every elementary whatever," Wootson says, "he wrote about football."
It still took Steven a long time to get his chance in his hometown of Media, Pa.
He didn't make the Strath Haven High School varsity squad until his senior year. But when he did, he turned in one of the best seasons in school history.
He led the state in tackles with 123, earning first-team all-county and second-team All-State honors.
Because he'd thrived so late in his career, Steven's options for college were limited to smaller schools.
But his mentor, pastor Harry Jones, wouldn't let him settle.
Steven started attending Jones' Bible study every Wednesday night during his senior year.
The pastor took a special interest in Steven; after watching him wreak havoc on offenses during his senior year, Jones knew the kid could play Div. I.
"I knew he had something," Jones says, "so I just tried to give him some direction."
Steven took recruiting visits to the small colleges, but Jones always told him the same thing: "Don't commit there. You're better than that."
Jones helped send tape of Steven to Wyoming Seminary College Prep School in Kingston, Pa. The coach liked what he saw and agreed to accept Steven.
If Steven performed well in his one year there, surely he would have the chance to be re-recruited by Div. I schools.
★ ★ ★ ★ ★
Steven Johnson hated when the question came up during his year at prep school.
His classmates would talk about the Div. I schools they were going to attend: Connecticut, Colgate, Robert Morris.
Then they'd ask Steven what school he was going to.
"I don't know," was his only answer.
For the first few weeks, everything was working out at Wyoming Seminary College Prep School. Steven was playing well, and college coaches were taking note. Georgia Tech expressed interest. So did Temple.
But, during the fifth game of the season, everything changed. While playing as a receiver, Steven's leg got stuck in some uneven turf during a simple flat route, and his knee hyperextended.
Steven tore the ACL and LCL in his knee, an injury that would require a full year of recovery time. Even then, nothing was guaranteed.
The school's trainer told him flat out that not many players came back from such an injury.
"They didn't know," Steven says, "if I'd be able to play football again."
Steven still wanted to play. And he knew there was someone he needed to talk to — the one who'd helped him get to prep school in the first place.
That night, over the phone, Steven and Harry Jones prayed together that Steven would be able to continue his career.
★ ★ ★ ★ ★
It wasn't a surprise after the injury that the Div. I college coaches stopped calling. In fact, all the calls stopped.
Steven struggled to stay positive. He was depressed, letting himself get out of shape and overweight.
He became upset with the thought that he might not attend college. He prayed every night in his room, hoping that someone — anyone — would take a chance on him.
The answered prayer was delivered to Steven's inbox.
Then-KU assistant coach Tim Beck sent an e-mail, asking Steven if he'd decided on a college yet. A few days later, Beck made an official offer. He told Steven that KU would love to have him as a walk-on.
When he received the note, Steven broke down.
KU was the only school that gave him an invitation. And it was a Div. I program in the Big 12 Conference.
★ ★ ★ ★ ★
Steven Johnson Sr. knew his back was against the wall.
After filling out all the student loan forms, his son still was not cleared to attend KU.
Steven Sr. was told that his son had to pay up front before enrolling for the next semester. The total out-of-state cost came to about $10,000 a semester, or $20,000 a year.
"I had to do something," Steven Sr. says, "or I would be crying with him."
When his son was in high school, Steven Sr. had bought an older hair salon in an up-and-coming neighborhood in Upper Darby, Pa. He paid for it himself, renovated it and opened it, calling it "Suburban Hair Company." He's been working at his own barbershop and salon ever since.
After asking a few friends for a personal loan, Steven Sr. decided on a different option: He mortgaged his own barbershop to the tune of $100,000.
It was a risk, sure. But the risk was worth it when Steven Sr. was able to send a check to KU for his son's tuition.
"I had to do what I had to do," Steven Sr. says. "I don't think I could take looking at his face if he didn't want to stay. Because if he went to a school he didn't want to be at, he wouldn't do well.
"If that's where he wanted to be, that's where I had to send him."
★ ★ ★ ★ ★
Back in the Marriott, Harry Jones introduced himself to the young man, who explained he was strengthening his knee for an operation next week.
Jones couldn't end the conversation without asking a question he'd been thinking about.
"Do you mind if I pray for you?"
★ ★ ★ ★ ★
From his first day at KU, Steven Johnson's goal was to earn his scholarship.
Money was tight. At the beginning of each semester, Steven received money from his dad that would have to last for the rest of the term. Steven cut some of his teammates' hair for extra funds.
Though walk-ons don't receive the same benefits or opportunities from coaches as scholarship players, Steven was determined to stand out.
After his freshman year, he wanted to train with the team in the summer, but didn't have a place to live. He ended up staying in teammates Drew Dudley and Justin Springer's apartment, sleeping on a mattress shoved in the corner of the living room.
The next summer, Chris Harris and Darrell Stuckey allowed Steven to move in. His bed was in the movie room, an area filled with several couches, some propped up on bricks so that the back rows could still see the TV.
Steven's bed was a dark brown couch.
"It was hard," Steven says, "but hey, you've got to do what you've got to do."
Steven also was living in Lawrence without a car, meaning he was depending entirely on teammates.
One day, everyone left workouts early. With no other option, Steven walked from Memorial Stadium back to the apartment — a nearly two-mile walk in the summer heat.
On the way home, he thought one thing: "I've got to earn my scholarship, because this is not going to fly."
★ ★ ★ ★ ★
Immediately, Steven Johnson reminded former KU defensive coordinator Bill Miller of another player — one from back in the late 1970s at Texas-Arlington, a walk-on safety that worked his way up the depth chart to earn a scholarship.
Steven looked like he might be on his way to doing the same thing.
"He earned everything that he got," Miller says. "He wasn't given anything."
Miller says he often saw Steven outworking his peers, whether it was spending extra minutes in the film room, getting in a few more reps in the weight room or conditioning a little bit more.
During one linebackers position meeting, Steven says Miller even called him "king of the walk-ons," praising him for outworking many of the scholarship athletes.
Miller says he couldn't help but identify with Steven. Who could blame him? He'd seen a guy like Steven succeed before.
That safety back in the 1970s at Texas-Arlington — the one that worked his way up the depth chart and earned a scholarship and later became a two-year starter — was a young Bill Miller.
Thirty years later, Steven was walking the same path.
"He hung in there regardless of how bleak it looked," Miller says. "I think he can be really proud. His family, his friends, they can all be very proud of what he did. Kansas should be really proud of him.
"He's a great example of what college football is supposed to be about."
★ ★ ★ ★ ★
Steven Johnson wanted to stay at Kansas, but he knew that might not be possible.
After two years of paying out-of-state tuition without earning a scholarship, he knew the financial burdens of a third year might be too much. He might have to return home. His father had said he'd find a way to pay for him to stay at KU, but Steven wasn't sure if that would be worth it.
There were times he'd break down while talking to his parents on the phone.
Late in the summer of 2009, Steven still was waiting.
One day, he received a text message from assistant coach Tommy Mangino, telling all scholarship players to report to pick up their checks.
Steven wondered why he received the message. He texted Mangino back, asking if he was on scholarship.
Mangino told him he wasn't.
Then, two days before school started, KU director of football operations George Matsakis checked with Steven to make sure he had enrolled in 12 hours when he first arrived. Steven said he had.
"OK, that's good," Matsakis told him. "I might have some good news for you."
The next day — the day before the fall semester — coach Mark Mangino pulled Steven to the side during warmups at practice.
A year later, Steven still remembers his coach's exact words.
"I'm going to put you on scholarship tomorrow."
Steven was overcome by his emotion and could hardly speak. His eyes started to water, and for a moment, he struggled to say anything.
"Thank you, sir," was all he could muster before heading back to the warmup line.
★ ★ ★ ★ ★
Steven Johnson was close to playing last year. And he knew it.
He played through painful stingers in his shoulder, refusing to tell anyone about his ailment. He couldn't; this was going to be his chance for significant playing time.
Steven was with the first-team linebackers until the week before the first game, when true freshman Huldon Tharp was placed in his starting position.
His opportunities outside of special teams were limited, though during mop-up time against Duke, he recorded a sack and two other tackles as a linebacker — his best performance as a Jayhawk.
Steven believed that might be the beginning of his playing time at linebacker. It turned out to be the end.
A couple weeks later, without warning, Steven was relegated from varsity to the scout team. Coach Mark Mangino's orders.
What followed next, Steven says, was like a tug-of-war.
One time, the varsity and scout teams split up for separate drills. Steven started to head off with the scout team, but linebackers coach Bill Miller stopped him, telling him to stay and practice with the first unit.
A few minutes later, Miller came back to Steven, telling him he needed to go back with the scout team. Mangino wanted him down there.
"It was kind of hard for me to ask my coaches what I was doing wrong, because coach Miller would say, 'Nothing,'" Steven says. "And I would be like, 'Nothing? What do you mean?' And then he'd be like, 'I've never seen anything like this in my life. Believe me, you're doing nothing wrong.'"
Steven played only on special teams the rest of the season. He began to doubt that he'd ever get a chance to prove himself at linebacker.
His father asked Steven on the phone if he wanted to transfer. Steven told him no.
"Why not?" his dad asked.
"I'm here for a reason," Steven said. "This is where I'm supposed to be."
Every time Steven Sr. brought up transferring, his son would say the same thing: "I'm here for a reason."
Steven Sr. always wanted to say more, but he bit his lip.
"I just always feel in my heart," Steven Sr. says, "that he knew something I didn't know."
★ ★ ★ ★ ★
Steven Johnson feels free.
His knee is the best it's been since high school. Though he had minor surgery after the spring game to repair a tear in his lateral meniscus, he's worked his way back into shape.
A new coaching staff has given him an opportunity, and a new coach has given him hope.
This is the reason he believed he belonged at Kansas: He will start at linebacker in this, his junior season. Now, it's time to show what he can do.
★ ★ ★ ★ ★
At around 6:30 a.m. in the fitness center of a Marriott, Harry Jones prayed aloud for the young man he'd just met. He prayed that his injury would not be career-threatening. He prayed that he would make it fine through his upcoming operation. He prayed that he would be able to continue his career.
There was no way the young man could have known that four years earlier, Jones had said nearly the same prayer for another down-on-his-luck athlete.
When the prayer was finished, the blond-haired, blue-eyed 20-something returned to his workout as the sun began to rise over the city.
Kerry Meier had work to do.