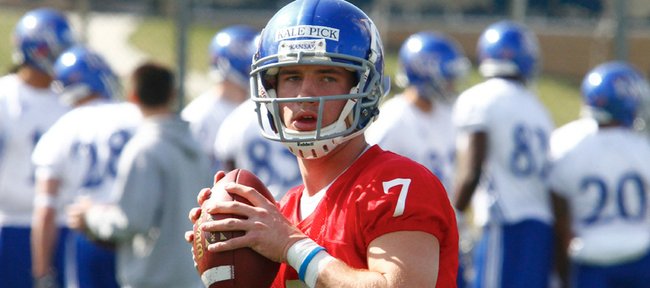 Audio clip
KU coach Turner Gill announces Kale Pick as the starter
Audio clip
Toben Opurum on Tuesday, Aug. 17, discussed whether he'd be interested in switching to linebacker. On Thursday, Aug. 19, KU coach Turner Gill announced Opurum would be switching to linebacker this season.
The quarterback on the roster who spent the most time with Todd Reesing will get the first crack at replacing him.
Kansas University football coach Turner Gill announced Thursday that Kale Pick would be the Jayhawks' starting quarterback when they take the field this fall.
Pick, a third-year sophomore from Dodge City, beat out red-shirt freshman Jordan Webb to earn the starting job, ultimately by being the more polished of the two.
"He separated himself in a couple of different aspects," Gill said. "Ball security was huge. He didn't really turn the ball over. That was a big separation between the two. And then also the intangibles; I love his demeanor. Kale Pick's been a little bit better in the huddle, outside the huddle, when plays are going well, when plays are not going well. I like how he's handled himself in that aspect of things."
The decision to go with Pick, 6-foot-1, 208 pounds, came after nearly 30 practices of evaluation that went through spring drills and into the first two weeks of fall camp. Gill informed his quarterbacks of the decision as a group on Thursday. He then met with each one individually. It was at that point that Pick allowed himself to celebrate.
"I definitely had a smile when I received the news," he said. "It's definitely exciting. I'm glad that they made that decision, and I'm definitely looking forward to our season. I think we can do some pretty big things if we stay on the grind and keep working hard every day."
Although Webb will begin the season as the backup, Gill stressed the importance of both QBs.
"I feel very good about our two quarterbacks," Gill said. "Webb and Pick are very good football players. We're going to need them both."
Asked if he had spoken to Webb much in the hours following the announcement, Pick said he had but that he was trying to give his friend and teammate space to deal with the decision.
"I talked to him. He's obviously not happy," Pick said. "But I wouldn't be either. It's tough."
Everything about Pick drips college quarterback. The son of a former college football player — dad, Mark, played at Iowa State — Pick was a standout two-way player at Dodge City High, setting 12 passing records before heading to KU. An injury during the first game of his senior year cost him his final season, but he has more than made up for that missed experience in his two years at Kansas.
During his red-shirt season in 2008, Pick was named the Jayhawks' offensive scout team player of the year. Last year, as the immediate backup to Reesing, Pick appeared in seven games, completed four-of-five passes for 22 yards and rushed 14 times for 167 yards. Though he has some experience, Gill is a lot more interested in seeing how he performs in his new role, with all eyes on him.
"The next thing is Kale has to prove it on gameday," Gill said. "He has to prove it in a game."
Gill continued: "Until (he's) the guy and (he's) underneath that center and it all revolves around (him), you don't know how he's going to respond. But all the things are set there that he will be able to handle that in a very good way and he will be able to lift the play of all of our players."
Pick's teammates agree.
Said senior center and team captain Sal Capra, "Kale's a great guy. He's a great player. I think he can lead our team to great things this year."
Added senior Justin Springer: "Kale's got good confidence out there, he's out there running the show. Your quarterback's a leader out there on the field, too, and I think he'll be a good leader for us. On and off the field, he's just a great guy. He's a great friend to all of us. Out there on the field, he carries himself really well and he can throw the ball really well, too. I think it's a great fit."
In other news Thursday, Gill announced a pair of position changes for the upcoming season.
Sophomore running back Toben Opurum, the team's leading returning rusher, was unable to play his way onto the depth chart at running back and has been moved to linebacker. When asked if the move was because of the Jayhawks' need at linebacker — KU has lost three linebackers from its roster since camp opened — or because of Opurum's performance as a runner, Gill was direct with his answer.
"All of the above. All of the above," he said. "There's a need at that position and then playing time at the running back position will be very limited if we had to play today, therefore we sat down and chatted with him about it and tried to put a scenario out there where he could get onto the football field and maybe help our team this year."
As for the other move, Keeston Terry, a four-star receiver from Blue Springs (Mo.) High, is moving from wideout to safety. Gill said the move was made to find Terry some playing time.
"We looked at him as a safety or wide receiver when we recruited him, so this is not totally out of whack for us," Gill said. "We just thought that he would give us a little bit more speed (at safety) and that he was somebody that would want to take a chance to have a chance to play. And this gives him an opportunity to play and go from there."
Gill said both Opurum and Terry would have to prove that they could play 15-20 snaps per game at their new positions in order for him to put them on the field. If they can't, red-shirting is a possibility for both.
In notable depth chart news, sixth-year senior Angus Quigley was listed as the No. 1 running back, with red-shirt freshman Deshaun Sands and junior Rell Lewis behind him; the offensive line was listed, from left to right, as Tanner Hawkinson, Duane Zlatnik, Sal Capra, Trevor Marrongelli and Brad Thorson. Junior Jeremiah Hatch, a former starter on the O-line, appeared as Capra's backup; Johnathan Wilson, Daymond Patterson and Bradley McDougald were listed as the top three receivers; Chris Harris and Isiah Barfield were the starting cornerbacks, with Olaitan Oguntodu and Lubbock Smith as the top two safeties; Tyrone Sellers was the top name at defensive end opposite Jake Laptad and Richard Johnson and Patrick Dorsey were slated as the top defensive tackles.
Gill said evaluations still were ongoing at several positions.
More like this story on KUsports.com