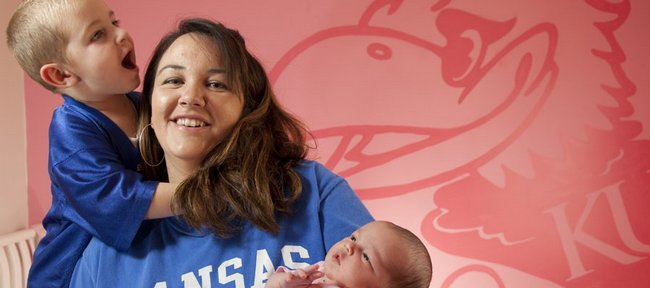 Reader poll
Yes

19%

257 votes

No

51%

682 votes

I don't have children

29%

390 votes
1329 total votes.
Scouting reports
Manning Urish
Age: 2 1/2
Shoots: Right
Throws: Right
Eats: Left
Favorite song: Rock Chalk Jayhawk
Sport of choice: Auto racing (Hot Wheels), Nerf football with dad. "He's tearing up my living room," Mom says.
Reesing Urish
Age: Two weeks
Sleeps: Plenty
Eats: Even more
Prominent features: "She has very tiny hands," Mom says of her daughter and, come to think of it, Todd Reesing. "They already have some similarities."
Two of the littlest Jayhawks fans in Lawrence have some big KU names to live up to.
And proud parents Doug Urish and Shelly Howard are very much looking forward to it.
The dyed-in-the-crimson-and-blue couple's two children are destined to carry their parents' Jayhawk loyalty for life, as their first names are taken from the last names of two of the greatest players ever to don KU uniforms.
"It is a lot of pressure, but we hope they can handle it," Howard said of their two children, Manning and Reesing.
Manning, who is 2 1/2, takes his name from basketball legend Danny Manning — All-American, Player of the Year, national champion, top overall NBA draft pick and now assistant coach for the Jayhawks.
Reesing, born two weeks ago, is named after Todd Reesing, who so far has won an Orange Bowl, set passing records and has quarterbacked this year's football team to a 4-0 start.
"A lot people think we're crazy," admits Howard, who works at Golf Course Superintendents Association of America and is completing her communications degree at KU. "We don't think we're crazy. We love it. If we were really forcing it — like, naming them 'Bill Self' or something — then that'd be different."
The kids won't be missing out on many opportunities to follow their elder namesakes. Urish takes young Manning to "Hawk Talk" radio shows, the spring football game and Late Night at Allen Fieldhouse, and the smiling boy obliges by waving the wheat, saying "Rock Chalk Jayhawk" and wearing seemingly every KU fashion available.
In his bedroom, a signed souvenir basketball above his bed even carries the written blessing of the man whose name he shares:
To: Manning
GREAT NAME!
Danny Manning (autograph)
2008
The recently arrived Reesing, meanwhile, will grow up with a less-subtle reminder of her folks' favorite quarterback. In her room, Urish has painted "REESING" in dark pink letters — yes, in KU's signature Trajan font — that stretch from ceiling to floor.
Across the room is a giant Jayhawk, to go along with her Jayhawk onesies, pants, tops, ribbons and everything else.
"From the day she was born, she's had a Jayhawk on," Howard said.
The proud parents say they're looking forward to continuing to share their own love for KU with their children, as they grow up around Mount Oread and the athletic excellence that surrounds it.
And if they happen to have a third child in the months or years ahead, Urish is ready to add the name of another KU legend to their familial roster.
And he's not hesitating to think big.
"If we have another kid," he said, "it's probably going to be Chamberlain."
More like this story on KUsports.com