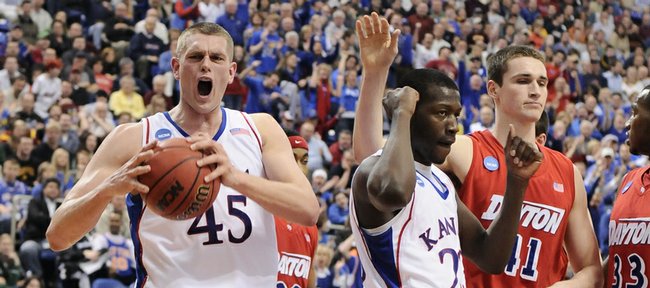 For more on the NCAA Tournament, check out NCAA.com.
3:50 p.m.
This just in: Aldrich's triple-double was the first in the NCAA Tournament since Marquette's Dwyane Wade on March 29, 2003. That was also in the Metrodome.
The last triple-double in the NCAA Tournament that included blocks was LSU's Shaquille O'Neal against BYU on March 19, 1992, when he had 26 points, 13 rebounds and 11 blocks.
There was only one other 10-block game in NCAA Tournament history: by Shawn Bradley in 1991.
KU scoring
Collins 25 (11-for-19 shooting, seven rebounds), Aldrich 13 (20 rebounds, 10 blocks), Reed 9, Little 7, Taylor 3, Markieff Morris 2, Appleton 1.
KU was 23-for-53 from the floor (43.4 percent), 3-for-16 from three (18.8 percent) and 11-for-22 from the free-throw line (50 percent).
UD was 16-for-72 from the floor (22.2 percent), 4-for-19 from three (21.1 percent) and 7-for-8 from the free-throw line (87.5 percent).
KU out-rebounded UD, 50-43. KU had 12 turnovers to UD's 11.
FINAL: KU defeats Dayton, 60-43
KU empties the bench in the final minutes. Quintrell Thomas, Matt Kleinmann, Conner Teahan, Brennan Bechard and Chase Buford all get into the game.
The Jayhawks close out a 60-43 victory.
KU 55/UD 36 — 3:49 left in game
The Jayhawks are taking control now. Collins floats in an 18-footer. Reed drives in, then scoops back out to Markieff Morris for an and-one.
KU is 3 minutes, 49 seconds away from the Sweet 16.
KU 49/UD 36 — 5:38 left in game
KU is getting sloppy again in the half-court. Little throws one away. The Jayhawks are wasting valuable possession.
Self is especially riding his team about getting back in transition. The fast break is about the only way Dayton has scored.
Aldrich swats another away, and that's the first triple-double in Kansas history. He has 13 points, 19 rebounds and 10 blocks.
KU 44/UD 32 — 7:55 left in game
Nice pass over the top by Taylor to Aldrich, who lays it in. Self pumps his fist in satisfaction.
More horrible shots and shot selection by Dayton. Turns out Friday's good shooting effort against West Virginia was an aberration.
Dayton one more time takes it straight into Aldrich, who blocks it without trying to. He throws ahead to Taylor for a layup and foul. KU takes its largest lead at 44-30.
KU 40/UD 30 — 10:15 left in game
Collins shoots a fadeaway with the shot clock running down and it banks in. No harm done for Dayton, though, as Mickey Perry races to the other end for a layup.
Collins falls down away from the ball, and he's wanting a foul call. On the dead ball, he discusses things with the officials, thinking he was bumped by London Warren.
Finally, KU gets production from a second guard, as Reed swishes a three from the corner with 13:21 left. The KU fans go especially crazy, knowing the significance of the shot.
Huge blocked shot by Collins, who looked like he screamed after coming away with the ball. On the other end, Collins spins in a finger-roll, and Dayton calls timeout with KU up, 40-30.
Self steals a minute and a half after the break with Collins on the bench. Neither team scores, and that's a victory for KU.
Dayton is just 2-for-14 from the floor this half.
KU 33/UD 27 — 14:58 left in game
After getting his first rebound of the half, Aldrich get hit and he grimaces as he runs up the court. The big man stays in the game.
KU takes advantage of Dayton's overaggressive defense, as Collins throws a long entry pass to Aldrich, who twirls under the basket and lays it in for two.
Aldrich throws his second entry pass away today. I don't remember two all season from him. His four turnovers tie him for the team lead with Taylor.
Bad decision by Morningstar, who throws a bounce pass to Aldrich instead of a lob. The Jayhawks get bailed out by a questionable foul call.
Dayton isn't learning its lesson. Players keep taking the ball straight to Aldrich. Aldrich keeps swatting every shot away. He's up to five blocks already. The Flyers need to pull up for the jumper or they need to take it straight to the big man to try to draw a foul.
KU scoring
Collins 14 (6-for-11 shooting), Aldrich 9, Little 5, Taylor 1.
KU was 12-for-33 from the floor (36.4 percent), 2-for-11 from three (18.2 percent) and 3-for-10 from the free-throw line (30 percent).
UD was 9-for-40 from the floor (22.5 percent), 3-for-10 from three (30 percent) and 2-for-2 from the free-throw line (100 percent).
KU out-rebounded UD, 29-28. Both teams had seven turnovers.
Halftime thoughts
• Great half-court defense for KU so far. Take away eight points off offensive rebounds and six off KU turnovers, and Dayton had just nine half-court points in the first half. The only worry for the Jayhawks has to be rebounding. The Flyers picked up 11 offensive rebounds but didn't convert on many of them.
• I think KU's offensive play has been fine so far. The Jayhawks have just missed shots. Morningstar, Taylor and Reed all missed wide-open looks from three. They combined to go 0-for-10 in the first half. Also, the Jayhawks' total would look much better if they hit their season average from the free-throw line.
• Great half for Collins. Fourteen points, four rebounds and no turnovers in 19 minutes. He has just one assist, but that's his teammates' faults right now, not his. As up-tempo as this game has been, though, we might see some fatigue from him late. Keep an eye on that.
• What a strange first half for Cole. He looked dominant early, then timid late. He's been single-teamed in the post, but he hasn't tried to shoot it over the shorter defender yet. Maybe that three-point play will get him going.
KU 29/UD 23 — Halftime
KU looks to be getting a favorable whistle in this game. The fouls are 9-4 Dayton, but the Jayhawks haven't been able to take advantage at the free-throw line, though, making just two of nine foul shots (22.2 percent). Cole Aldrich uncharacteristically misses two from the line, and he looks off on the offensive end.
Risky (or brilliant?) behind-the-back pass by Morningstar to Aldrich in traffic. After missing a couple, Aldrich finally put it in for two with a foul. As a bonus, he made the free throw, too.
Wright puts up a floater in the lane that clanks away. He hasn't shown himself to be a good shooter so far.
Morningstar misses a three just before the buzzer. It's the first time in a long time the Jayhawks fail to score in the final seconds of the first half.
KU 25/UD 21 — 3:42 left in 1st half
Collins puts up his first bad shot — a forced three — at the 6:41 mark. He's managed the game well so far.
The next possession, Collins shoots past his defender and lays one in for two.
While saving a ball out of bounds, Chris Johnson crashed right into CBS's Gus Johnson. I'm sure you heard that one on television.
Wright tips in a miss in transition, and Dayton has a 5-0 run to close within two. Self calls timeout, and the Morris twins argue with each other for a second, I'm guessing about who missed a defensive assignment.
Collins bounces in a jumper, and Dayton goes back into its shooting slump. It feels like the Jayhawks should be up more than four points.
KU 21/UD 14 — 7:50 left in 1st half
Mario Little swishes a 19-footer from the wing. KU gets its first points from someone other than Collins or Aldrich at the 10:30 mark of the first half.
With Collins coming out for a breather, Little comes through again, swishing a three from a similar spot on the wing.
Dayton has been careless with the basketball, and it has cost the Flyers early. Collins gets a steal, then makes a nifty move around a defender on the other end for two.
Paul Williams swishes a huge three from the corner for Dayton. KU had a 10-point lead and had some momentum before the shot from the side went through.
KU 13/UD 7 — 11:41 left in 1st half
The officials missed one there, as Tyshawn Taylor's layup was blocked after it hit the backboard. Should have been goaltending, but no whistle.
Collins is doing everything he can to get open shots for his teammates, but they just aren't hitting. Brady Morningstar has had a pair of open three-point attempts, but he hasn't been able to get one to go down yet.
We are seeing KU's dominant defense today, though. Dayton has started 1-for-13, which equates to 7.7 percent. Not only are the Flyers missing shots, they're not getting good shots.
Collins jump-starts KU's offense again, swishing a three and throwing in a runner. He's played well within the offense so far.
KU just can't buy a three. Tyrel Reed gets two wide-open looks, only to have them clank away. The Jayhawks are just 1-for-7 from three.
KU 6/UD 2 — 15:56 left in 1st half
Offensive rebounds have played a major role for both teams so far.
Chris Wright puts in Dayton's first points after an offensive rebound from Chris Little. Cole Aldrich responds with two straight baskets after following up KU's misses.
Sherron Collins does a nice job of penetrating, drawing two defenders, then finding Aldrich for an easy two. Collins has zero shots at this point, and KU is up 6-2.
Dayton has six early offensive rebounds, but is only 1-for-10 from the floor.
1:24 p.m.
There's a much larger KU contingency here today, perhaps double what was here on Friday. I'd guess in the 4,000-fan range. A bunch of fans must have made the weekend drive to see the 'Hawks.
1:14 p.m.
KU had a season-low five turnovers against North Dakota State on Friday.
Don't expect a repeat performance today.
Listening to Dayton coach Brian Gregory on Friday and Saturday, one of the things they take great pride in is pressuring the ball defensively.
That makes the ball-handling of Sherron Collins and Tyshawn Taylor extremely important in this one. Turnovers on the perimeter not only keep KU from scoring, but they also allow a very average offensive team in Dayton to use its athletes to get easy baskets in transition.
1 p.m.
I guess they don't call them the Flyers for nothing.
Chris Wright has a 39 1/2-inch vertical leap. In normal circumstances, that would be pretty impressive.
Except for the fact that teammate Charles Little — at 6-foot-6, 247 pounds — has a 43-inch vertical leap.
After watching the West Virginia-Dayton game and seeing some of the dunks, it's safe to say those two guys have an appropriately named mascot.
12:05 p.m.
Welcome back to the Newell Post Live, coming to you from the Metrodome in Minneapolis where the third-seeded Kansas Jayhawks are getting set to take on the 11th-seeded Dayton Flyers in the second round of the NCAA Tournament.
How do you feel about this statement: The Kansas Jayhawks will only go as far as Sherron Collins takes them.
Does that make you happy? Excited? Scared?
You've probably already read Gary Bedore's article today regarding Collins' 32-point, 26-shot effort against North Dakota State on Friday.
In it, Gary writes: "Collins' teammates bristled when asked about criticism of Collins from fans on the Internet who say the Jayhawks won't go far if he continues to take 25 or more shots per game."
Hate to say it, but consider me as part of that Internet group.
Collins is a great offensive weapon to have. He can do things with the basketball very few others in the NCAA can do.
He's a great scoring option late in the shot clock. He's a great scoring option in transition. He's a great scoring option when he is set up for an open three.
He's not a great scoring option (at least yet), when he dribbles up the court without a pass and tries to take on multiple defenders before forcing up a guarded shot.
When asked about Collins' performance against NDSU, Self was mostly complimentary. He should be. He said Collins carried KU in the first half when the offense was stagnant. That much is true.
Self also said Collins probably should have taken 22 shots instead of 26. I think Collins forced up a few more than four, but I think Self is acknowledging what the rest of us saw.
For a while, Collins' strong early shooting was Fool's Gold. It forced him into thinking it was "his night," which gave him a free pass to throw up any shot he wanted.
And here was the biggest problem: Every time Cole Aldrich touched the ball, he was playing tag with the rim. Out of 12 shots, eight were dunks. NDSU couldn't stop him from scoring.
A quick shot from Collins could, though.
Think back to 2003. KU had a similar situation with a dominant guard (Kirk Hinrich) and a dominant big man (Nick Collison) in the NCAA Tournament.
Know what made that team so dangerous? Depending on the matchup, either Hinrich or Collison would step up their games.
Against undersized Duke, Collison scored a career-high 33 points. The next game, Hinrich led the Jayhawks with a 28-point performance in a victory over top-seeded Arizona.
"I can have an OK night, not an off night," Collins said Saturday when asked if he had to have a "great game" for the Jayhawks to advance to the Sweet 16 in Indianapolis. "My teammates are good enough to carry me when things aren't going well. We have a lot of players that can step up. But I have to play well most of the time."
This shouldn't be the mindset.
If KU is banking on two or three or four straight good shooting games from Collins, then it's most likely in trouble.
The Jayhawks will only go as far as Sherron Collins takes them? I'll go the other direction.
Sherron Collins will only go as far as he lets the Kansas Jayhawks take him.
KU fans should hope he realizes it before it's too late.