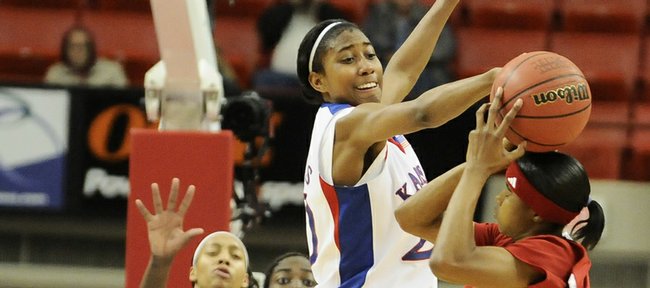 Oklahoma City, Okla. — Oklahoma and Kansas University will square off in a Big 12 tournament game, after all. But it won't occur in the Ford Center, and Blake Griffin and Cole Aldrich won't play in the game. Their teams have been eliminated already.
The Sooners-Jayhawks matchup will tip off at 11 a.m. today in the Cox Center in a Big 12 women's basketball tournament quarterfinal.
The matchup came about because not every Kansas star tandem had a rough Thursday afternoon.
In leading Kansas to a 61-56 victory against Nebraska in a first-round game, juniors Sade Morris and Danielle McCray combined for 46 points.
The come-from-behind victory left the Jayhawks talking about the possibility of being invited to the NCAA Tournament for the first time since 2000, when Marian Washington was the coach. KU coach Bonnie Henrickson seeks her sixth NCAA Tourney appearance and first since 2004 at Virginia Tech.
"We definitely came in thinking we could play ourselves into the NCAA Tournament," Morris said after a big game that included not only 24 points but two huge steals.
Chimed in McCray, who battled through a poor first half to finish with 22 points: "That's been our No. 1 goal from the beginning of the season. I think a lot of teams found themselves in that position, thinking where, if you win a game, you might could get in."
The RPI of the Jayhawks (18-12) likely will be somewhere in the 40s today, and given their strength of schedule, it's not a reach to call them a bubble team despite a 6-10 record in conference play.
"I think we're in," Henrickson said with confidence. "But we'll keep playing and try to improve our resume. I think we've had a great run down the stretch and had quality wins. I think it's important to be playing well, not just in this tournament. We played well before we got to this point, obviously, the last three weeks. Still, we want to make sure we try to take care of it on our own."
A pro-Sooners crowd and a 27-3 team ranked third in the country will try to prevent that from happening. Oklahoma defeated Kansas, 69-54, in Allen Fieldhouse on Valentine's Day.
To reach the quarterfinals, Kansas had to overcome an 11-point deficit with 17:09 left. Nebraska center Cory Montgomery (20 points, nine rebounds) helped the Cornhuskers (15-15) build the lead by dominating the interior.
At that point, Henrickson called a timeout, aired out the team and challenged the guards to turn up the defensive pressure as a means of keeping the ball from finding its way to Montogmery. The team responded to its coach, and Nebraska had 11 of its 18 turnovers in the second half.
A native of nearby Norman who had many friends and family members watching, Morris had a pair of second-half steals that resulted in baskets by her, the second coming with 2:38 left to give Kansas a 59-56 lead.
Afterward, Henrickson lauded not just McCray and Morris, but also center Krysten Boogaard for skillful screen-setting, reserve forward Aishah Sutherland (eight points, three rebounds, two blocked shots) and point guard Ivana Catic (eight assists, zero turnovers).
To make her players believe the Sooners are capable of losing, Henrickson needed only to point across the street to another No. 1 seed that got bounced by an underdog. Two hours before her team advanced, the Kansas men lost to No. 9 seed Baylor.
"That's a great example for us," Henrickson said. "Obviously, that's a team you wish it wouldn't have happened to. ... They (her players) probably would think of that themselves. It's that time of year. You've got to play."
Check back at KUSports.com Friday for live updates from the KU-Oklahoma game.
More like this story on KUsports.com