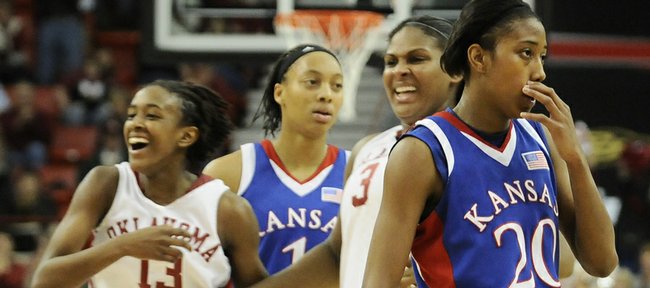 Podcast episode
KU coach Bonnie Henrickson talks to reporters after the Jayhawks' 76-59 loss to top-seeded Oklahoma in the Big 12 women's basketball tournament on March 13, 2009.
Reader poll
Yes

32%

42 votes

No

61%

81 votes

Undecided

6%

8 votes
131 total votes.
KU scoring
McCray 22 (7-for-17 shooting), Morris 15, Sutherland 10, Boogaard 6, Jacobs 4, Smith 2.
KU was 22-for-54 from the floor (40.4 percent), 2-for-9 from three (22.2 percent) and 13-for-13 from the free-throw line (100 percent).
OU was 30-for-66 from the floor (45.5 percent), 4-for-12 from three (33.3 percent) and 12-for-18 from the free-throw line (66.7 percent).
KU had 16 turnovers to OU's 14. OU out-rebounded KU, 43-28.
Courtney Paris finished with 27 points on 8-for-12 shooting. She added 14 rebounds, six blocks and two assists in 25 minutes. She didn't play in the game's final 11 minutes, 41 seconds.
FINAL: OU women defeat KU, 76-59
The Jayhawks put in a few baskets late to make the deficit look better, but OU still comes away with a 17-point win.
OU women 72/KU 51 — 3:26 left in game
The Jayhawks have unraveled down the stretch. KU has just two field goals in the last six minutes.
OU puts together a 14-2 run, and the score has gotten lopsided in a hurry.
OU women 63/KU 47 — 7:18 left in game
The good news for the Jayhawks is that Oklahoma isn't doing much to stop them offensively. The bad news for KU is that it can't stop OU, either.
With Courtney Paris out, the Sooners go to their long-range game, as Jenny Vining and Carlee Roethlisberger both drain threes.
The Sooners have scored on five of their last seven possessions to build their biggest lead of the game.
OU women 51/KU 40 — 11:41 left in game
Oklahoma isn't getting hurt by the whistles in this one. With the home crowd behind the Sooners, KU has out-fouled OU in the second half, 7-1. Earlier, Henrickson made sure to get her point across to the officials after a no call on a Boogaard shot inside, simply saying, "Six to one. Six to one."
Boogaard picks up her third foul inside, and KU is running out of big bodies to throw at Paris.
Courtney Paris hits two free throws. She has 15 free-throw attempts; KU has six.
OU women 43/KU 38 — 15:37 left in game
KU has no answer for Courtney Paris, and the Sooner star has an outside shot at a triple-double. She has six points already this half and has drawn three KU fouls by herself. The Jayhawks' Nicollette Smith is forced to the bench with four fouls. Paris also is up to five blocks.
The Jayhawks are executing well on the offensive end, though. McCray bounces in a tough jumper, and KU is still down just five.
KU scoring
McCray 14 (4-for-10 shooting), Morris 8, Boogaard 4, Sutherland 2, Jacobs 2.
KU was 11-for-29 from the floor (37.2 percent), 2-for-7 from three (28.3 percent) and 6-for-6 from the free-throw line (100 percent).
OU was 14-for-29 from the floor (48.6 percent), 1-for-4 from three (25 percent) and 7-for-10 from the free-throw line (70 percent).
OU's Courtney Paris had 17 points on 5-for-5 shooting in the first half. She also added nine rebounds.
OU women 36/KU 30 — Halftime
OU makes a run, using a trapping defense to force a couple KU turnovers. Courtney and Ashley Paris add a pair of turnarounds to push OU's lead to eight.
The Jayhawks weather the run pretty well, though. Sutherland hits a mid-range shot, and McCray follows with two free throws, and KU remains within striking distance at the break.
OU women 28/KU 23 — 3:55 left in 1st half
KU survives a media timeout while staying within five.
Courtney Paris moves right around Zinic for a layup. Zinic played just three minutes for KU in the entire 16-game, Big 12 regular season.
Morris makes a great decision on a drive. She took the ball to the basket, but instead of going into Courtney Paris terrritory, she wisely pulled up and swished a 6-foot jumper. Smart play by the Norman native.
OU women 22/KU 19 — 7:17 left in 1st half
Courtney Paris ... flopper? Boogaard had a chance for a layup, but as she gathered the ball, the large forward Counrtey Paris collapsed to the floor and let out a yell. It drew a questionable charge call from the official. If I ran straight on at Courtney Paris, I'm not sure I could have moved her that far.
KU is hanging tough. McCray hits another three, and Jacobs bounces in a fast-break layup, and the Jayhawks have cut the lead to 16-15. KU has been tough lately on the defensive end, holding the Sooners scoreless for the last 2:40.
After a mini OU run, Morris comes up with a big jumper to keep KU within three.
Boogaard picks up her second foul defending Courtney Paris. Henrickson will go deep to her bench to bring in Marija Zinic.
OU women 16/KU 11 — 11:13 left in 1st half
KU's Sade Morris is showing some confidence in her jump shot, and that's a great sign for the Jayhawks.
Without hesitation, the guard pulled up for (and drained) consecutive baseline jumpers to pull KU within three at 12-9.
Courtney Paris spins and puts around a jumper over Krysten Boogaard. Not only is the OU forward tough to guard, she also picks up a ton of fouls. KU's Aishah Sutherland has already had to check out with two whistles.
OU women 11/KU 5 — 14:35 left in 1st half
Oklahoma is making a living with shots just inside the three-point line. Amanda Thompson hits two 18-footers, and Danielle Robinson follows with a long jumper as the Sooners take a 6-2 lead.
So far, KU has done a good job of at least getting shots up. The Jayhawks have missed most of their chances, though, hitting just one of their first six attempts.
Ivana Catic turns it over two straight possessions, and LaChelda Jacobs checks in quickly. Catic didn't react to the double-team well, and Bonnie is not pleased.
Another mid-range shot from Thompson, and Henrickson calls timeout with her team trailing, 9-2.
Danielle McCray gets her first points five minutes in, swishing a three from the corner.
10:42 a.m.
Welcome back to the Newell Post Live, coming to you from the Cox Center where the Kansas women's basketball team is getting set to take on top-seeded Oklahoma in the Big 12 tournament.
After Thursday's victory over Nebraska, KU coach Bonnie Henrickson said that she thought her team had done enough to earn a spot in the NCAA Tournament.
Though the Jayhawks finished the conference season with a 6-10 record, they were in eighth place in what is widely considered the best league in the nation.
So is she right? Will the Jayhawks get an NCAA bid?
Let's look at the numbers. Last year, eight teams from the Big 12 made the NCAA Tournament. Here are the three last Big 12 teams to get in and their resumes, put next to KU's.
2008 Texas
Record: 21-12 (7-9 Big 12)
RPI: 24
Seed in NCAAs: 8
2008 Iowa State
Record: 20-12 (7-9 Big 12)
RPI: 32
Seed in NCAAs: 7
2008 Nebraska
Record: 20-11 (7-9 Big 12)
RPI: 31
Seed in NCAAs: 8
2009 Kansas
Record: 18-12 (6-10 Big 12)
RPI: 51
Seed in NCAAs: ?
KU doesn't look to quite have the numbers of any of those 2008 teams, but all those teams made the tournament easily. It looks like, even if KU loses today, it might be able to snare a No. 10 or 11 seed, if history is any indicator.
More like this story on KUsports.com