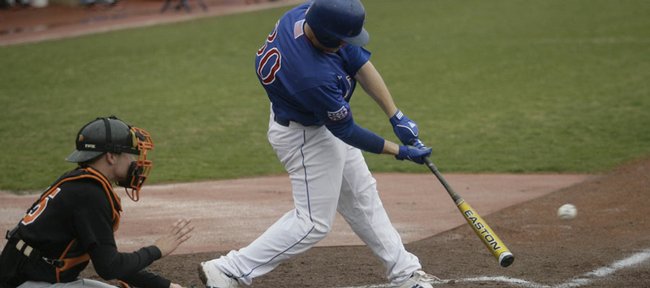 Kansas University catcher Buck Afenir, who just finished his senior season as a member of the Kansas University baseball team, signed a free agent contract this week with the New York Yankees' organization.
A catcher from Escondido, Calif., Afenir batted .333 with 10 home runs and 62 RBIs for the Jayhawks last season, helping the team advance to the NCAA tournament for the first time since 2006. His 31 career home runs, meanwhile, are tied for second most in program history.
"I'm thrilled for Buck to get the opportunity to chase his dream of playing professional baseball," said KU coach Ritch Price. "With the season he had and the improvements he's made over the last four years, he is certainly very deserving of this opportunity."
Afenir, who went undrafted in last week's MLB amateur draft, will join fellow Jayhawk Shaeffer Hall as a member of the Yankees organization. Hall was selected in the 25th round of the draft and signed with the team last week despite having one year of college eligibility remaining.