Photo Gallery
The career of Bob Frederick, in pictures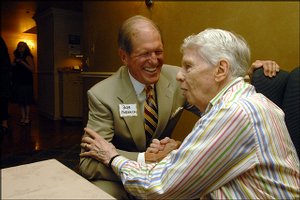 KUsports.com looks back at the career of former athletic director Bob Frederick via the pictures in the KUsports.com archive.
Accident occurred on damaged pavement
Thursday night's bicycle accident apparently occurred when Bob Frederick hit a damaged section of pavement as he was riding north on Kasold Drive and was approaching Sixth Street. Frederick lost control of his bike and struck his head on the pavement.
Crews from the Lawrence Public Works department had patched the damaged section of pavement by 9 a.m. Friday. But city officials said the damage was not weather-related, and not considered a pothole.
"Right of way use permits show Black Hills Energy had been working in the area," said Lisa Patterson, a city spokeswoman.
The energy company had a permit to use the right of way in that area from May 19-29 to repair a gas main leak, Patterson said.
The city's franchise agreement with Black Hills Energy "speaks to the company's responsibilities to return the right of way to its previous condition," Patterson said.
"The city has prepared a bill of $48 for the pavement patching to be submitted to Black Hills Energy," Patterson said.
Bob Frederick, who played and coached basketball at Kansas University and served as athletic director for 14 years, died Friday night at Kansas University Hospital at the age of 69.
Frederick, who from 1995 to 1996 served as chair of the prestigious NCAA men's basketball committee, died of injuries sustained in a Thursday evening bicycle accident.
"I can say he was the finest gentleman I've ever known in my life," former KU basketball coach Roy Williams said Friday from his home in Chapel Hill, N.C.
Frederick hired Williams to replace Larry Brown in 1988, when future Hall of Famer Williams was an unknown assistant at the University of North Carolina, where he is now the head coach.
"He had such high standards ethically and morally, and the way he was concerned about the student-athlete … it was mind-boggling," Williams added. "He was such a wonderful person, a family man. I don't know where I would be right now … I know I would not have been able to enjoy so many unbelievable experiences if not for Bob Frederick. The list of athletic directors who would have hired Roy Williams in 1988 … the number of that list is one."
Frederick died around 8 p.m. Friday at KU Hospital, where he underwent surgery Thursday night after a bicycle accident near the intersection of Sixth Street and Kasold Drive.
Kelly Hale, a spokeswoman for the Frederick family, issued a statement on behalf of the family: "We would like to thank our family and friends for their love and support during this difficult time. As an educator, coach and athletic director, our father touched many lives. He always wanted to live a life that mattered and he did."
Frederick, who is survived by wife Margey and sons Brian, Brad, Mark and Christopher, donated his organs. His family encouraged others to become organ donors.
Outpouring of tributes
The news of Frederick's bike accident and death both shocked and saddened friends of Frederick scattered all over the country.
"I love him. I've known him for 30 years. So many of us can say we don't have a better friend," said Bill Hancock, the first full-time administrator of the BCS.
"You think about the ways you know a guy. I worked with Bob on ticketing at the Big Eight tournament. He inspired me to ride my bike across the country," added Hancock, who rode his bicycle coast to coast in a tribute to his own son, Will, who died in a plane crash in 2001 while working at Oklahoma State.
"We used to run every morning when he was on the NCAA Tournament committee and I was director of the tournament. It was our standard meeting at 6 a.m. to go running. He is an inspiration to me."
Frederick, who was hired by then-Chancellor Gene Budig in 1987 and wound up with the second-longest tenure of a KU athletic director behind Phog Allen (19 years), also worked for Chancellor Robert Hemenway.
Since August 2001, Frederick taught in KU's Department of Health, Sport and Exercise Science in the School of Education, and for two years served as department chair. He specialized in sport management, sport law and sport facilities.
"On behalf of the entire Jayhawk nation, I offer my sincerest condolences to Bob Frederick's family and friends," Hemenway said in a release issued by KU on Friday night. "Bob was a class act who led by example, the epitome of good sportsmanship and ethical conduct. He has been a role model for countless student-athletes and educators, and KU is a better place because of him."
Noted current AD Lew Perkins: "Bob Frederick was an outstanding collegiate athletics administrator and, more importantly, a terrific human being, a loving husband and a great father. … And yet for all his success, his trademark was his sincere caring for student-athletes and coaches. He continued that legacy of caring into his work on the KU faculty. We will all miss him."
Noted successes
Former KU assistant ADs Richard Konzem and Doug Vance worked for Frederick during his entire KU tenure, one in which KU teams won 32 conference titles and produced 41 Academic All-Americans.
KU during the 1992-93 academic year became the first school to win a football bowl game (the Aloha Bowl), reach the men's basketball Final Four and advance to the baseball College World Series in the same school year.
"I am so thankful. I stood in line at Sam Miranda's funeral last week, and Bob and I and Linda Davis (wife of KU radio play-by-play announcer Bob Davis) talked 40 minutes," said Konzem, now the Rockhurst AD. "Intercollegiate athletics would be a lot better today if we had more people like Bob Frederick. He cared about kids. He had a list I use today … the qualities you look for in a head coach. The first is being a good person."
Noted Vance: "Bob had a great leadership quality. He walked the path in life with set values. He treated people with a great deal of respect. He was for the student-athlete. He presided over a period of time there was a great deal of success in KU athletics. He had a positive influence on everybody he met. He held enormous respect nationally."
Frederick's AD predecessor, Monte Johnson, said he respected Frederick greatly.
"Bob probably represented integrity in college athletics as much as anybody I can think of," Johnson said. "He knew players and coaches were the reason fans supported the program. He did a great job in the background. He's as good a person as you can have in college athletics. He brought a coach here that gave us 15 of the greatest years of KU basketball. Bob's the one who made that happen."
That coach — Williams — will truly miss his buddy.
"There's never been a person like him," Williams said.
More like this story on KUsports.com