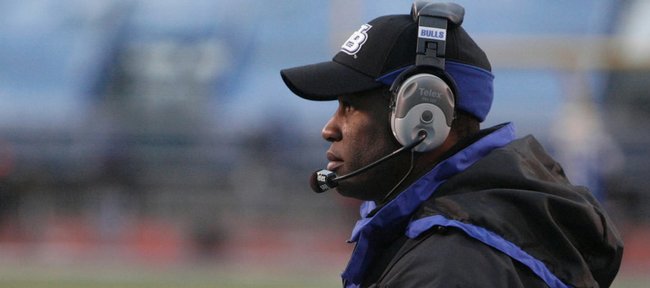 For members of the University at Buffalo football team, the offseason commotion surrounding their head coach became sort of an annual tradition.

Each winter, it seemed, another handful of teams would take a look at the things Turner Gill was accomplishing with the previously downtrodden Bulls and then think hard about plucking Gill, a former Nebraska quarterback who was in his first stint as a head coach, from western New York.
"We definitely felt last year was his last year," Buffalo senior defensive lineman Dane Robinson said. "Because after what happened — he got us to the bowl game, we won a conference championship — you looked at the whole situation, and you were like, 'Man, he pretty much did his job here. In three years, he turned nothing into something.'"
Gill will be introduced formally as Kansas University's next head coach during an 11 a.m. news conference today.
"Turner Gill is a winner," KU athletic director Lew Perkins said Sunday in officially announcing the hire. "His accomplishments at Buffalo speak for themselves. But more than that, everyone I talked to about him, starting with Tom Osborne, had the highest praise for Turner as a coach and as a person."
Gill has been linked to a few head-coaching positions in recent years. Following a 2007 season, in which he led the Bulls to a share of the Mid-American Conference's Eastern Division title in just his second year at the program's helm, he spoke with Nebraska athletic director Osborne — who coached Gill in Lincoln in the early 1980s —about the program's head-coaching vacancy.
Citing the team's significant defensive struggles at the time, however, Osborne went with Bo Pelini, an LSU defensive coordinator who in his second year this fall led the Huskers to a Big 12 North title and within two points of a BCS bowl berth.
The next year, a 2008 season in which Gill's Bulls finished 8-6 and advanced to their first bowl game in 50 years, Gill was reportedly a finalist for the Auburn head-coaching job that eventually went to Gene Chizik.
Though Gill brushed off speculation that the decision was based on race (Gill is black; Chizik is white), others, including outspoken former NBA player and Auburn alumnus Charles Barkley, called it the primary reason the Tigers selected Chizik.
There were those who were surprised Gill's ascension took as long as it did.
"I just felt that he was ready," said Ron Brown, tight ends coach at Nebraska and a longtime friend of Gill's. "But God has perfect timing for Turner, and he knew that. He was being very patient about it; he never over-pursued it."
Now primed for his first big-time gig, Gill's supporters, which include a number of prominent football men, seem relieved that the coach finally has broken through.
"I was quite confident that he would land on his feet somewhere that was very attractive," said Osborne, who coached Gill with the Huskers in the 1980s and highly recommended him to KU athletic director Lew Perkins. "And not to say that Buffalo isn't a good job. I've been to Buffalo at his request, visited with him. They've done a nice job there. But certainly Kansas, being in the Big 12, will be seen as a great opportunity for him."
That opportunity begins, however, with what is expected to be something of a rebuilding process.
Gill will take over a team that loses a number of offensive standouts, including quarterback Todd Reesing and receivers Dezmon Briscoe and Kerry Meier, and will be forced to calm the waters following the messy departure of former KU coach Mark Mangino.
At the same time, Robinson didn't seem overly concerned about the particulars of the task facing his former coach.
"Everybody at Kansas just needs to look at his body of work and look at where Buffalo was before he got here and look at where Buffalo is after he got here," Robinson said. "And I think that will put a little bit of ease to some of the skeptics that feel that coach Gill might have a hard time handling a BCS school."