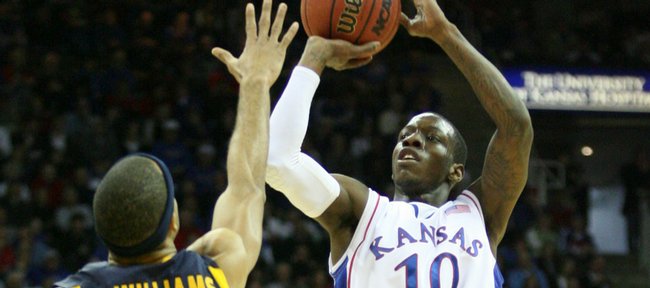 Kansas City, Mo. — Saturday afternoon, for just the fourth time in his college career, Kansas University sophomore Tyshawn Taylor started a game on the bench.
And for the second game in a row, Taylor showed thousands of fans that his new role suits him well, even if he doesn't much care for it.
"I don't really like coming off the bench too much, but I'll do whatever role my team needs me to," Taylor said. "I think the last two games were my best two games. I'm not sure if coach noticed that, but however he needs to play me, I'm going to do that."
Taylor finished Saturday's 90-65 victory against La Salle with 10 points, on 3-of-6 shooting, and added six assists and three rebounds in 28 turnover-free minutes.
In addition, he was responsible, at least partly, for the one play that brought the Sprint Center crowd to its feet and nearly blew the roof off the joint.
With just less than nine minutes to play, KU freshman Xavier Henry — who scored a career-high 31 points — stole a pass near midcourt and rushed the ball up the floor to a streaking Taylor. With nothing but an open runway between him and the basket, Taylor took off and appeared to be on his way toward one of his signature fast-break slam dunks, the kind that so often have ended with the playful Taylor posing for the cameras along the baseline. This time, perhaps inspired by the spirit of the holiday season, Taylor had gift-giving in mind. As he rose on the right side of the rim, he heard a voice behind him and saw a charging Markieff Morris roaring toward the rim.
Instead of taking the sure two points, Taylor flipped the ball behind his head to Morris, who flushed the ball through the rim to give Kansas a 20-point lead.
"I wasn't going to pass it," Taylor said. "But he called my name. I probably could have finished it, but (passing to Morris) looked better."
Asked what Taylor said to him after the highlight-reel slam, Morris broke into a rendition of the SportsCenter theme song: "Da da da, da da da."
With a perfect, pirouette-style spin, Morris screamed into the air at no one in particular. Seconds later, his brother, Marcus, followed suit, and Taylor, who by now had a schoolboy smile plastered across his face, rushed toward Henry to credit him for starting it all.
"I like anything when we score," KU coach Bill Self said. "But I particularly like it when a guy gives up himself to make a play for a teammate. I like that so much."
Although it's a little early to determine if Taylor's response to coming off the bench has earned him a spot back in the starting lineup, Self hinted at the subject following Saturday's game.
"Well, he deserves to be back out there. He's one of our best players," Self said.
More like this story on KUsports.com