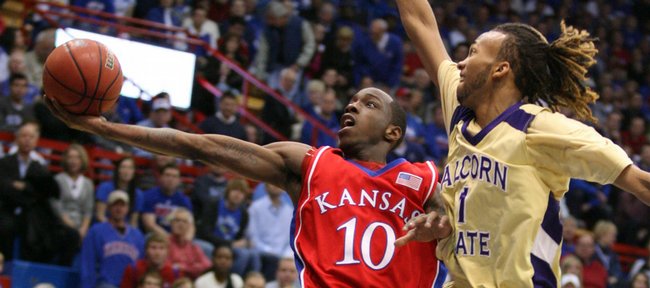 Kansas City, Mo. — Tyshawn Taylor isn't planning to reveal a stylish new haircut today in Sprint Center.
"I have no intentions of a Mohawk ... no," Taylor, Kansas University's sophomore combo guard, said with a smile.
He and senior Sherron Collins made a trip to Watson's Barbershop last Dec. 12 — a day before the Jayhawks' annual holiday game in K.C. Taylor's cut was a simple Mohawk; Collins' was a Mohawk as well as a star shaved into the side of his head.
The look didn't scare Massachusetts' Minutemen, who shocked the Jayhawks, 61-60, on Dec. 13 in Sprint Center.
"That was the Mohawk game," Taylor said with a frown. "You'll never see it again. You haven't seen it since."
Collins and Taylor, who returned to more traditional hairstyles for the Jayhawks' ensuing game against Temple, today hope to clip another Atlantic-10 Conference team.
KU (8-0) will meet La Salle (6-2) at 1 p.m., back in the Power and Light District.
"We had some unique hairdos before that game. I don't think we'll have that this time," KU coach Bill Self said. "There wasn't an actual problem with the hairdos. They picked a time to do it where it definitely called attention to themselves as opposed to our team. I told them before the game, 'This is fine, but you better play your butts off.' When that didn't occur, of course it was the hairdos' fault. It couldn't be anybody else's fault. It had to be the hairdos' fault," Self joked.
"I'll look forward to seeing how our guys are trimmed up. I think it'll be pretty clean."
Despite being pleased with Taylor's six-assist, no-turnover outing Wednesday against Radford, Self has decided to use him off the bench for the second straight game. Freshman guard Elijah Johnson has earned his second straight start.
"Obviously, Ty's going to play, but we'll start Elijah. I don't think you start a kid and have him play as well as he did and all of a sudden bench him, because, to be honest, he deserves it," Self said of Johnson.
Taylor said he'll be ready when called upon.
"I think coach is sending a message. I'm not performing like he wants me to. I've got to step it up," Taylor said, adding, "I like starting, but if I have to come off the bench, I have no problem with it. If we're winning and I'm helping my team, it doesn't make any difference."
Taylor is working on becoming a better defender.
"Coach says I get in trouble a lot when I lunge, so I have to stay down, play solid defense, pressure the ball," Taylor said.
Self said he believes Taylor will earn his starting spot back.
"We want the best guys out there that give us the best chance. I do think Ty is that guy," Self said. "I think he's not played like he's capable of playing."
Johnson said he won't be as jittery as he was in making his first start, even though La Salle boasts a standout point guard in senior Rodney Green (18.0 ppg, 5.8 rpg, 3.9 apg).
"I'm calm. I'm expecting it now," Johnson said. "I'll be ready from the top to help get the team focused and set a pace for the team."
The Jayhawks, of course, are hoping to improve on last year's 1-2 mark in Sprint Center. KU beat Washington and lost to Syracuse in the CBE Classic, then fell to UMass.
"Coach talked about it yesterday," said Johnson, who a year ago was a senior at Las Vegas Cheyenne High. "There was a lack of focus. It was more so a show rather than being ready for business. We underestimated a small team, but the small team (UMass) came out on top. I think we're much more focused this year."
Indeed, Self addressed the team about the UMass defeat.
"We didn't come to play, that was apparent," Self said. "Sherron was sick. We didn't play well enough to take him out of the game so he could rest. It was a bad game all around."
Harbaugh talk
A TV reporter on Friday at Sprint Center asked Self about Stanford's Jim Harbaugh possibly becoming the next KU football coach.
"Is that right? I haven't heard that," Self said. "I haven't visited with Lew (Perkins, AD) about this of late, so you probably know more than I do. Whoever the new coach is ... I'd be happy to work alongside with. I don't know who it is, but if it is the gentleman you mentioned ... I definitely know who he is and definitely was a fan. I've been to one game in Texas Stadium as a (Dallas) Cowboys fan ever. It happened to be when the Indianapolis Colts played there, and he upset Dallas at quarterback."
Neutral court
La Salle's Green says the Explorers are happy to be playing in Sprint Center instead of historic Allen Fieldhouse.
"Kansas City is more a neutral court," Green said. "I like our chances better."
The Explorers have lost to South Carolina (78-68) and Villanova (81-63) and beaten Hampton (83-80), Davidson (84-70), Tulane (61-59), Lafayette (79-67), Hartford (75-62) and Rider (69-60).
"I'll try to treat it like another game, (but) it's the No. 1 team in America," Green said of the Jayhawks. "It's a big game, a chance to show people we can play."
Returning soon
This is the last game KU will play without guard Brady Morningstar and center Jeff Withey, who will be eligible for the Dec. 19 Michigan game.
"I never thought we'd play six perimeter players. The way it could play out, we could," Self said, noting Morningstar likely would be added to the mix in large part because he is the squad's second best player at feeding the post behind Collins. Also, C.J. Henry could be ticketed for minutes after playing well against Radford.
"We know Sherron will get his minutes. The other guys could play shorter minutes and create more pace definitely and help us play to our athletic ability," Self said.
Of Henry, Self said: "We had not seen anything close to what C.J. did the other night in practice. In the game he was really good. Since the game he's been really good in practice too. He deserves the opportunity."
Morningstar, who had a screw inserted in his right foot last summer to repair a stress fracture, is still wearing a boot to protect the foot.
"I re-cracked the bone I had hurt from the summer," Morningstar said, referring to an injury he suffered in one of KU's first practices. "It wasn't a big deal, just a healing process I had to go through. It healed pretty quick. I just wear the boot when I'm not practicing as a precaution."
More like this story on KUsports.com