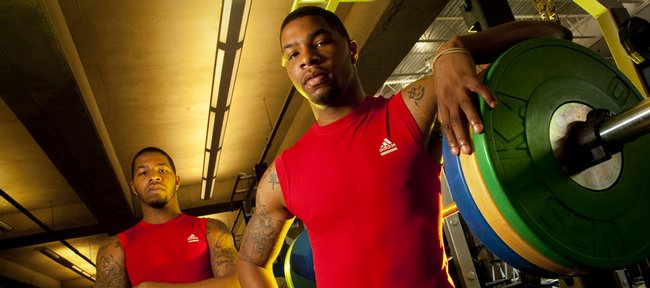 Marcus and Markieff, by the numbers
Min FG% FT% RPG APG PPG
Marcus Morris 18.5 .495 .604 4.7 1.1 7.4
Markieff Morris 15.6 .448 .650 4.4 1.0 4.6
• Statistics from their freshman seasons in 2008-2009
Beaten down physically and drained emotionally after a marathon freshman basketball season, Kansas University's Morris twins staggered into strength coach Andrea Hudy's office last March.
"We both told Hudy, 'We will listen to anything you say. Just help us out to get stronger and bigger,''' Marcus Morris said, recalling his and brother Markieff's plea for help.
The Philadelphia natives were shells of their former selves after an exhausting rookie campaign — one that saw Marcus shrink from 6-foot-8, 225 pounds to 213 pounds and 6-foot-9 Markieff shrivel from 230 pounds to 210.
"I didn't feel I helped the team as much as I could by being underweight," said Markieff Morris. He said he "was in a state of depression during Boot Camp" (two-week conditioning program in September/October) and after that, "didn't take care of my body right."
Hudy — whose job is to help build strong bodies — took their emotional request to heart.
"I told them to trust what the program has planned for them, from individual workouts, to the training room, to the weight room, to academics," Hudy said. "That they did shows a sign of maturity on their part."
Buying into a six-day-a-week weightlifting and conditioning program has meant a rebuilt Twin Towers.
"They have completely changed how they look and how they play," Hudy said of Marcus, who has gained 23 pounds since last March and now weighs 236 and Markieff, who has put on 34 pounds and now tips the scales at 244.
"They just worked hard. They knew they had to," Hudy added.
With the memory of KU's 67-62 NCAA Tournament Sweet 16 loss to Michigan State fresh in their minds, the two proved quickly they were serious about reinventing themselves for their sophomore seasons.
"We took a week off to get our bodies back. Ever since then, we've been in the weight room six days a week. We even go on Saturdays," Markieff Morris said.
That says a lot because the weight room is the last place the twins wanted to be last year.
"I hated it. Hated it," Marcus said of pumping iron.
"I didn't like lifting at all. I felt a lot of stuff we were doing was meaningless," Markieff noted, "because that's the mindset I had as a freshman. As the season went on and I lost all that weight, I realized it's a big deal. A big part of me playing college basketball is being stronger and bigger."
The Morrises — who worked out three to four times a day in the summer — emerged as "two of our most consistent guys," Hudy said.
And two of the Jayhawks' most accomplished weight movers.
Markieff has parallel squatted 415 pounds and Marcus 405 — the two best marks on the entire team. Marcus bench presses 285 pounds; Markieff 275. Both hang-clean 245 pounds.
"Both have the same strengths — lower body strength and power output. They are athletic. I think people will see how athletic they are," Hudy said, noting Marcus has a 31-inch vertical jump to Markieff's 30 inches.
Both lifting — and eating — have helped the twins pack on the pounds. Their mom, Angel Morris, who lives in Lawrence, has put her kitchen to good use.
"She knows we need to be heavier. She's cooking steady meals like spaghetti and chicken — foods that will stick on us," Marcus said.
Markieff noted that in addition to mom's "Shrimp Alfredo and fried chicken," he also eats "Subway a lot and peanut butter and jelly a whole lot too. It's very good."
With the weight gain has come an increase in something equally important — confidence.
The twins admit they were head-cases much of last season.
"It's always tough on freshmen who don't know what to expect going to college," Markieff Morris said. "Some freshmen think college is going to be like high school, which I did. I was in for a rude awakening."
Marcus said he was the worst of the pair.
"Coach (Bill) Self told me a couple times I wasn't coachable and I need to listen more," Marcus Morris said. "I think I need to do that more and be a better teammate and leader. I think I've kind of got the game down. Once I go hard, everything else comes."
Those who see the twins every day insist their games have improved dramatically.
"I'd say they are 75 percent better than last year — how they look, attitude, everything," senior point guard Sherron Collins said.
"I'm very impressed (with) their body definition, the way they work on the court, especially pick-up (games). Last year, as coach Self said, they weren't rebounding above the rim. Now they are dunking and trying to finish everything above the rim. It's a big improvement," Collins added.
Of Marcus, who averaged 7.4 points (off 49.5 percent shooting; six of 15 threes) and 4.7 rebounds a game, Collins said: "He's hitting step-back threes and everything."
Of Markieff, who contributed 4.6 points (off 44.8 percent shooting; three of 16 threes), Collins noted: "He's improved his post moves and rebounding the ball. He shoots the three as well."
Do they drop through the net?
"Here and there," Collins said of the taller Markieff's long-distance attempts.
Marcus seems to have perfected a strong dribble drive move that results in layups.
"Last year I was playing the four (power forward). That wasn't my primary position," Marcus said. "I didn't feel too comfortable playing the four. During the summer I've been getting stronger. I feel the players kind of look up to me and follow my lead. I've gotten a lot of confidence from that, so I'm putting the ball on the floor more from the wing.
"I'm going with the guards twice a week and the bigs once," added Marcus, who Self has said will play more at the three (small forward) as his career advances.
Markieff has benefited from putting up 500 shots a day every day in the gym with his sibling.
"My goal is to bring intensity. I want to be an energy guy for this team," Markieff said. "I want to shoot a better percentage from the three-point line. Last year I felt they (opposing players) were leaving me open a lot not expecting me to shoot them. I won't be labeled as a shooter this year. I want to let them know I can shoot the ball.
"I want to do whatever coach asks me to do, to play more minutes, be in the type of shape where I can play all day."
Playing time is not guaranteed this season. The Jayhawks are loaded at every position.
"It's 'Competition City.' You can't say any more about it," said Marcus, who logged 18.5 minutes per game to Markieff's 15.6. "Individual practices are competitive. Pick-up is very competitive. I know practice will be very competitive because everybody wants to play.
"I've never seen a team with this much talent. Last year playing 5-on-5 (pick-up) sometimes we'd keep the same teams and just keep going. This year we have three legitimate teams where anybody can lose at any time. You can actually sit out and watch if you don't win. Nobody wants to sit out and watch."
Noted Markieff: "Every position we have a talented player and somebody talented to back them up. Nobody wants to sit behind anybody. It'll be tough."
Self has acknowledged there will be fierce competition for all positions with the twins right in the mix.
"You stop and think about how far those two have come," Self said. "They are two of the hardest workers we have. They are getting stronger, better. There was a time last season all of us wondered if they could dunk. They never did. They have unbelievable futures and are fun to coach."
And apparently fun to be around.
Markieff has quietly impressed his teammates by taking freshman big man Thomas Robinson under his wing, giving him some pointers at individual workouts.
Marcus has been leading by simply working so darn hard.
"Hudy doesn't have to tell them to come in. They do it on their own," Collins said. "They're doing everything they can to help us play longer than we did last year. We all think we could have gone farther than we did. They are hungry. We're all hungry."
More like this story on KUsports.com