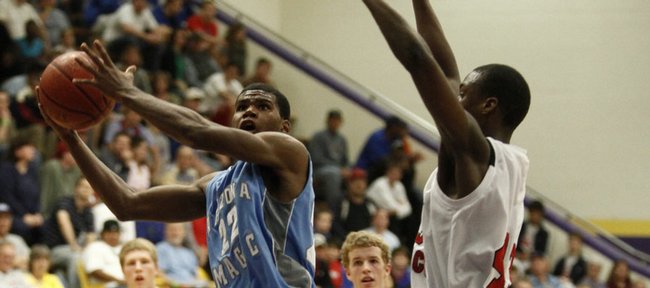 For some reason, future Kansas University basketball player Royce Woolridge continues to drop in the national recruiting ratings.
The 6-foot-3 combo guard from Phoenix Sunnyslope High doesn't quite understand why.
"I don't know what it is. It's just hate. That's OK. I bask in hate," said Woolridge, who recently fell from No. 93 to No. 117 in Rivals.com's rankings.
He's ESPN's No. 94-rated player and isn't listed in Scout.com's top 100.
"I don't let it get to me. What's the point of getting mad? It will not help anything. It'll make them (evaluators) not like me more. They've got a job to do. They're not feeling me. I'm not feeling them. It's mutual," Woolridge added with a laugh.
It's not as if Woolridge — the son of former NBA player Orlando Woolridge — hasn't excelled while playing for the Arizona Magic in the spring/summer AAU circuit.
He scored 29 points in a game against No. 2-rated player Harrison Barnes' All Iowa Attack AAU team at the Jayhawk Invitational.
He erupted for 33 against Team Odom at the Star Vision Sports Center Stage Tournament in Las Vegas.
"I'm just over it. I know where I'm at, and the (KU) coaches know where I'm at," Woolridge said. "I feel the whole ranking thing is a luck thing. If they come to the right game and you play well, you might be ranked higher. I had 30 against Team Odom, but there were no scouts. Another game I might have had a bad game, and it's like, 'He stinks.' I'm doing my thing. I like to pass, get others involved. I like to win."
Woolridge was asked if he might be ranked so low because talent evaluators may be down on the competition in Arizona. Daniel Bejarano, a 6-5 guard from Phoenix North (headed to Texas) is ranked No. 57 by Rivals. The only other Arizona prep in the top 150 is Terrell Stoglin, 6-1 of Tucson.
"I think they (scouts) think Arizona basketball may be kind of soft," Woolridge said.
It's been speculated Woolridge has been "old news" on the recruiting circuit since he committed in May of 2008.
"I'm glad I committed early regardless of rankings," Woolridge said. "I knew where I wanted to go, and I'm glad to be going to such a great school."
One person instrumental in putting out rankings — Rivals.com's Jerry Meyer — was willing to end the mystery on Sunday night.
"Part of the drop ... he's not a catch-and-shoot guy," Meyer said. "At his size and his game, he's not a point guard. He's strictly a wing scorer. To be in that four-star range, he needs to be a better catch-and-shoot guy. He's a scorer-off-the-dribble guy."
Meyer said Woolridge, who is a Rivals.com three-star player, projects as a "2 (shooting guard), not even a question."
Of his scoring outburst against Barnes, who Sunday narrowed his list to KU, North Carolina, Duke, Oklahoma, UCLA and Iowa State, Meyer stated: "Harrison is not a good perimeter defender. That's something nobody who has him ranked No. 1 is talking about. Brandon Knight (Rivals' No. 1 player) is the elite defender in the country."
Meyer likes a lot of things about Woolridge's game.
"What Royce does well is score off the dribble. His left-to-right crossover is a great move. He can attack the rim against lesser competition. He has a nice pull-up jumper. He can score. He is a very good scorer," Meyer assessed.
Woolridge — he'll make his official KU recruiting visit at the Oct. 16 Late Night in the Phog — says he'll continue to work on his game before arriving for the 2010-11 season.
"I've got to get stronger and work on my shot. I lost my shot a little bit this summer," Woolridge said. "I'll keep shooting. I've gotten to going to the basket. Sometimes I don't get the foul called, so now I'm working on making a move and going mid-range."
KU coach Bill Self can't comment on Woolridge until Royce signs his letter of intent this November.
"They just tell me to keep working on myself. They don't react to that at all," Woolridge said of KU's coaches commenting on his No. 117 rating.
"I think it's a pretty accurate ranking. It's not bad. He's 117," Meyer said. "I think what I can add to the discussion is for Royce to be effective in Kansas' system and be a player they need, he needs to improve on catching and shooting the ball. He can't always dribble. I can see him getting more comfortable and doing that with reps."
More like this story on KUsports.com