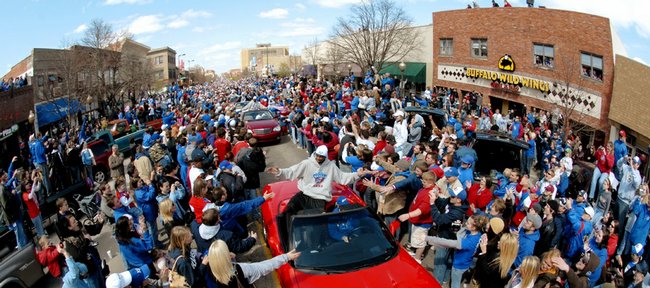 Anticipation for this afternoon's victory parade honoring the Kansas University basketball team is growing, as sidewalks and street corners in downtown Lawrence fill up with spectators. Wrapped in blankets and perched on folding chairs, fans are proud of their Jayhawks and excited to see a celebration that is expected to draw 80,000 people to downtown.
Parking spots on Massachusetts Street are nonexistent, as Jayhawk fans staked their claims early.
Lawrence resident Stan Ring grabbed a parking spot between Eighth and Ninth streets last night. He waited for the parade to begin with his wife, Mary Ann, his daughter Elizabeth Hall, her husband Brian and their two children, Nathan, 7, and Garrett, 4.
They planned early, "just so we could have a good place here today, get up close to the action, so my grandkids can see," Ring said.
The Halls drove to Lawrence from Olathe, said Elizabeth, a 1997 KU graduate.
"It's just really fun," she said. "It's fun to share it with my kids and my parents. It was nice to finally make it the end."
Second-floor windows were open and fans stuck their heads out to watch the massing crowds. Music blared from cars and street musicians entertained passersby.
Felicia Miller sat with her parents on their flatbed truck outside Ernst and Sons Hardware, 826 Mass., which is owned by Miller's father-in-law, Rod Ernst. They watched the parade celebrating KU's 1988 national championship in virtually the same spot.
Ermina Gauna, Miller's mother, said she felt "just pride, pride."
"The national spotlight that has been on Lawrence and KU, anywhere you go, people know about the university and what it stands for," Miller said. "There aren't may schools that have a football team and a basketball team that are tops at the same time. The recognition for Lawrence, Kansas, is outstanding."
KU students Ashley Trent, Mike Courtney and Beau Winfrey found an open spot at Seventh and Massachusetts streets. They were surprised they were able to snag such prime real estate.
"I'm pumped. I'm really excited," Trent said, as she did homework before the parade. "We're trying to hit as many events as possible."
The group planned to migrate from their spot -- where the Jayhawks will pass at the beginning of the parade -- to Allen Field House, to watch the basketball team's awards ceremony, which begins at 6 p.m.
Courtney, a graduate student from Boston, felt lucky to have seen KU win the national championship.
"This is the best sports year of my life. It's like coming from championship city to a champion school," he said.
The parade begins at 3 p.m., and will be broadcast on Sunflower Broadband Channel 6.
More like this story on KUsports.com