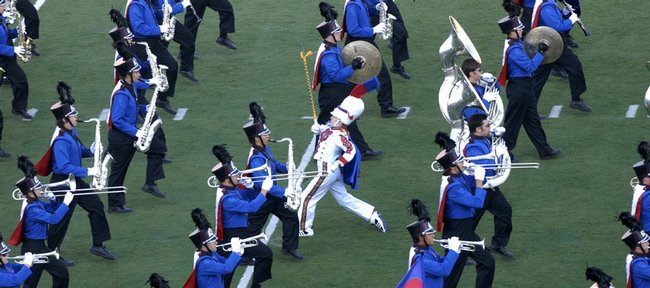 Big 12 band numbers
Big 12 Conference schools are known for having large, active marching bands. For instance, the University of Oklahoma's band performs at every home and away game.
Texas Tech's band is one of the largest in the country with 450 members.
Other marching bands in the Big 12:
Texas A&M;: 400 members
Texas: 388 members
Kansas State: 329 members
Iowa State: 320 members
Oklahoma: 308 members
Nebraska: 285 members
Missouri: 280 members
Oklahoma State: 275 members
Baylor: 250 members
Kansas: 177 members
Colorado: Number unavailable
It's been a rough few years for the Marching Jayhawks.
There have been four new directors in the past eight years. Total membership now stands at only 177, the smallest of any marching band in the Big 12 Conference.
But there are signs of a resurgence. The band's size is up some from last year's total of 165 members, 98 of whom are freshmen. Band leaders hope those freshmen will stick around and form the nucleus of a larger band more similar in size to those in the rest of the Big 12.
"You're not going to talk to anyone who doesn't want to see the band get bigger," KU's new director of university bands, Scott Weiss, said recently from his office overlooking Naismith Drive at the athletics headquarters near Allen Fieldhouse.
"But I don't want to take anything away from the students we have. They're doing a really good job."
Perhaps it's appropriate that Weiss can easily look over at the football team's administrative offices because, in many ways, the fortunes of his marching band are tied to the gridiron squad's fortunes.
Brad Snow, director of the marching band at Oklahoma State University, arrived at his school in 2006 at the same time KU hired its most recent marching band director, David Clemmer. Snow said that to have a successful marching band you have to find students who love music and sports.
"Hopefully you'll find people that have a healthy balance of both," he said.
At OSU, which has also had turnover in directors, the band has 275 members. But it took a long time and an improvement in the football program to get to that level.
Weiss said the Marching Jayhawks had five directors between 1907 and 1999, and two of the five covered a combined total of three years. Since 1999, turnover has stopped the band from getting any momentum.
That turnover is often attributed to better opportunities with bigger bands or a lack of support for KU's Marching Band. Up until recently, the Marching Jayhawks had band uniforms that had lasted decades longer than they'd been designed for.
"When you have that kind of turnover at the helm, it often results in a drop in membership," Weiss said. "Change is hard. People get attached to directors."
But Weiss said he and Clemmer are working hard to add members. He cited the 98 freshmen as one of the most promising signs for the program's future.
"Students need to be having a good experience. They need to feel what they're doing is worth their time," he said. "Our best way of recruiting new members is for our current students to go back to their high schools and talk about how much fun they're having."
The university provides band members with their uniforms and assigns instruments, though there are some fees associated with both. It also pays for travel to the K-State game every other year and for some members to next week's game at Colorado. If the team advances to a bowl game, Weiss said he hoped the athletic department would be able to pay to bring the band along.
Brittani Boyd, a senior member of the band and one of the drum majors, has bought into that. She said she's optimistic the band will grow in the next few years.
"(Recently), students from the band were given a role in things like recruiting and choosing show music," she said. "When prospective students hear from an actual student, their chances of coming to KU and joining the band are definitely greater."
Right now, the Marching Jayhawks make it relatively easy to join. Have some experience, fill out the forms, pay the fees, and you're likely in. Many other programs have fairly rigorous auditions.
Iowa State marching band director Matt Smith said his band has grown by 30 to 40 members in the past few years and it's nearing its capacity.
"We send out fliers and hold auditions in the summer," Smith said. "But our best way of recruiting is our visibility at games."
And if the KU football team keeps winning, Weiss can hope that a few more students in the seats will decide that they, too, want to be part of the Marching Jayhawks.