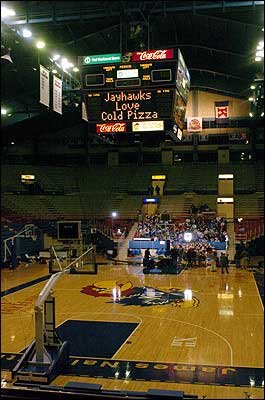 KU schedule
Late Night in the Phog
¢ Friday night marks the official beginning of the 2007-2008 Kansas University basketball season as KU opens the Allen Fieldhouse doors for another edition of Late Night in the Phog.
¢ Admission is free. Doors open at 6 p.m. and will be closed when the arena reaches its capacity.
¢ The Jayhawk men's and women's teams will entertain the crowd with a variety of skits and scrimmages until 9:30 p.m.
Allen Fieldhouse, which was spruced up prior to the 2005-06 basketball season, will undergo another facelift next spring.
At least that's the plan if Kansas University's athletic department can raise $15 million targeted for building improvements.
"This is a labor of love," KU associate athletic director Jim Marchiony said of continually bettering the hoops palace that opened in 1955.
"This is part of what you do when you have a great building with a lot of character. It's what you do if you want to preserve the history of the building like we do. People were very pleased with the upgrades the last go-round. And we believe they'll be pleased again," Marchiony added.
KU has sent a request to the Board of Regents for approval of the project - approval which should be granted Wednesday. The project will be funded totally by dollars raised by the athletic department.
On tap are improvements and expansion of the men's and women's basketball locker rooms, existing rest rooms not improved in previous projects, reorganization of the concession stands and the addition of new floor coverings, wall finishes and ceilings/lightings on the concourses.
The project also will include mechanical and electrical improvements as well as adding more space for fire and medical staffs and additional space for the media relations department.
Construction will begin as soon as the 2007-08 season is complete.
"Changing the aura of Allen Fieldhouse is not part of the discussion," Marchiony said. "These are major improvements, improvements we feel are necessary."
The last facelift, which cost $10 million, included new paint on the seats, a new floor, a new videoboard and brighter lights above the court.
Marchiony said, contrary to rumor, there was no talk of adding suites or additional seats to Allen Fieldhouse.
"That is not in the discussion," he said.
Why?
"Because everyone likes Allen Fieldhouse the way it is," he stated.
There's a new roof on the building for the coming season. The Federal Emergency Management Agency paid for 75 percent of the $1,125,500 project and the state, which allocates funds for the repair of state buildings, paid for the rest.
FEMA and the state became involved because the roof was damaged in the microburst of March, 2006.
Marchiony said KU officials are meeting to discuss how to allocate the space that will be cleared when the football team moves its offices and locker room to a new complex at Memorial Stadium.
¢ Replica jerseys: KU's men's basketball players will be wearing 1988 replica jerseys for the KU-Colorado game on Feb. 16 at Allen Fieldhouse. That's the weekend KU will hold a 110 Years of Jayhawk Basketball celebration, with special emphasis on the '88 squad, which won the NCAA title 20 years ago.
"We'll get them as close as we can to what the team wore in '88," Marchiony said. "We think retro uniforms will only add to the excitement of the weekend."
KU will put the uniforms on sale prior to the game so fans, if they wish, can also wear them to the game.
¢ Top backcourt: Luke Winn of Sports Illustrated has ranked KU's backcourt (Mario Chalmers, Brandon Rush, Russell Robinson, Sherron Collins) the best in the country. Memphis is No. 2, followed by Marquette, Washington State, North Carolina, UCLA, Tennessee, Louisville, Texas, USC, Oregon, Michigan State, Villanova, Butler and Davidson.
¢ Late Night is coming: KU sophomore forward Darrell Arthur says he is looking forward to Friday's Late Night in the Phog. Doors open at 6 p.m. for Late Night, which will run from 6:45 p.m. to about 9:30.
"It's going to be wonderful, seeing all the fans there," said Arthur, who on Tuesday was named preseason All-Big 12. "The stands will be packed. I'm going to love it."
Arthur attended Late Night during his freshman and senior years at Dallas' South Oak Cliff High.
"It was good. I loved it. It impressed me. I think it would impress any (recruit)," he said.
"It definitely helped me make up my mind," said KU senior Jeremy Case, who attended Late Night as a McAlester High senior. "I came here my senior year. Seeing the stands full and the excitement makes you want to come to KU."
"It's a great time to bring in recruits," noted senior Russell Robinson. "There's a lot of stuff going on. You can show a recruit a lot of attention, that basketball is the big thing around here. You can feel that vibe if you come to Late Night."
Twins Marcus and Markieff Morris, 6-7, 215 pounds, and 6-8, 226-pound forwards from Pennsauken (N.J) APEX Academies, will attend Late Night as part of their official recruiting visit. They are considering KU, Villanova and St. John's.
More like this story on KUsports.com