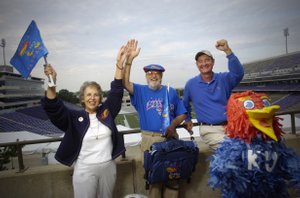 Watch the excitement
Kansas University, 4-0, will take on No. 24 Kansas State University, 3-1, at 11 a.m. today at Bill Snyder Family Stadium in Manhattan. The game will be televised on Fox Sports Midwest, which is Sunflower Broadband Channel 36.
Manhattan — When Rob Learned arrived at work Tuesday, he found pictures of Kansas University's head football coach Mark Mangino posted on his locker.
One showed Mangino's head attached to the body of an overweight superwoman. Another showed him bending over in a field.
"They've got like a natural gas fire coming out burning a Jayhawk," Learned said.
As a lifelong resident of Manhattan and a maintenance employee at Kansas State University, the KU fan expects to get razzed every once in a while, especially during the days leading up to today's Sunflower Showdown that pits the undefeated Jayhawks against the 3-1 Wildcats.
"They don't bother me," he said of the KSU fans' pranks.
That's because he is used to them.
Dad's influence
Learned, 48, grew up on Baltimore Terrace, a cul-de-sac where K-State's former head football coach Vince Gibson lived along with his offensive and defensive coaches. And former head basketball coach Cotton Fitzsimmons lived a block away. But those Wildcats' presence didn't persuade Learned to wear purple.
He has remained true to KU's crimson and blue, just like his father, Bob Learned, 82.
Bob Learned, who earned a pharmacy degree at KU in 1954, owned Learned Prescription Shop in downtown Manhattan from 1964 to 1985. He said business was successful even though he displayed Jayhawk memorabilia inside. And vandalism wasn't a problem - unless you count the time he found a rubber chicken hanging on the doorknob.
"We've had a lot of fun," he said of trading barbs with KSU faithful. "I have kidded them for many years that they are mixed-up Jayhawks. Meaning if I mix red and blue, I get purple."
Before heading to Lawrence with his son and wife, Iona, to watch the KU football team, Bob Learned likes to take a spin through Aggieville, a popular hangout for K-State fans. Of course, his SUV is decked with Jayhawk decals and flags.
Eventually, he plans to return to his alma mater for good.
"We've retired here, but I've got a burial plot in Lawrence," Bob Learned said, chuckling.
Fun pranks
Mark and Toni Stremel are known as "those Jayhawks" among their neighbors, co-workers and many K-State friends. The KU football and basketball season ticket holders have lived in Manhattan for 15 years.
Mark Stremel's office near downtown Manhattan is full of signed KU basketballs and autographed pictures of former players such as Danny Manning, Nick Collison and Scot Pollard. There also are autographed pictures of basketball coaches Larry Brown, Roy Williams and Bill Self.
"I've got a lot of really good clients that just hate KU, but they still like me," he said, laughing.
The Stremels have been on the giving and receiving end of pranks, but they say it is all in fun.
"One time I was baby-sitting for a friend of mine, and I put a Jayhawk tattoo on the baby's butt," Toni Stremel said, chuckling. "They called me at like 11 o'clock at night and said they were with the Riley County Police Department and said parents had reported some abuse on their child.
"That's probably the funniest thing that I've ever done."
Meanwhile, her husband has put Jayhawk stickers on his friend's truck window and construction hat.
"He started complaining about how I embroidered a Jayhawk on the side of his hat. He thought that was just the ultimate insult," Mark Stremel said.
The Stremels are among 312 members of the Flint Hills Chapter of the KU Alumni Association, which launched last January and represents the Manhattan region. KU estimates 1,300 graduates live in that area.
One such graduate is Ellen Remsing, a member of the KU rowing team from 1996-2000. She has a dental practice in Manhattan.
"Manhattan, for the most part, is tolerable of my KU madness, but I do get cajoled often," she said.
She tries to order as many crimson and blue folders, office supplies, and lab pans as possible. She also has a KU basketball schedule hanging her in office. When people point to it with an inquisitive look she replies, "I am a KU graduate and very proud of it."
Divided houses
Just like the Stremels and Learneds, Remsing has KSU fans in her family, and her sister is a big one.
"I don't kid her too much," she said. "She is just more sensitive about it, I guess. So, I just don't ruffle her feathers."
The Stremels have two daughters: Kristen, a junior at KU, and Kelly, a freshman at K-State.
"She has always been a big K-State fan and we always have to kind of tolerate her," Toni Stremel said.
Kelly Stremel is predicting KSU will "slaughter" KU, and she's putting a small bet behind her Wildcats. But she wouldn't consider doing that during basketball season.
"I learned if you bet on K-State basketball, you're gonna lose against KU," she said.
Her dad definitely agrees. While he is a little uncertain about how today's football match-up in Manhattan will turn out, he doesn't doubt his basketball team.
"K-State's got a couple of recruits that they brought in that are real hot dogs, and they think that they are going to be great," he said. "But the fact of the matter is Kansas goes eight deep in hot dogs and great ball players, and I just feel like that we are not going to give up anything to K-State this year. I think KU could very well go all of the way this year."
And if they do, look out Manhattan.
More like this story on KUsports.com