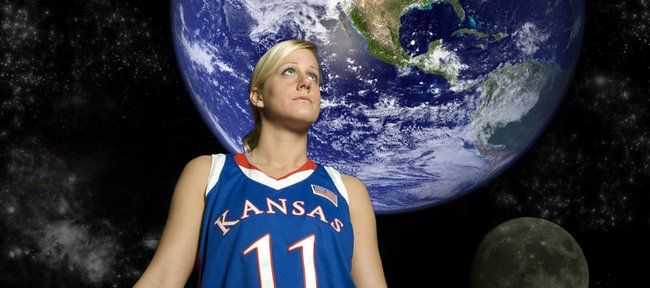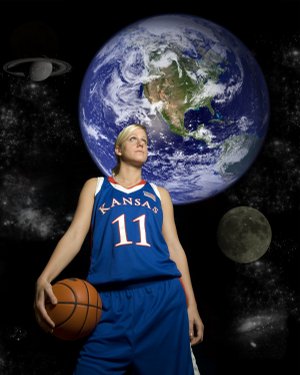 When sirens pierced the air through Novi Sad, Serbia, one March afternoon eight years ago, Marija Zinic knew what it meant.
NATO forces were preparing to bomb her hometown.
She was 13 years old.
Every day for 21â2 months, her routine was the same. With school canceled, she spent seven-hour stretches in her family's basement as sirens blared and bombs detonated around her. The family was without electricity and water. Food prices skyrocketed. Novi Sad was so ravaged, the bridges in the town were destroyed, isolating it from the southern portion of Serbia.
But one aspect of life remained stable for Zinic amid all the chaos.
Basketball.
"We didn't go to school," Zinic said, "but we still went to practice."
Her harrowing tale is unique, but Zinic - now a junior on the Kansas University women's basketball team - shares one commonality with 25 others on KU's campus.
They are all international students on athletic scholarships who never may have been exposed to KU if not for today's modern technology and recruiting methods. Now, it is easier than ever for student-athletes to be recruited, and feel comfortable committing, from anywhere in the world - some without setting foot on campus.
A More Digital World
Phil Lowcock, Kansas' director of the student-athlete life-skills program, said technological advances have changed recruiting drastically.
"The students now, with the digital age that we're in, will send in a tape or e-mail of them at practice," Lowcock said. "A coach can literally open it like a YouTube and see what their swing looks like. You'll see quite a bit of that. So, (recruiting) internationally is becoming a bit more like domestic."
Egor Agafonov won an NCAA indoor track and field national championship in the weight throw last winter for KU after transferring from a Russian university.
How did coaches find him?
"I think it's all results they have on the Internet," Agafonov said. "They have all my results I had in Russia."
Agafonov said he chose KU without making an official visit. While being recruited, he kept in contact with coaches only through phone calls and e-mails.
"That makes it a lot easier," Agafonov said. "It doesn't matter where you're located. Through Internet, or e-mail and phone calls, you can connect almost every place in our world."
KU women's basketball coach Bonnie Henrickson, who has three international players on her current roster including Zinic, said recruiting international athletes has become an integral part of the Division I college sports scene. That isn't likely to change anytime soon, Henrickson added.
"We have contacts overseas, so we've got people that are familiar with our program and exclusively track talent," Henrickson said. "In the last five years, in our July evaluation period, we have gone overseas to watch players play in either world championships or under-19 championships."
Henrickson said she resolved nearly a decade ago, when she coached at Virginia Tech, to shift her focus from recruiting exclusively in the U.S., and many coaches began doing the same thing in the mid-90s, according to Henrickson.
"We just decided we're going to take some time, it's going to be expensive, but let's give ourselves a five-year window to see if we have some success," Henrickson said. "If we had not had players that were able to come over here and be difference makers, we probably would have stopped."
That seems to be the consensus among coaches and athletic administrators at KU. The appeal in pursuing international athletes lies in the results.
"Sport is becoming global," Lowcock said. "If that's the best person I can find at that position, it doesn't matter where they're from."
KU's international student-athlete numbers rank in the top half among Big 12 schools and compare favorably to other Big 12 North universities. According to each school's athletic compliance office, the 26 athletes from outside the U.S. currently on KU's rosters rank the Jayhawks second, behind Nebraska's 44 in the Big 12 North, and sixth in the Big 12 overall. Kansas State, Missouri, Colorado, Iowa State, Texas and Oklahoma all have 25 or fewer international student-athletes.
Breaking the Language Barrier
For all KU does in recruiting, the biggest obstacle foreign-born players encounter stems from what can't be taught on informational DVDs or in e-mail correspondence - the language.
Agafonov didn't know any English when he arrived on campus a year ago, although he has learned quickly.
KU sophomore Kunigunda Dorn, one of five international student-athletes on the women's tennis team, found herself in the same predicament when she came to the United States from Hungary for the first time last year. Before that, her communication with KU had been aided by an English teacher back home who e-mailed the coaching staff expressing Dorn's interest. Dorn was Hungary's women's tennis champion in every age bracket she played.
But Dorn never visited KU either, instead accepting her scholarship by relying on e-mails with coaches and text messages with Hungarian friend Edina Horvath who was already on the Kansas tennis team. That made the language barrier more difficult upon arriving.
"When I came here, I was alone in the airport and I had to call Coach (Amy) Hall. It was the first time we had English," Dorn said. "I didn't even know what I should say."
Paul Buskirk, KU associate athletics director for student-athlete support services, said international athletes like Dorn have a distinct advantage over international non-athletes in making the transition to English so smoothly. He said that while non-athletes who don't know English might engage with people of the same culture in their residence halls, international student-athletes are specifically roomed with athletes who speak English.
"It is the key advantage for our student-athletes to move so quickly," Buskirk said. "If you have nine people in a room speaking English and one who does not, they're going to speak English. So the one who doesn't is going to have to play catch-up, and they do. That is one key to success in quickly learning is the total immersion."
Buskirk said all international students take courses at KU's Applied English Center, taught by tutors that specialize in teaching English as a second language. Once the student gains fluency, he said they exit the program and take regular classes.
"It serves as a one stop shop for any international student, athlete or not," Buskirk said.
Worth the Wait
According to university statistics released in September, KU saw an increase in its international student enrollment this year. The university currently has 1,754 international students, up 2.8 percent from a year ago. International students make up about six percent of the overall student body.
Despite initial communication difficulties, international student-athletes say they are grateful for the diverse opportunities they have been afforded at KU.
"I really enjoy that I'm here," Agafonov said. "Beautiful campus and friendly people. It's really quite the experience. It's impossible to read this in books. It's impossible to watch the TV shows or movies about the other cultures. It's only from your personal experience."
Said Dorn, "I really like it. I think it was the best choice for me."
Dorn said she considered herself lucky to have the Internet's assistance in finding KU because several older Hungarian athletes missed their chance at being recruited in America.
"I heard from tennis players back in Hungary who are 28 years old, and they told me they had no chance without the Internet," Dorn said. "They would send a letter, and then it was weeks before they got a response."
E-mail changed everything, particularly in countries that only recently latched onto the trend such as Hungary and Serbia.
A Whole New Ballgame
Zinic said she knows how much life has changed from just five years ago in Serbia when she had no computer or cell phone. In all likelihood, she admitted, she wouldn't be at KU without the Internet - a service that became available to her just four years ago.
"It made it easier," said the 6-foot-2 Zinic, who was discovered by one of Henrickson's scouts while playing for the Serbian National team at the European Championships in Slovakia. "Because they couldn't call me everyday, and I had a lot of questions. We talked for a year before I signed. I got a lot of information from them through the Internet and I was able to go online and look at their Web site."
Zinic said 80 percent of her communication with KU's coaching staff occurred by way of e-mail because cell phone calls to America were too expensive. She said her family also was lucky to have the rare privilege of owning a home computer.
"Here, most of the people have laptops in high school and use the Internet," Zinic said. "In Serbia, a lot of people don't use Internet that much. So when I was using Internet, people thought it was so amazing."
Translated from Serbian, Novi Sad means "new planting." These days, Zinic's roots firmly are entrenched in the technology-savvy college town of Lawrence, where the loudest noise she hears emanates from Allen Fieldhouse on game days. It's a stark contrast from her once pillaged, war-torn city at the center of the Kosovo War, where going to basketball practice meant dodging shrapnel during a lonely 15-minute bus ride across town, and the World Wide Web wasn't even a passing thought in her mind.
For more and more international student-athletes, scholarships that once seemed unattainable and a world away are developing into a reality - one mouse click and keyboard stroke at a time.
More like this story on KUsports.com