Former Kansas University guard Carl Henry, who played in 30 games in Allen Fieldhouse in 1983 and '84, on Friday will find out what it's like to coach an elite 17-and-under AAU game in the tradition-rich basketball palace.
"I'm glad to be coming back," said Henry, the 42nd-leading scorer in KU history with 1,044 points.
His Oklahoma City Athletes First team figures to contend for the title at the eighth-annual Jayhawk Invitational this Friday through Sunday in Allen Fieldhouse.
"We're playing the top team in Kansas in the first game, so that will be a great thing right there," Henry added of a 9 p.m. Friday matchup against Kansas City Pump N Run.
"Other than that ... I'm always amazed at how big Lawrence has grown. It's huge."
Henry, who averaged 17.4 points a game for Ted Owens' Jayhawks during the '82-83 season and 16.8 for Larry Brown's initial KU squad in '83-84, has a major college recruit in the family. He's Xavier Henry, Athletes First's 6-foot-6 sophomore sensation out of Putnam City High who is considering KU, North Carolina, Memphis, Texas and Ohio State.
"He is a good shooter, can put the ball on the floor, can jump. He can do it all, and he's still learning," Carl said of left-handed-shooting Xavier, who averaged 23.9 points and 8.0 rebounds his sophomore season at Putnam City.
Daniel Orton, a 6-9 sophomore forward from Oklahoma City McGuinness, who also has KU on his college list, and future Oklahoma University player Kyle Hardrick, a 6-8 soph from Norman High, join Henry in the Athletes First starting lineup.
"To me, it's just another tournament," said Carl Henry, who will take his team all over the country this summer, "but you tell me we're playing one of the top Adidas teams (Pump N Run), it's a different story. I like to see who comes out and competes."
Pump N Run is led by Travis Releford, a 6-3 junior from Roeland Park Miege, who is considering KU, North Carolina and others, as well as KU target Steve Moore, a 6-9 junior from Truman High in Independence, Mo.
"I'm sure we'll have somebody," Carl Henry said, not naming names when asked who will guard Releford.
It could be Xavier, who has been on college coaches' radar since eighth grade.
"It's just part of your life. I deal with coaches all the time," Carl Henry said of recruiting. "Coaches can talk to me whenever they want. But where he goes ... it's all up to him."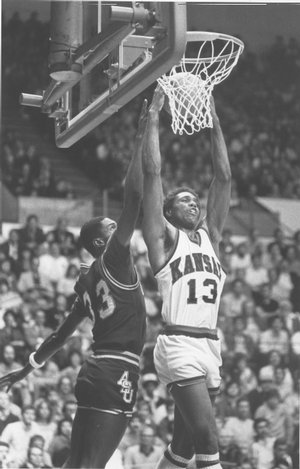 Carl Henry's eldest son, C.J., also starred at Putnam City High. C.J. orally committed to KU in May 2005 but elected to sign a multi-year baseball contract (with a $1.6 million bonus) with the New York Yankees one month later.
The 20-year old third baseman is hitting .230 (14 for 61) with five doubles, two triples, two home runs and 11 RBIs for the Lakewood (N.J) BlueClaws, a Class-A affiliate of the Philadelphia Phillies.
Henry also has three stolen bases, as well as a team-leading 22 strikeouts and seven errors.
"He is doing well. He is hitting sometimes and sometimes not hitting," Carl said of C.J. "He's happy he made the decision to play baseball. He couldn't turn down the money."
C.J. Henry, however, has had some second thoughts of late. The 6-foot-3 Henry might elect to play college ball during the 2008-09 season if he doesn't start making a rapid rise in the Phils' minor-league system.
"Next year he'll make the decision whether to play basketball instead of baseball," Carl Henry said. "If he came back to play, he'd be 21. He'd either go there (KU), Memphis or North Carolina. Texas was another school he mentioned.
"I told him to give it all he's got until the end of his contract. Then it will be, 'Tell me what you want to do. If you love one game more than another, it's the way you have to go.' That's what we're trying to figure out now - which he loves more."
Carl Henry, 46, not only coaches AAU basketball, but also trains players in Oklahoma City and Dallas and helps place them with pro teams.
"I am the guy who works you out, gets you in shape, makes sure you have your skills. We try to figure out a place for you and then an agent (he works with) gets you there," Henry said.
"This is enough for me in the summertime. We get to do the Nike tour and go places and play the best competition. I want my son to see the best competition. I coach my son like I do everybody else. We have plays, but mainly I just let them play. We'll run up and down if you let us. If not, we'll bring it halfcourt."
The Jayhawk Invitational will run Friday through Sunday in Allen Fieldhouse and Horejsi Center. Brackets and schedules will be available later this week at jayhawkinvitational.com.
More like this story on KUsports.com