On March 23, 1957, when Spike Lee was three days old and Greg Oden supposedly wasn't born yet, a wound opened that to this day festers.
On that day, in Municipal Auditorium in Kansas City, an undefeated band of toughies from New York City playing for the University of North Carolina defeated sophomore Wilt Chamberlain and Kansas University, 54-53, in three overtimes.
Since then, North Carolina's players have been honored throughout the years, this year joining Michael Jordan's 25th anniversary national championship team in a celebration.
Kansas' players have tried to forget and haven't met with much success.
Next to Wilt, Ron Loneski was Kansas' biggest player. He spent 22 years in the military, another 10 teaching and coaching high school basketball in San Diego, where he cut eventual Super Bowl MVP Terrell Davis. Loneski and his wife recently moved back to Lawrence.
"It's very deflating and very hurtful," said Loneski, who still looks as if he could snap a redwood in half with his massive bare hands. "I think about that game every day. Every time I turn on the TV to watch basketball, that game is in the back of my mind."
A half century later, he has company in his misery.
Jerry Waugh is as upbeat a presence as there is on the Lawrence sports scene, whether he is officiating a golf tournament, practicing his chipping on the range at Alvamar, or watching half a high school basketball game from the bleachers with arms folded and mind trained on the action. It would take a lot to bring such a man down.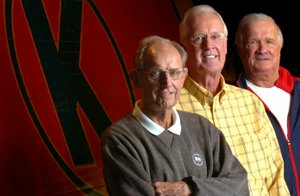 "I haven't gotten over it," said Waugh, an assistant to head coach Dick Harp on the 1957 team. "I think that was the most devastating loss I've ever experienced in my time in basketball. I never thought we would lose that game. ... It was such a disappointment to the players, to the coaches, and certainly to all the fans around Kansas who were just as sure as I was we were going to win the North Carolina game."
Lennie Rosenbluth, the star from the '57 North Carolina team, is retired and living in Fort Myers, Fla. He said he knows where he was on April 27, 1947, one month shy of 10 years before the '57 title game: in the bleachers with his buddies at Yankee Stadium, listening to a gravel-voiced Babe Ruth give his farewell speech. Earlier this year, Rosenbluth received a hug from Michael Jordan, who thanked him and his teammates for "getting it all started for the North Carolina family." Rosenbluth is linked to the Babe, Wilt and Michael. Does it get any bigger than that?
Rosenbluth expressed surprise the men who lost that game remain haunted by the outcome.
"Someone had to win, somebody had to lose," Rosenbluth said. "I can't believe after all these years they are still bothered by it. It's not like a death. It was still just a basketball game. They were playing for Kansas, a great school. They went to the finals, and they did have a chance to play with Wilt. Not many can say that."
Maurice King, recovering from treatments for pancreatic cancer and living with his wife in Kansas City, and Loneski are the only living players among the seven who appeared in that game for Kansas.
The coaches
North Carolina's Frank McGuire, New York to the bone, had lost to Kansas five years earlier in the national title game when coaching St. John's. He knew only one man was capable of causing him to lose to Kansas again.
"Coach McGuire went up and down the line and asked each one of us, 'Are you afraid of Chamberlain?' Each one of us said, 'No, coach, we're not afraid of Chamberlain.' And the key was we weren't afraid of Chamberlain," Rosenbluth said. "A lot of us had played against him in the summer after high school in the Catskill Mountains. Every hotel had a basketball team and instead of hiring a comedian they had basketball games for entertainment."
A Kansas state law requiring retirement at the age of 70 was invoked, which meant Phog Allen could not coach Chamberlain, the dream recruit he enticed to Lawrence from Philadelphia.
"Whoever it was who had it in for (Allen) wouldn't allow the rule to be changed," King said. "He swore he'd never come into the Fieldhouse again after that. He was a great man, a good P.R. man for the university and the program, but he became pretty sour after that situation. I don't think he came to any more Kansas games after that."
Harp was promoted to take his place.
"Dick was tighter than a two-dollar banjo before the game, as any coach would be playing for the national championship," Waugh said. "Frank McGuire was an eastern, very cocky, arrogant person and a very successful coach. ... We had the instructions as to what end of the court our bench was to use and what basket we would use. We took the floor first and went to our assigned positions. Carolina managers came out shortly after that and put their equipment on our bench and informed our coach that this was Carolina's bench because they always started at this end of the floor. Dick went ballistic over that."
The tournament chairman initially told Harp to show the guests from the East some Midwestern hospitality, but Harp stood his ground and did not move.
"All of this was gamesmanship," Waugh said. "The city slickers coming into Kansas City to show the Kansas bumpkins how to play the game, and Dick fell into that very, very well. Dick was real upset."
In other words, McGuire played him like a harp and it was just the beginning of his mind games.
The center jump
McGuire sent Tommy Kearns, a sub-6-footer and his smallest starter, to the circle to jump center against Chamberlain.
"The four of us stood waiting for Chamberlain to come down the middle," Rosenbluth said. "That's why coach did that. The last thing he wanted, with the whole crowd being for Kansas, was for Chamberlain to start the game with a dunk. He didn't want the crowd getting into it."
Kearns: "That had nothing to do with it. It was a mind game. That's all it was."
King: "During the course of that game, I didn't have a lot to say to those guys. They tried to make a circus out of it, jumping Kearns against Wilt. I wasn't happy about that."
Kearns, a longtime investment banker who counts great American writers David Halberstam and Frank Deford among his close friends, also grew close to Chamberlain over the years, handling many of his investments. They bumped into each other at a basketball game, Kearns slipped Wilt his card and told him he could help him make his money grow. Wilt took him up on the offer.
"The sad part about it was Wilt wasn't about scoring 100 points or 20,000 women, but that's unfortunately what he's going to be remembered by," Kearns said. "Paul Arizin was a teammate of Wilt's with the Philadelphia Warriors. Wilt found out his granddaughter Stephanie had cancer. The next year-and-a-half he called her every Friday and talked to her for an hour and a half. That's the Wilt that I knew, a very sensitive guy. He did a lot of things people didn't know about and kept a low profile."
The game
Kansas opened in a box-and-one with King chasing around the much taller Rosenbluth. North Carolina, which preferred a slower pace and exploited the absence of a shot clock, played a zone that collapsed on Chamberlain and dared the others to take outside shots that they for the most part wouldn't take.
North Carolina shot better than Kansas, opened an early lead, but eventually fell behind. Well into the second half, Harp tried to pull North Carolina out of its zone and had two players play catch with the basketball. It didn't work. North Carolina began to commit fouls and Kansas shot poorly from the line.
Each team scored two points in the first overtime. The second OT was scoreless. The final chance for Kansas flew out of bounds in the final seconds of the third overtime when Loneski's pass to Chamberlain was too low.
"The plan was to get the ball to me at the top of the key and to pass the ball into Wilt and the ball went astray and went through his hands and that was the end of the game," Loneski said. "If I could relive that, I think I would have hoped we knew what the alley-oop was back then, which we didn't."
By all accounts, afterward the Kansas locker room was so quiet you could hear a national title drop.
"Like a morgue," Loneski said. "Very quiet, very deflating, lot of pain, anguish, frustration."
The aftermath
Monte Johnson, who in later years would become the athletic director at Kansas, was a reserve for the 1957 team. He remembered fondly playing the spoons while Chamberlain played the bongos on his radio show, "Flip 'Er With Dipper."
"The only thing that helped a bit when we went back to Lawrence for what would be the postgame welcome, we were able to go by the Kansas Union and attend a concert by Louis Armstrong," Johnson said. "They were playing 'When the Saints Go Marching In.' We walked up and stood next to him when he was entertaining, and that might have taken a little bit of the sting out of that defeat. ... He didn't ask me to play the spoons and I was very disappointed."
The next year, Kansas did not go to the NCAA Tournament because Iowa State won the Big 8. After that disappointment, Chamberlain left school to sign with the Harlem Globetrotters.
"The first game Wilt played (as a sophomore) he had 52 points and 30 rebounds and teams made up their minds he wasn't going to get 52 and 30 on them," King said. "They came out with zone defenses and stall tactics. If we had a shot clock, it would have been a different ballgame. Wilt would come out of games and he'd have scratches up and down his arms and on his hands and he didn't shoot near as many free throws as he should have for all the beating he took. I think he got tired of all that and the zone defenses and figured he might just as well take his game to somewhere he can get paid. A lot of people in Kansas were very unhappy with Wilt when he did that. Our alumni were families of substance. They in many respects took their economic security for granted, but Wilt came from a poor family. Hey, it was time to go, especially for that kind of money. There were a lot of things said by alumni. I heard it all and never took any of it to him and we remained friends until the day he died."
Said Kearns: "Wilt unfairly got the loser label attached to him after that game. He was supposed to go to Kansas, win three national championships, and move on. Ten years later, (Lew) Alcindor went to UCLA and did it. ... And now we're being honored like we're some sort of legends or something for a one-point win in triple overtime. The difference between losing and winning is extraordinary. It really is."
More like this story on KUsports.com