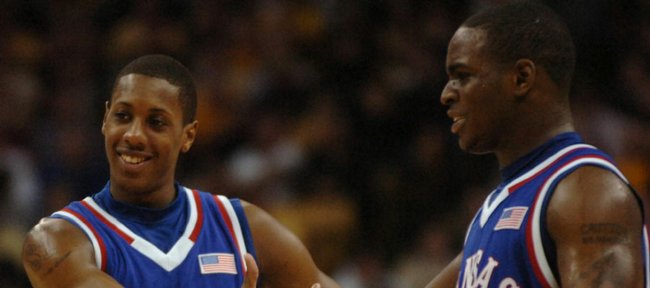 One of the NBA's top point guards provided pointers to 10 of the country's best college basketball playmakers June 28 to July 2 at Kean University in Union, N.J.
Steve Nash of the Phoenix Suns held his first Skills Academy, designed to fine-tune the games of Kansas University's Mario Chalmers and Sherron Collins, as well as D.J. Augustin (Texas), Darren Collison (UCLA), Eric Maynor (VCU), Drew Neitzel (Michigan State), Greg Paulus (Duke), Jeremy Pargo (Gonzaga), Scottie Reynolds (Villanova) and Jon Wallace (Georgetown).
Also on hand were 22 of the top high school guards in the U.S., who were tutored twice a day, compared to the college stars' once-a-day lessons.
Camp games were played the final day. Collins and Chalmers teamed with Neitzel, Pargo and Reynolds to win two of three exhibitions against teams of the high school players.
"I think it was a great experience for myself and Sherron," Chalmers, a junior guard from Anchorage, Alaska, said Monday in Allen Fieldhouse. "I think it's a good idea. It gives players a chance to learn from the best. Steve Nash is one of the best.
"I learned a couple things - how to come off a pick and roll, how to use a screen better and how to be more patient."
The 10 guards worked out for 2 1/2 hours daily, pushing each other all the way during drills.
"They were the same shooting drills we do here," Chalmers said, applauding the efforts of drill sergeant Nash. "He is cool, down-to-earth. He's a regular person. He doesn't think he's too big. He talks to us like we are on his level. He treats us all the same."
Chalmers said everybody fared about the same.
"I didn't see a lot of the high school players until the last day," he said. "Of the college players, everybody impressed me. We were there to work hard and get better and I think everybody did."
Collins and Chalmers used the camp as a way to prepare themselves for USA Basketball's Pan American Games Trials, to run Thursday through Saturday in Haverford College in Philadelphia.
Thirty-two players will be competing for 12 roster spots for the U.S. team that will compete in Rio de Janeiro July 25-29.
"We've prepared a lot," Chalmers said of KU's backcourt duo. "It's the whole reason we went to the Steve Nash camp, to get us prepared.
"Yes, I can make the team, definitely," Chalmers added. "I'm going in there focused and will work hard to show them (coaches, led by Villanova's Jay Wright) my skills. Sherron is going to make the team, too. He has to go in there focused and play like he's been playing."
Collins and Chalmers will be joined at Pan Am tryouts by James Brockman, Washington; Brian Butch, Wisconsin; Josh Carter, Texas A&M;, Brandan Costner, N.C. State; Eric Devendorf, Syracuse; Joey Dorsey, Memphis; Wayne Ellington, North Carolina; Randal Falker, Southern Illinois; Shan Foster, Vanderbilt; Alonzo Gee, Alabama; James Gist, Maryland; Richard Hendrix, Alabama; Roy Hibbert, Georgetown; Dominic James, Marquette; Maarty Leunen, Oregon; Chris Lofton, Tennessee; Derrick Low, Washington State; Wesley Matthews, Marquette; Eric Maynor, VCU; Jerel McNeal, Marquette; Tasmin Mitchell, LSU; Drew Neitzel, Michigan State; DeMarcus Nelson, Duke; Ahmad Nivins, St. Joe's; Scottie Reynolds, Villanova; Jon Scheyer, Duke; Sean Singletary, Virginia; Bryce Taylor, Oregon; Kyle Weaver, Washington State; and D.J. White, Indiana.
"Playing for the U.S.A. is something I've dreamed of. I am honored to have a chance to be selected," Chalmers said.
Chicago sophomore Collins added: "It's real exciting to be chosen out of all the good players in college basketball. I guess they think we're at the top of the list right now. It'll be a hard tryout. I look forward to it being competitive and trying my best."
Collins said it'll help having buddy Chalmers around.
"We will make friends there and talk to new people, (but) Mario and me have good chemistry now," Collins said. "We're not going to play a two-man game or anything. But it's easy to talk to him, ask him about what he sees I'm doing wrong. It's good to get another person's opinion."
Chalmers said making the team would make it a successful summer.
"We're trying to get selected and represent Kansas. This is the best way we can represent the school," he said. "It's not pressure. It's going to be fun. We'll go out there like it's a regular basketball game. We've got to compete."
¢ Henry update: The Henry family continues to talk about the possibility of third-year Philadelphia Phillies outfielder C.J. Henry eventually giving up baseball to play college basketball with his brother, Xavier, a junior-to-be at Putnam City (Okla.) High.
The 6-foot-3 C.J. Henry, who orally committed to KU in 2005, is hitting under .200 for the Phils' Class A team in New Jersey. He's in the final year of his contract, which paid him more than $1.5 million.
"I want to focus on baseball for the rest of this year and next year. I'll see where I'm at then. If it's not looking good for me or I'm not where I want to be, I'll decide what I want to do," C.J. Henry told the New York Times.
He said KU would be his likely destination if he gives up baseball. KU would not have to give him a scholarship, since it has been written into his baseball contract the Phillies would have to pay his tuition.
Xavier, one of the top prospects in the Class of 2009, has a top three of KU, Memphis and North Carolina.
"I told him I'm focused on baseball until I decide to do something else," C.J. said. The Henry brothers are the sons of former KU player Carl Henry.
¢ KU players in Vegas league: Julian Wright hit a three-point shot from the top of the arc with 3.8 seconds left to send Monday's New Orleans-Minnesota game into overtime. Wright, who scored 13 points off 6-of-13 shooting with 11 rebounds came out on the losing end, 85-83, in OT. ... Keith Langford had no points and two steals while playing nine minutes in San Antonio's 61-53 win over Boston on Monday. He took one shot. Langford hit his only shot, a slam dunk, and had two points in Saturday's 67-53 loss to Cleveland ... Jeff Graves scored two points with three rebounds while playing 18 minutes in the Los Angeles Lakers' 66-64 win over Milwaukee on Sunday. He missed five floor shots but made two of two free throws. ... Billy Thomas missed five shots and did not score in Milwaukee's loss to the Lakers. He had a rebound and assist in 12 minutes.
More like this story on KUsports.com