Nick Collison scored. He rebounded. He defended.
Kansas University's senior basketball forward did everything but dance with KU's fans who stormed the court and coaches who boogied in the locker room in wild victory celebrations Monday night after the No. 12 Jayhawks' wild 90-87 victory over No. 3 Texas at Allen Fieldhouse.
"I was too tired," said Collison, exhausted by his 24-point, 23-rebound effort.
Collison's one-for-the-ages performance -- the 6-foot-9 forward's three-pointer erased a 78-76 deficit with 6:12 left and gave the Jayhawks the lead for good -- had everybody buzzing.
Even Texas coach Rick Barnes felt compelled to visit the KU locker room to shake the hands of seniors Collison and Kirk Hinrich, who combined to score 49 points.
"I don't know I've ever seen a person as relentless on the backboards," KU coach Roy Williams said of Collison. "24 points and 23 rebounds, that's a heck of a line."
Collison's 23 rebounds, seen by 24 NBA scouts in attendance, were the most by a Jayhawk since Williams took over at Kansas and tied for the 13th-best single-game mark in school history. Not since Dave Robisch grabbed 26 against Iowa State in 1970 had a Jayhawk pulled down as many rebounds.
"That's by far the most rebounds I ever had in a game," said Collison, who along with fellow senior Hinrich (25 points, 39 minutes) was not about to let the Jayhawks (14-5 overall, 4-1 Big 12 Conference) drop their third straight game overall and second straight home game. The Longhorns fell to 13-3 and 4-1.
"It is a big game for me," Collison said. "I felt we needed it. We needed a win badly. I knew I had to be aggressive with a bunch of beasts in there."
Those beasts played for Texas, which led by 12 points midway through the first half and five at halftime.
Even after KU's second-half rally, the Longhorns were in it until the end.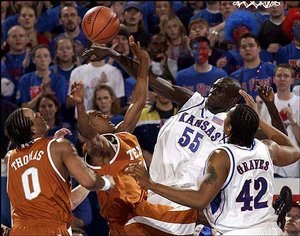 Keith Langford (10 points off 5-of-13 shooting in 36 minutes) missed a pair of free throws with 10.8 seconds remaining and KU clinging to a 90-87 lead.
On the ensuing possession, Texas shooting guard Sydmill Harris missed a three-pointer in front of the Longhorn bench. The rebound headed to point guard T.J. Ford --25 points, 10 assists and seven rebounds -- who missed a long three from near the press table at the buzzer.
"I wish Keith would have made those free throws. It would have made the last couple seconds not as hairy," Williams said. "It's funny, I said if he missed the second to foul T.J. The little rascal went down and got the rebound and put up the three that could have tied it."
When Ford's three missed, about 150 students stormed the court. Nobody could remember fans storming the court at KU before, at least in the Williams era.
"I was sort of surprised," Williams said. "I was congratulating Texas's players. If you are a fan of college basketball, you had to love that game. I saw all the people out there. I thought it was interesting. I didn't put a lot of thought into it. I just wanted to get into the locker room and dance a bit."
Williams was ecstatic after the victory.
"One of the best college games I've ever seen was our game against Texas in Austin last year (a 110-103 KU victory in overtime)," Williams said. "I didn't think we'd ever top that. I think we may have done that."
Other KU heroes included Aaron Miles, who scored 15 points, had nine assists and only one turnover.
"I can't think of a player that has worn a Kansas jersey that has been criticized as much as Aaron Miles the past several days. He was sensational," Williams said.
Bryant Nash scored seven points in 16 minutes and Jeff Graves had five points and five boards in 18 minutes for the Jayhawks.
"It's exciting, and we may have felt some relief too," Collison said after Texas became KU's highest-ranked victim at Allen Fieldhouse since the Jayhawks beat No. 2 Louisville, 70-68, on March 18, 1967.
"We were kind of sluggish at first. We didn't have bounce in our step early, but we played a lot better the second half and fought for the win. That's the most important thing. We fought."
KU next will meet Nebraska at 1 p.m. Saturday in Lincoln, Neb.