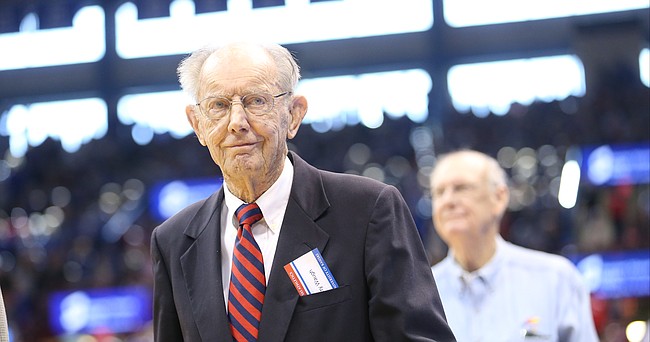 Former Kansas student-athlete, coach and administrator Jerry Waugh died Saturday at his home in Wichita, his family confirmed to Kansas Athletics. Waugh was 95 years old.
In addition to being a former KU captain and an assistant coach for Wilt Chamberlain, Waugh was regarded by many as one of the greatest ambassadors of the university he loved.
Longtime KU play-by-play broadcaster Bob Davis called Waugh "one of the all-time great guys and a great Jayhawk."
Waugh was associated with KU for decades after he became a member of the basketball team in 1947.
While playing for legendary Kansas coach Phog Allen, Waugh was the lone non-senior to be a starter during his sophomore year. KU won the conference title and finished runner-up in its league during his senior season in 1951.
The Wellington native, who served in the United States Army for 18 months before attending KU, was a standout guard and named team captain during his senior season. In 1956, he returned to Kansas as an assistant basketball coach for Dick Harp until 1960. During that time, he pulled double duty, coaching men's hoops and the men's golf coach from 1958 to 1959. He left KU in 1960, but returned to his alma mater in 1974 to serve as an assistant athletic director working with KU's Olympic sports programs.
With Waugh on the KU sidelines in 1957, KU won the conference title and advanced to the NCAA title game with legendary center Wilt Chamberlain. In 1960, Waugh made basketball coaching stops at Arizona, Chico State and San Francisco State.
Waugh also worked as a liaison between the university and the athletic department, and served as the men's golf coach once again in 1976. Waugh was also the founder and organizer of the K Club Board of Directors in 1977. He returned to KU in 1992 to be the head coach of the KU women's golf program.
Waugh retired from coaching in 2000 but remained a visible part of the University of Kansas, attending KU games and practices for the next two decades and participating in all kinds of events, reunions and celebrations organized by the KU athletic department and men's basketball program.
In addition to his duties at KU, Waugh also coached high school boys basketball Emporia and in Lawrence.
In 1977, Waugh was named the chairman of the Kansas Open Golf Tournament, a position he held until 1995. He also served as president and board member of the Kansas Golf Association and was a 10-year member of the United States Golf Association. In 1990, Waugh helped form the Kansas Golf Foundation. In 1992, he returned to coach the KU women's golf team until he retired.
Waugh was inducted into the Kansas Golf Hall of Fame in 1998, the Kansas Athletics Hall of Fame in 2000, the Wellington Crusader Wall of Recognition in 2013, and the Kansas Sports Hall of Fame in 2017.
In May of 2022, Kansas Athletics and Kansas Endowment created the Coach Jerry Waugh Women's Golf Endowment.
Waugh was married to Dolores Anderson, who died in 2021. The couple had three children, Carrie, Sarah and Marc, and many grandchildren.