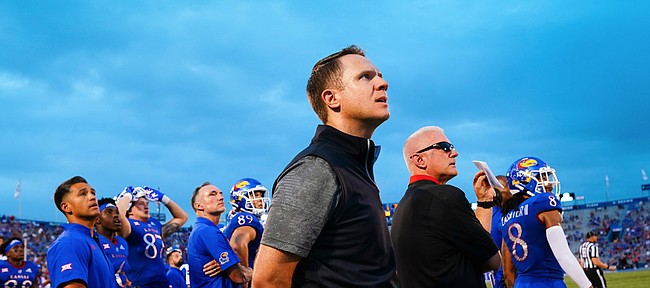 The University of Kansas athletic department is tapping into the state's motto — Ad Astra per Aspera — as a guide for its long-term strategic plan for all of KU's sports and student-athletes.
The plan, dubbed "To the Stars," was released Wednesday and it included a 33-page outline that 46 people worked more than a year to develop.
In a letter to Jayhawk fans, KU Athletic Director Travis Goff said "countless" others were asked for input through surveys and conversations with department leaders, and it's clear that the second-year AD is excited about the ambitious direction of the department.
The plan is built upon nine core values — integrity, accountability, commitment to excellence, resiliency, optimism, inclusive excellence, authenticity, competitiveness and togetherness.
The "To the Stars" strategy will prioritize culture building, capital projects, name, image and likeness opportunities, financial sustainability student-athlete wellness and more, and it outlines specific goals for each of those areas.
Goff noted that success in football and men's basketball would be critical for the future of the department because succeeding in those two revenue drivers will allow Kansas Athletics "to invest in all 16 of our athletic programs, thereby benefiting 500 student-athletes."
While the goal with all of KU's sports is to win at the highest level possible and do it consistently, the "To the Stars" plan emphasizes upping recruiting efforts and setting clear expectations for each sport and coaching staff.
The expectations will be judged on both an annual basis and through a five-year plan that assesses program metrics, team priorities and areas of improvement.
Many of the capital projects have already been announced, but KU included them in their overall vision for the future. Chief among them are upgrades to David Booth Kansas Memorial Stadium and Allen Fieldhouse, with improving the fan experience the focus at both venues.
But the To the Stars strategy does not limit capital improvement to KU's two main sports. In also includes a 10-year master plan for all sports and drills down to areas as specific as "dramatically improve Wi-Fi opportunities throughout all venues."
Future upgrades to KU football's Anderson Family Football Complex and baseball's Hoglund Ballpark also are specifically identified as a part of the plan. KU plans to create a facilities portfolio that is "among the best in the Big 12 and top-25 in the country."
Much of the strategy is focused on the student-athletes, with wellness being a key component, through addressing both physical and mental health. Inclusivity, through developing framework designed to promote diversity, and setting a goal to be in the top third of the Big 12 and the country for graduation and academic support is also a part of the plan.
The NIL initiatives that continue to be a part of KU's daily discussions — through partnerships with Mass Strategies, Altius, Opendorse and others — is also a big part of the "To the Stars" vision.
KU will aim to maximize resources and opportunities for NIL deals for all of its athletes and has set a goal of growing licensed NIL opportunities by 25% in the next two years.
Keeping up with the trends, educating student-athletes and fans, as well as potential NIL partners, and preparing student-athletes for any financial challenges that NIL can bring is also a goal.
Kansas Athletics also will seek better engagement with the campus community as a whole and will continue to strive for financial sustainability department-wide.
The sustainability aspect includes goals of renewing all ticketed events and Williams Education Fund annual contributions at a rate of 88% or higher each year as well as ranking in the top 20 nationally among all Collegiate Licensing Company schools and the top 25 nationally of Fanatics' online sales.
While some of the strategy can be tracked on a daily basis, a lot of KU's successes or failures in these areas will not be known for several years. Goff said that was by design and was part of what he was most proud of with the "To the Stars" strategy.
"This document is not fixed or final," Goff said in the letter. "It will serve as a compass that will evolve just as college athletics continues to. … This is our time, Jayhawks."