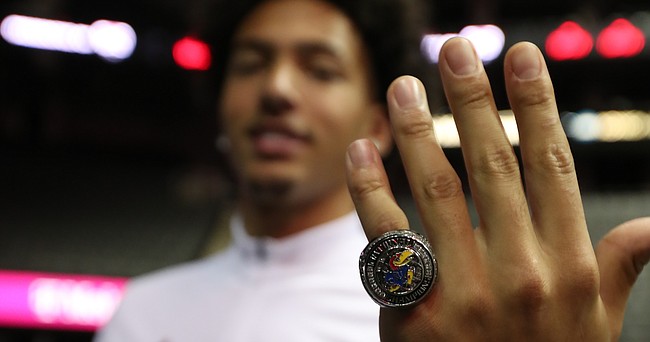 Kansas City, Missouri — Kansas basketball coach Bill Self has talked a lot recently about turning the page from the 2021-22 national championship season and locking in completely on the season ahead.
And, in many ways, the players on the 2022-23 KU roster have done that.
But before they put the memories and glory of last season's title run to bed for good, junior guard Jalen Wilson had one more thing he wanted to do.
And it happened Wednesday at Big 12 media day at T-Mobile Center.
There to promote the upcoming season with Self and teammates Dajuan Harris Jr. and Kevin McCullar Jr., Wilson brought a little memento with him.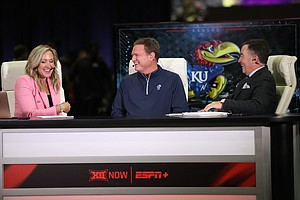 OK. So, it might not have been that little. In fact, it featured 122 different stones, a prominent Jayhawk logo in the center and the words "National Champions" blinging off it and it fit nicely on any of Wilson's eight fingers.
"This is the first time I've worn it," Wilson said of his national title ring, which he brought with him to Wednesday's event. "It's been sitting in my case and I woke up this morning and thought I should probably bring it out now."
The reason behind Wilson's decision to bring the ring went way beyond showing it off. Wilson said the ring represents a season's worth of hard work and intense effort and he wanted to carry that vibe with him into the official start of the next season.
He also wanted to use it as an opportunity to pay homage the conference being celebrated on Wednesday.
"We wouldn't have won this without our conference," Wilson said. "I believe our conference is the best in America. We get to the Elite Eight and it's Big 12 all around. We wouldn't be able to achieve something like this without that."
Although he received the ring a few days earlier at Late Night in the Phog last Friday, Wilson said he still remembered the feeling he had the moment he first laid eyes on it.
"Literally just the whole season ran through my mind real quick," he said Wednesday. "You still never know how big it is. As a player, you think it's just another game, but it's so much bigger than the game. It's history that will live on forever in Kansas and to be a small part of that is incredible. A hundred years from now, kids coming to Kansas aspiring to win another championship, they'll see that 2022 there and to be a part of that is crazy."
As for the next time Wilson plans to bring out the ring, that remains to be seen.
"I don't know if I'll wear it too much," he said. "But I love it, man. It's so special."
Self said Wednesday that he was fine with the idea of his players putting those rings away and gearing up to begin the hunt for more.
"We've talked about last year a lot," Self said. "And I said after Late Night that we're going to turn that page and we need to turn the page. We should be tired of talking about it. Right now, we need to focus on what's happening next and what's happening next is the league's a monster and we better be prepared to compete because we will have a target on our back for a lot of reasons, especially nonconference."
NIL improving
Self said Wednesday that he was happier today with what's happening with KU's name, image and likeness initiatives than he has been at any point thus far.
Self said he was proud of the opportunities his players are starting to get and even more proud to hear that many of them are giving back some of the money they earn to good causes.
To date, KU's players have given $27,000 to various charities and Self thinks that has been one of the bright spots of the NIL movement. He also thinks it will remain one of the most important parts of college athletics from this point on and said the schools that do it right can gain a lot, more so in terms of status and exposure than just financial gain for their players.
"You could always recruit to being (a blue blood program)," Self said of places like Kansas, Kentucky, North Carolina and others. "Now, you can still recruit to that, but NIL's changed the game so much that that doesn't carry the same value as what the NIL opportunities do. There's a lot of potential blue bloods out there right now based on how NIL goes.
"You've got to be in the game in that area if you want to have a chance to win."
Fieldhouse upgrades
Earlier this month, KU Athletic Director Travis Goff shared the news that upgrades were coming to Allen Fieldhouse in the near future.
Self, on Wednesday, shared what he knew about the plans.
"Inside Allen, it'll be a video board (and) obviously a new sound system," Self said. "There'll be some things that are done cosmetically inside."
He noted that the scope of the upgrades is somewhat limited by building codes but said that creating a better experience for fans was at the top of the priority list.
"I think the biggest thing will be the amenities around it," Self said. "It's going to become much more hospitable for donors and things like that, (with) more hospitality areas, and then upgrades to the underbelly so to speak."
That, he said, would include work on bathrooms, concession areas and more.
"It's for the fans," Self said. "And fans will definitely notice. It'll be a big upgrade."
Starting 5 set?
Self said Wednesday that the three players who attended media day with him — Harris, McCullar and Wilson — were all slated to start, "unless something happens," and added that freshman guard Gradey Dick was likely headed toward being named a starter, as well.
"It'd be hard to not have Gradey out there because we're going to need that offensive threat," Self said. "It's not guaranteed, but those guys would be leaders in the clubhouse."
The final spot will go to a big man and Self said repeatedly throughout the past week — and again on Wednesday — that the five-man crew vying for the starting nod inside — KJ Adams, Zach Clemence, Zuby Ejiofor, Cam Martin and Ernest Udeh Jr. — were "all about the same" and that he was still looking for someone to separate themselves.
NCAA infractions case talk
Self said Wednesday that the looming NCAA infractions case against Kansas had made recruiting harder but that he thought the fact that Kansas missed out on some of the top-tier prospects because of it led them to land players like Harris, Ochai Agbaji, Christian Braun and others.
"That has impacted us (and) not in a good way," Self said of the case that is currently being reviewed by the Independent Accountability Resolutions Process and includes five Level 1 violations and charges of lack of institutional control and head coach responsibility. "But, at the end of the day, we still got good enough guys. There's been some things that haven't happened because of that that's been a blessing for us in the long run."
That group, of course, helped deliver a national title to Kansas and may have led to even more had the 2019-20 postseason not been canceled because of COVID.
As KU prepares to start another season with the case still unresolved, Self said he remained hopeful that it would have a favorable outcome.
"The bottom line is we wanted this to be over earlier rather than later," Self said Wednesday. "I think everybody that's involved in it wanted that. And it hasn't played out that way. But we know what we're dealing with and our team of attorneys are fighting hard and we feel very positive where we're at."