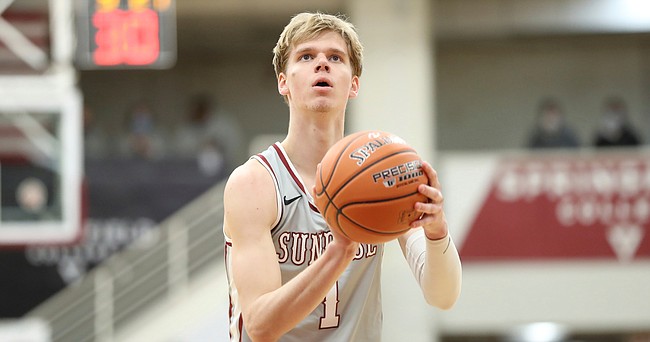 Years from now, when Kansas basketball fans look back at the start of the name, image and likeness era in college athletics, Gradey Dick probably will be a name that comes up quite often.
It remains to be seen whether the incoming KU freshman will be one of the most highly compensated Jayhawks to benefit from NIL opportunities. But he forever will be remembered as the first KU basketball player to ink an NIL deal before he even arrived on campus.
Earlier this week, WME Sports — a giant in the industry — announced it had reached an agreement to represent Gradey's NIL interests.
The company, which boasts more than 100 years of celebrity representation and some of the biggest names in entertainment on its client list, announced the partnership with Gradey on Wednesday.
The news was the culmination of roughly two years of planning and strategizing by Gradey and his father, Bart, who told the Journal-World on Friday that the family considered around 20 agencies when seeking a firm to represent Gradey's NIL opportunities.
In sharing a behind-the-scenes look at everything that went into their decision, Bart painted the picture of a situation that was as much about finding the right feel and fit as it was about identifying prime opportunities.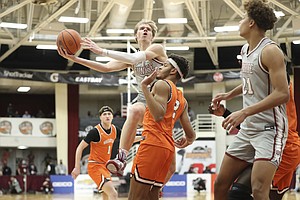 Zoom calls, in-person meetings across the country, quick hellos and handshakes and countless emails and phone calls came and went. Bart operated as the point man on all of them. After all, Gradey was busy helping lead his nationally ranked Sunrise Christian Academy team to Geico Nationals while also collecting the National Gatorade Player of the Year award and showcasing himself with USA Basketball, at the McDonald's All-American game and various elite camps.
By this point, Gradey had signed with Kansas and begun counting down the days until he could join the team. In order to keep the NIL representation choice manageable, the family came up with a plan to evaluate all of its options when the high school season ended, hoping to narrow it down to three or four serious contenders.
Bart called that process "kind of a version of speed dating."
The goal all along was for a decision to be made in mid-May, just a few weeks before Gradey and the rest of the 2022-23 Jayhawks report to campus for the start of summer workouts.
While Bart did most of the organizational work on the decision — learning as much as educating along the way — he always made it a priority for Gradey to be aware and involved, as much for his son to learn the business side of basketball as for Bart to be able to protect him.
"I think it's important for him to know about the process without overwhelming him with it," Bart told the Journal-World. "I just wanted to make sure he was prepared. I feel like I'm as well versed as any parent on all of this, and there are still all kinds of things I'm learning."
Luke Fedlam, a partner and chair of sports law at Ohio-based Porter Wright law firm, said Friday that an athlete like Gradey signing NIL representation before college was rare for two reasons. First, student-athletes at high schools that are governed by state associations are not eligible to participate in NIL deals. Second, very few prep athletes deliver the kind of brand power that makes talent agencies like WME want to partner with them.
Because Sunrise is not under the Kansas State High School Activities Association umbrella, Gradey was able to partake. Because of his status as one of the top prospects in the country who has signed with the reigning national champs, his popularity made him an attractive partner.
"This is a really big deal," Fedlam told the Journal-World of Gradey signing with WME. "It is rare for high school student-athletes to participate in name, image and likeness, especially as it relates to larger brands and opportunities. It really says that he is someone who has both matured in the space of high school basketball and he is someone that people, companies and brands want to be associated with."
In addition to having well into six-figure combined totals on his social media accounts, Gradey's TikTok page, where he likes to show his true personality, has garnered more than half a million views.
Fedlam, who first connected with Bart through webinars early in the process, said he knew instantly that Gradey was in good hands.
"Bart has done a great job of doing some of the heavy lifting but also keeping Gradey involved in what's actually happening," said Fedlam, who is the family's legal representation in the NIL space. "I was impressed that this was something that they've been preparing for and really thinking about in order to do it the right way — to make sure that Gradey has opportunities but also is protected."
Going at the proper pace was important to Gradey and his family. And they made sure to preserve that throughout the process.
"Sometimes it gets kind of lost on me that we are in the middle of something that's really changing college athletics," Bart said Friday. "If, at any point, it ever starts to feel a little fast, we just step back and try not to get in a hurry with it. We don't want this process to be sped up at all."
To that end, Gradey's initial contract with WME is for one year.
While some of the other agencies led with their best foot forward, Bart said most of those conversations revealed some type of reason for the Dick family to hit the pause button. Sometimes things sounded too good to be true. Other times the philosophies just didn't match up. And still more times, other companies had too many moving parts and divisions to keep straight.
Then came a Zoom call with WME that changed everything.
The video chat lasted a little more than 90 minutes. It featured eight or nine WME employees. And it laid out a plan and a future that was perfectly aligned with what Gradey always envisioned.
"He was engaged the whole time," Bart said, still marveling at the fact that his son sat still for that long. "As soon as we were done, he was like, 'That's the one.' I'd been looking for that for over a year."
The possibilities from here are endless.
Bart said WME already has started working on "some pretty cool things involving Gradey," and that those things range from everything to social media campaigns and philanthropy to trading cards and bobbleheads. Throughout the process, Bart remained in constant contact with KU's coaches and compliance office to make sure everything was being handled the right way.
The connection to WME took on an even better feel when the Dick family found out that one of the trading card specialists with WME grew up in Kansas City and is a lifelong KU fan and one of the agency's marketing directors played tennis at KU in the 1990s.
"I think a successful partnership is (one) where you can bounce ideas off each other and you don't feel like they're running the whole thing," Gradey said during his online announcement video. "That's why I love WME. I get those chances to put in my input into what I'm interested in."
At the top of that list is raising money and awareness for cancer research and giving back to children in his hometown.
"When I talked to WME, I let them know early that one of the most important things I want to do with my NIL and my platform as a basketball player is to bring stuff back to the community," said Gradey, whose mother, Carmen, was diagnosed with colon cancer when he was younger. "I just want to connect with some of the biggest and brightest brands out there."
One Kansas City-based businessman already has used Gradey to promote his rental properties in Turks and Caicos, islands south of the Bahamas. In exchange for social media posts promoting the properties, Gradey and his family will spend a week in paradise beginning May 23.
Bart said Gradey's promotion of the homes already had secured the owner a rental agreement with future clients.
After a hectic month and a crazy season, Bart said the entire Dick family is looking forward to a week in the tropics. While a little fun in the sun certainly will be welcomed, he said it would also provide Gradey and his parents an opportunity to take a breath and remind themselves that, while NIL opportunities have the potential to be a lot of fun and very lucrative, the future Jayhawk's top priorities will continue to be school and basketball.
Gradey's agreement with WME does not preclude him from being involved with any deals and NIL opportunities brokered by 6th Man Strategies, which has been the driving force behind most of KU's NIL deals to date.
In fact, 6th Man Strategies co-founder Matt Baty said deals of this nature are encouraged across the board.
"WME is King Kong," Baty told the Journal-World. "If you have an opportunity to sign with WME, by all means do it."
While WME's reach figures to open doors for Gradey on a national level, Baty said there still would be plenty of local opportunities for him to capitalize on, as well. Baty said 6th Man Strategies plans to sign Gradey and the rest of the 2022-23 KU basketball roster to non-exclusive NIL contracts next month, opening up another year of earning potential for Bill Self's Jayhawks.
While WME will be the primary entity responsible for Gradey's NIL endeavors, Bart said it was clear that the company was willing to work with 6th Man Strategies on any other deals that are in Gradey's best interest.
Included on that list are merchandising deals, autograph sessions, meet-and-greets and any other team-oriented NIL outings.
"We don't want this to be just about Gradey," Bart said.
Baty, who has known the Dick family for years, said it had been made clear to him that Gradey wants to capitalize on the NIL deals that help his team and the program as much as those that benefit him directly.
"It's not just the Gradey Dick Show," Baty said. "He wants to be a part of everything the team does and also bring the team along with him as much as possible toward NIL opportunities for everybody."
How often that happens or what that looks like remains to be seen. But Baty described Gradey's deal with WME and the benefits he still can receive from 6th Man Strategies as "a great 1-2 combo."
"We have these guys sign non-exclusive contracts for a reason," Baty said. "We want all of these kids to maximize their opportunities."
Bart does, too, and that's why he is proud of his son's willingness to move slowly through the process. Just last week, while conversations about the pending announcement were taking place, Gradey showed more of a desire to head to a graduation pool party than dive into the details of the WME contract.
"He realizes it's important," Bart said. "But it's also been a whirlwind. I want him to prepare for all of it, but I don't want him to get too far ahead of it either. I don't know if he'll be at KU for one, two, three or four years. And I want to make sure he takes it one year at time."