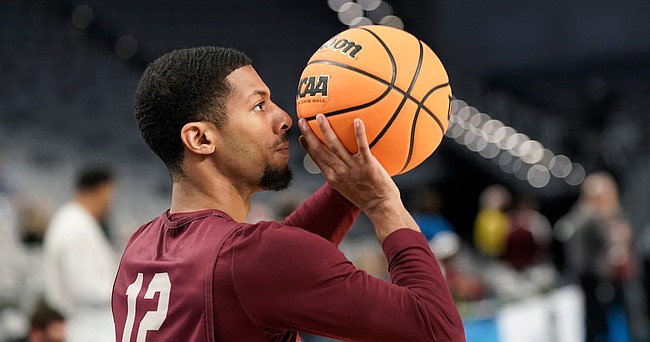 FORT WORTH, Texas — Johnny Jones was telling a story about how he likes to knock loudly when he approaches the door to the Texas Southern men's basketball locker room because, during his playing days, he and his teammates never wanted anyone to hear them complain about their coaches.
That's when he stopped himself. With his son, John, on the team, the Tigers' coach realized that any type of grousing and indiscretion would probably make its way back to him anyway.
"He's never really put me in that position because you're talking about a vulnerable state with his teammates," Johnny said. "He understood the role that he was playing."
That role is more than father and son. Johnny and John have been together for five seasons, the last four at Texas Southern, strengthening their relationship through basketball. The player-coach dimension to that bond may reach its end on Friday, however, as John, a senior, plays what could be his last game when the 16th-seeded Tigers face top-seeded Kansas in the first round of the NCAA Tournament.
The two were often apart during John's childhood because of his father's career, which included 11 seasons coaching North Texas and five coaching LSU. Johnny did what he could to be around, including recruiting at grassroots basketball tournaments in which his son was playing, but nothing has been like what they have experienced the last five seasons.
"It's putting my dad and me in a different light," John said. "I always held him in high respect, but it's been increasing over the years and it's been a blessing for five years, including my year at Nevada, to play under my father."
One of the Tigers' top 3-point shooters, John is averaging 5.8 points in 13.2 minutes per game for the Tigers, the SWAC champions, who began their NCAA Tournament run Tuesday with a 76-67 victory over Texas A&M-Corpus; Christi in a First Four game in Dayton, Ohio.
John — he is John Vincent, whereas his father is John Henry Jr. — always wanted to play for his dad in college. When LSU fired Johnny after the 2017 season, plans changed slightly. Nevada hired Johnny as an assistant, and John joined him as a freshman; when Johnny replaced Mike Davis as the Tigers' coach a year later, John followed.
"It's amazing to see how they can just flip that switch to go from coach to son," said senior forward John Walker III, the Tigers' leading scorer. "When they're coaching, it's all about business. Like, 'You're my player right now,' and that's how they address each other. I like seeing the respect they've got for each other because I know that's not easy to do."
As it turns out, John will likely be following his father once again. He plans to get into coaching, perhaps as soon as after this season, whether that be as a graduate assistant for Johnny or at another university. Johnny said his son has an "unbelievable basketball IQ" and feel for the game that he has found beneficial, and John said his father is genuine and competitive.
"He's a great role model for a lot of the guys, but really me," John said.
Said Johnny: "This has really been good for us and, really, for him, and something that I'll certainly cherish for the rest of my life."