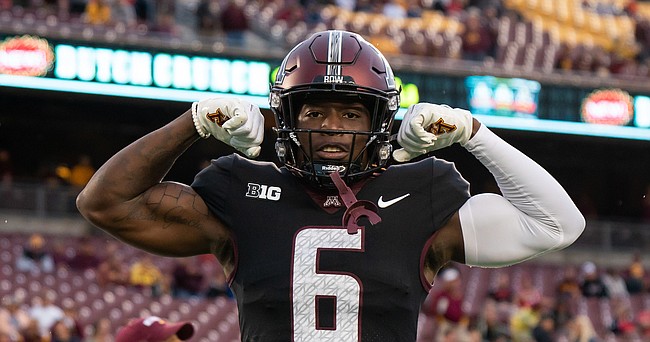 The only thing Jalon Daniels knew upon Doug Emilien's decision to transfer from Minnesota to Kansas was that Ky Thomas used to be one of Emilien's roommates.
The connection between the two figures to be much closer — and soon.
Daniels, who is expected to begin the season as the Jayhawks' starting quarterback, is likely to benefit from the spring addition of Emilien, a speedy, 6-foot-1, 190-pound wide receiver.
So is Kansas, which faces plenty of uncertainty in the passing game after Kwamie Lassiter II, a sixth-year senior last season, moved on to the NFL.
"Ky told me a lot about him coming in, told me that he was a beautiful route-runner, somebody that was going to come in and work with his head down no matter what the situation was," Daniels said last week at Big 12 football media days. "I can say he definitely came in and did that."
A three-star prospect in the class of 2020 from Fort Lauderdale, Florida, Emilien played in just two games in his two seasons with the Golden Gophers.
When Thomas, a running back who is from Topeka, decided to leave Minnesota for Kansas in January, Emilien chose to stick it out. It wasn't long before he made the same choice.
"It was my decision, but he told me that we're trying to build something, and I want that," Emilien said in the spring.
Lassiter caught 59 passes for 653 yards and three touchdowns last season — all numbers that led the team. Wide receivers Trevor Wilson, Luke Grimm and Lawrence Arnold will return, but none of the three had more than 27 receptions.
That could open the door for Emilien, who seems poised to be able to fill Lassiter's shoes — especially if Daniels' initial impressions are accurate.
"His route-running reminds me a lot of KJ Lassiter," Daniels said. "The way that he's able to come off curl routes, the way that he's able to come off man-to-man press coverage, he definitely reminds me of KJ in that aspect."
Though he's unproven in college, Emilien, who was the No. 63-ranked high school wide receiver in the country by 247Sports, had 1,197 receiving yards and 12 touchdown catches during his final two seasons at American Heritage High in Plantation, Florida.
He had two dozen scholarship offers out of high school and chose Minnesota over Cincinnati and Virginia. LSU, Kentucky, Miami, West Virginia, NC State and Maryland also offered him a chance to play.
Coach Lance Leipold said last month that Emilien is "a talented guy" and "another young receiver again that would fit into (the rotation and) give us a chance."
Daniels already likes what he sees from Emilien.
"I'd say that he's one of those receivers that is going to be able to make somebody miss," he said. "He has that (ability to gain yards after the catch). He has that get-off-the-ball speed. He's going to be able to come off the ball with as much speed as he wants and I can tell he's able to run routes at his pace. He's not worried about a DB. He knows how to evade DBs."
Emilien, who enrolled at Kansas in June, has only been able to take part in strength and conditioning workouts with the rest of his teammates during the summer months. Any on-field work must be arranged and led by players until the start of preseason camp early next month.
That doesn't mean Daniels hasn't recognized Emilien's commitment to succeeding.
"Everything that has been asked of him, he's accomplished," Daniels said. "He's abiding by the standard and he's going to keep coming in every day and working."