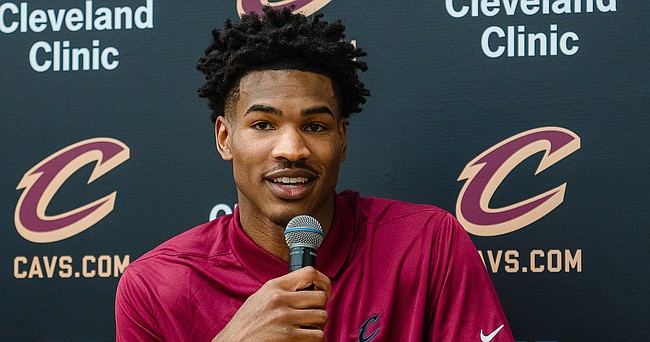 It took former Kansas All-American Ochai Agbaji exactly one Summer League game with his new team to draw praise from both Cleveland Cavaliers fans and those who cover the NBA.
While starting and playing a team-high 33 minutes in Cleveland's 99-90 win over San Antonio on Friday night, Agbaji scored 16 points on 5-of-11 shooting, including a 4-of-9 clip from 3-point range.
He also added three rebounds and two assists, but it was his outside shooting display that drew the most attention.
Agbaji was far from impressed by his performance. "It was all right," he said in a postgame interview on ESPN. "There's a lot of shots I left out there, a lot of missed opportunities. Overall it was good. I knew there was a lot of talent on the floor."
ESPN.com's Kirk Goldsberry put the former Jayhawk on his short list of rookies who have "shined" in Las Vegas so far. And he noted that Agbaji's performance as the 3-point threat Cleveland was looking for when it drafted him should have Cavs fans excited.
"(Agbaji) proved to the NBA world that he could not only knock down catch-and-shoot 3s, but create his own looks from deep too," Goldsberry wrote. "Agbaji looked confident in his debut. (He) has the potential to become an elite 3-point scorer, and his debut didn't do anything but support that claim."
Next up for Agbaji is a Sunday matchup with former KU teammate Christian Braun, who also showed flashes of bril-liance in his debut with the Denver Nuggets on Friday.
The 21st overall pick in last month's NBA draft scored 18 points in Denver's 85-78 loss to Minnesota.
Like Agbaji, Braun started and played a team-high in minutes, logging 30 in the game. He finished 8-of-17 from the field and shot just 1-of-7 from 3-point range. But he added six re-bounds, three assists and a steal, showcasing his ability to impact the game in ways beyond just scoring.
One of his buckets came in transition on an alley-oop and new Nuggets teammate Collin Gillespie, the former Villanova star who joined Denver as an undrafted free agent, said after the game that Braun was easy to play with.
Gillespie, whose Wildcats lost to Braun and the Jayhawks at the Final Four in New Orleans this spring, also started and played 30 minutes in the loss.
While Braun's upcoming showdown with Agbaji on Sunday is one that Kansas fans are looking forward to because of the potential for the two former teammates to matchup against each other on the court, that game will not be the first KU re-union of Braun's NBA career.
Former KU big man David McCormack started for the Timber-wolves in Friday's game and he finished with 10 points and six rebounds in 19 minutes.
McCormack joined the T'Wolves as an undrafted free agent after last month's draft and he'll likely need a good showing the rest of the month to entice Minnesota's coaches and front office to keep him around, either with a roster spot or on a two-way contract that will allow him to split time in the NBA and the G League.
In his second stint with the Miami Heat, former KU guard Mar-cus Garrett played 26 minutes off the bench in Miami's 88-78 win over Boston on Saturday night. Garrett shot 5-of-6 from the floor in the win, finishing with 13 points, three rebounds, three assists and one steal.
Former KU point guard Devon Dotson made his Summer League debut with his new team, the Washington Wizards, on Saturday night, coming off the bench against Detroit. That game also featured former Jayhawk Charlie Moore, who came off the bench for the Pistons and played limited minutes in his second game with Detroit's Summer League squad.
Moore, who finished his college career with an Elite Eight loss to Kansas in Chicago in March, did not play in the Pistons' first Summer League game, an 81-78 win over Portland on Thursday.
One-time Jayhawk Quentin Grimes, now in his second year with the New York Knicks, led the Knicks to a 101-88 win over Golden State on Friday, scoring 24 points and dishing eight assists in the win.