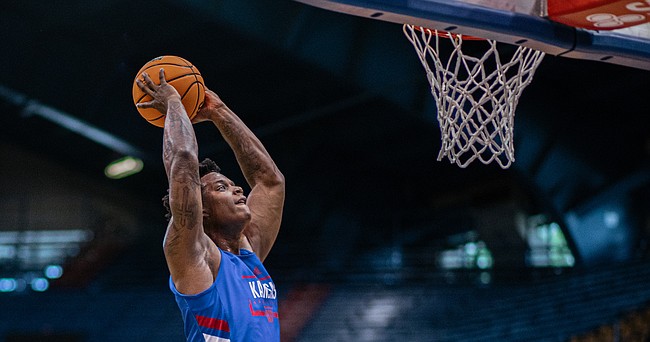 In high school, Kansas sophomore KJ Adams was an offensive force, handling the ball, pulling up for jump shots and shooting 3-pointers at will.
His role changed a bit during his freshman season with the Jayhawks, but now that he has a year of college on his resumé and the opportunity for a bigger role as a sophomore, one of the big questions surrounding his game is where he fits on the floor.
Kansas coach Bill Self just wants him out there.
"I think KJ is going to be a guy that will play more on the perimeter, without question, as we move forward," Self told the Journal-World in May. "And he's definitely going to be a guy that you've just got to play. Because I think he helps you win."
Whether that was with size, smarts, strength or skill, Adams showed flashes of all of that while playing his way into the rotation for the 2022 national champs. He appeared in 37 games last season and made one start while averaging nearly five minutes per game.
He played seven or more minutes on five occasions and twice hit the double-figure mark while playing mostly as a backup big man.
While his well-rounded skill set and overall athleticism figure to open up more chances on the wing next season, Adams and Self see the determining factors for what position he will play through a slightly different scope.
For Adams, it's all about offense and his jump shot.
"I think that's really the deciding point for where I'm going to be for next year," he said. "I feel a lot of growth (with my shot), it's just a lot of technique stuff. I just have to get a lot more reps to really conquer the jumper."
Adams said his improvement as a shooter was about fine-tuning the fundamentals and getting up as many shots as he can.
"It's really all about confidence," he said. "I've had a lot of green light for my high school years. So it's a little different when you come here and there's a lot of guys that shoot it great, not just good."
Adams attempted just 25 shots a season ago — and hit 52% of them — and took just one 3-pointer. Those low totals were a reflection of both his role and his maturity. He said he understood that there were other, better, more experienced scorers on the floor when he was in the game, and he was happy to play a supporting role to them. He still is, in fact.
"Whatever the team needs me (to be) I'll be," he said.

For Self, where Adams fits into the 2022-23 lineup will depend both on the Austin, Texas, native's individual improvement and the play of KU's other big men. Self said he'd love to let Adams settle in on the wing if one or two of the other KU forwards can handle the load down low. If they can't, though, he said he could see Adams playing the 5 again in a small ball lineup.
"His body's fine," Self said. "I don't think (his position) has anything to do with that. I don't think he has to get bigger to play inside. I don't think he has to get leaner to play on the perimeter. I think he is who he is, from an athletic standpoint. I don't want to mess with that. He's strong enough to play inside. He's athletic enough and quick enough to play on the perimeter. He's just got to improve in some areas, but he's a guy that can make your team better."