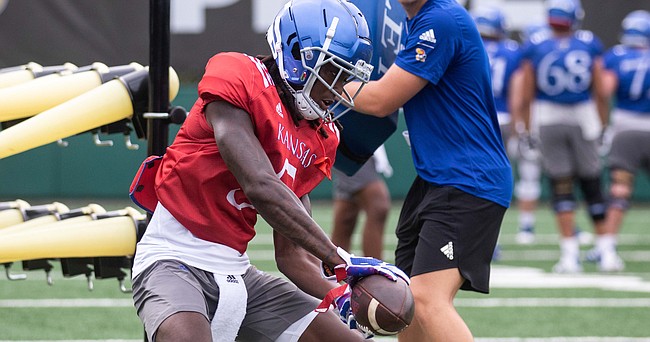 The first thing you notice about new Kansas wide receiver Doug Emilien when you meet him are his hands.
You might think it would be his hair or the South Florida swagger or even his accent and sincere smile.
But it's his hands. And a simple handshake upon introduction is all it takes for you to notice. The grip says it all.
Emilien has high hopes for his first season with the Jayhawks, a fresh start in college football, if you will. And all of it, from individual statistics to team goals and everything in between, is tied to his hands.
"Strong hands," is how he worded it when asked this week about his best traits as a wideout.
"Grimey," is what he calls himself on the field. And the reason is simple.
"I like to block," he said. "I embrace blocking and I feel like me doing that will always help the team. I'm a route runner, as well, but I've got a little feistiness to me."
Consider the following rapid-fire exchange as an example of just how ready Emilien is to do whatever they'll let him at Kansas.
Stretch the field? "It don't matter."
Over the middle? "Everything."
In the slot? "Let's do it."
Emilien comes to Kansas after two seasons at Minnesota, where he redshirted the 2020 season and played just a dozen snaps last season.
He was a backup there to first-round NFL draft pick Rashod Bateman, so he never let the pine time get to him.
"Watching him play and watching the game speed, that helped me," Emilien said. "At the end of the day, I was just competing and working behind him and I came here to work with these guys."
Emilien opens the season second on the depth chart behind junior Luke Grimm at the slot position. But given the fact that KU will be without suspended wideouts Trevor Wilson and Tanaka Scott for at least a week, the opportunity to contribute immediately could be there.
Minnesota teammate Ky Thomas, a Topeka native who transferred to KU in the offseason to get closer to home, played a big role in bringing Emilien to Lawrence, and the words Thomas used to inspire the receiver's move perfectly fit Emilien's game.
"Explosive plays, you could come in and play, we've got young players, we're working and we're building something at Kansas," Emilien said Thomas told him. "I feel like I could be a big factor in this offense."
It remains to be seen what kind of role Emilien will carve out in the Kansas offense this season, but just about anything is possible. He could lead the team in receptions and touchdowns or he could be a rotation guy who helps others make play with his blocking.
Either outcome is fine with him as long as it means he plays some kind of part in KU's success.
His coaches have taken note of Emilien's desire to do anything he can to help the team.
"Eager," is the word wide receivers coach Terrence Samuel used to describe Emilien during camp. "He's a football player. I mean, he loves football. And he's showing that he can do what we need him to get done."
Added Offensive Coordinator Andy Kotelnicki: "The engagement, the wanting to learn it, those are great indicators of a young man's ability to succeed. Doug's chosen to do those things and it started when he first got here. He's going the right direction."
Emilien, a Fort Lauderdale, Florida, native said he loves it in Lawrence, and it's clear from talking to him that he is just as excited about the potential of those around him as he is his own fresh start and a new opportunity.
He already believes in everyone in the wide receivers room and has built a brother-like bond with several of them. And then there are his comments on KU quarterback Jalon Daniels, which were accompanied by a wide grin.
"He's a monster," Emilien said of Daniels. "Every ball's a good ball."
The way his eyes lit up when he talked about his quarterback illustrated that his words were about more than just hoping to get the ball thrown in his direction. Emilien believes in Daniels and this team, and he's looking forward to contributing however he can.
"Pass blocking, blocking for my running backs, making plays down the field, special teams, everything. If you want to be out there, you've got to do it," he said. "I'm a selfless player. At the end of the day, I want to contribute to the team, win games and go to a bowl game. That's the goal for the year."