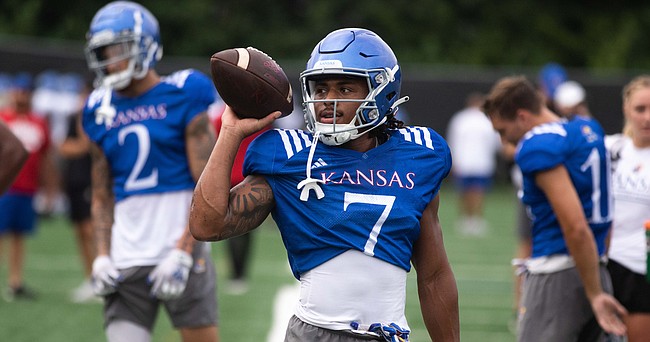 Kansas football coach Lance Leipold said Monday that wide receiver Trevor Wilson will remain suspended indefinitely following his arrest on charges of aggravated assault with use of a deadly weapon last week.
Leipold, who was speaking with reporters for the first time since the incident, offered few other details on Wilson's status with the team, including his ability to attend meetings and practices.
Wilson, a redshirt junior, had been expected to again play a significant role for the Jayhawks this season. Leipold said he had spoken with Wilson but did not want to share what they discussed.
"That's going to be between us and there's going to be certain things that will stay here — here meaning within the building, within our program," Leipold said.
Wilson was arrested Thursday following an incident in which a man called police and alleged the driver of a red Dodge Charger pulled up next to him on Haskell Avenue, opened the door, stood up and displayed a weapon while speaking to him, according to a Lawrence Police Department spokesperson.
Wilson was held overnight at Douglas County Jail, charged Friday with one count of aggravated assault with a handgun, a low-level felony, and appeared remotely for a hearing Friday afternoon in which he was released on a $5,000 own-recognizance bond. His next hearing is scheduled for Tuesday at 10 a.m.
A teammate of Wilson's, redshirt freshman wide receiver Tanaka Scott Jr., was also charged Friday with one count of aggravated assault with a handgun and held overnight after he allegedly also displayed a firearm to the man while driving an orange Dodge Challenger.
Police located the two men, their vehicles and two weapons at a nearby Club Car Wash, then arrested them and booked them into Douglas County Jail at 12:34 p.m.
The court on Friday dismissed the case against Scott for lack of probable cause.
Leipold said Scott will be suspended for the Jayhawks' season opener Friday against Tennessee Tech, which will be played at David Booth Kansas Memorial Stadium, but that he returned to practice Monday morning.
Scott was seen driving away from the football complex Monday afternoon in an orange Challenger.
"Definitely disappointed — disappointed that those young men put themselves in that situation but equally disappointed in myself," said Leipold, who is entering his second season at Kansas. "As a head coach, it is my responsibility to put out messages and to put it on young men to make great decisions in wherever it may be and wherever that takes place. So, obviously, I haven't done enough in my role to prevent those situations and I'll continue to work to be better."
Wilson played in all 12 games last season, and started seven, after following Leipold and transferring from Buffalo. He caught 27 passes for 364 yards, both of which ranked second on the team, and scored one touchdown. Scott appeared in two games last year to preserve a year of eligibility.
Captains selected
Junior quarterback Jalon Daniels, sixth-year senior defensive tackle Sam Burt, senior linebacker Rich Miller and redshirt senior center Mike Novitsky were elected captains in a player vote.
Leipold said he may also consider naming a fifth captain for each game.
Daniels' selection, Leipold said, "shows how he's viewed in the locker room in many different ways."