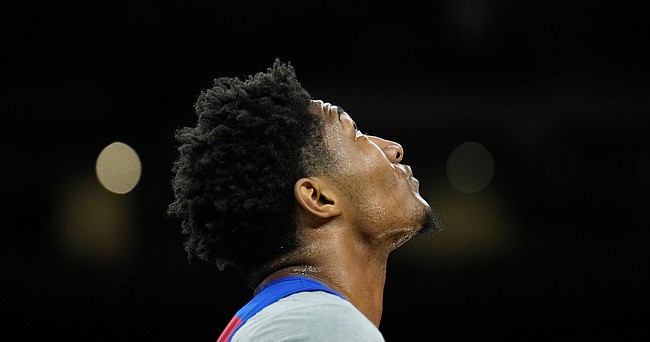 After narrowly missing out on Most Outstanding Player honors at the Final Four, the question of whether Kansas big man David McCormack's name belongs in the Allen Fieldhouse rafters anyway has been red-hot of late.
Some say he's a lock because of his performance in leading Kansas to the 2022 national title. The Norfolk, Virginia native scored 40 points and grabbed 19 rebounds on 63% shooting in wins over Villanova and North Carolina earlier this month in New Orleans.
Others say McCormack, who finished second in the MOP voting to teammate Ochai Agbaji, is worth consideration but is not necessarily a lock. And still more Kansas fans say his overall career was not enough to get his name and jersey into the rafters with the other Kansas greats.
It would be easier to decide McCormack's fate if the criteria for inclusion were more clearly defined. But recent tweaks that came about around the time of KU coach Bill Self's arrival opened the door for a number of former players to have their name and number raised to the rafters.
According to KU's Media Guide, the original criteria for having one's jersey retired by the program — just the jersey, not the number — was limited to "KU players named college basketball player of the year, most valuable player of the NCAA Tournament or being named a four-time All-American."

In 1997, Ray Evans was added to the list based on his status as an All-American in both football and basketball. And, in the early 2000s, the criteria was loosened to include consensus first-team All-Americans, two-time first-team All-Americans and Academic All-American of the Year winners.
While most of the recent names who have gone up there have checked at least one of those boxes, there appears to be a per-case analysis of some players, including McCormack.
"That's something that I want to talk about with my people," Self said before Sunday's parade. "I think it goes without saying that David's jersey deserves to be hung if, in fact, the MOP is always hung. I mean, he didn't win it in name but he and Och certainly both deserved a piece of it."
Sunday was not the first time this season that Self discussed the criteria for inclusion in the rafters. He also kicked it around during an episode of his "Hawk Talk" radio show in mid-February. Of course, no one could have known then that McCormack soon would be in the discussion.
"The criteria is the criteria," Self said then. "But as far as I'm concerned, it's not etched in stone."
The topic came up when a caller asked if Self and KU would consider including former KU center Joel Embiid's name in the rafters if Embiid wins NBA MVP honors this season.
Self called it "a great question," and noted even joked that the program should probably consider including him so they can hit him up for donations in the future.
"I also think you could consider Wiggs (Andrew Wiggins), you could consider Perry Ellis and I think you could consider Keith Langford," Self said then. "Keith Langford scored 1,800 points here and never made first-team (all league). Look at his career. If you beat Syracuse (in the 2003 NCAA title game) he's MVP of the Final Four. Without question that would have gotten him up."
That brings us back to McCormack. While Self has said in recent years that Thomas Robinson, Frank Mason III and Devonte' Graham were all locks to go up — along with Agbaji — no one was even talking about McCormack's case until the Final Four.
For his career, he averaged 10.6 points and 7.0 rebounds per game in 21.9 minutes while appearing in 132 games in four seasons with 96 starts. Those are certainly solid numbers, but those numbers alone do not make anyone think of retiring a player's jersey.
While playing a slightly different role, at a different time, and over three seasons instead of four, future NBA lottery pick Markieff Morris averaged 8.5 points and 6.1 rebounds per game for KU in an average of 19.3 minutes over 109 appearances and 43 starts. When his brother, Marcus Morris, had his jersey go up a couple of seasons ago, people wondered then if Markieff's belonged, as well, and the overwhelming answer was no.
Had Markieff turned in a Final Four performance like McCormack, however, that could have changed things. And that's why we're in the position we're in today with Big Dave.
One other important aspect to consider is the fact that, while the jersey retirements by themselves mean something to KU fans, they mean something entirely different in the recruiting world and for the future of the program.
In case the tradition and mystique surrounding Allen Fieldhouse isn't enough to wow them on their visits, looking up and seeing modern-day names in the rafters like Embiid, an MVP candidate and one of the 10 greatest players in the world today, and Wiggins, an All-Star and the No. 1 overall pick in the 2014 draft, can do a lot for KU's pursuit of the stars of tomorrow.
So it may be worth it to put up those high-profile names even if their KU careers didn't quite make them deserving.
So, given what recently transpired in New Orleans, don't be surprised if the McCormack 33 banner ends up making its way up to the rafters eventually.
It makes a little more sense to sell national champion David McCormack to recruits than career 52% shooter McCormack. Whether they loved him before or were luke warm on him at best, KU fans forever will remember McCormack as a huge part of KU's fourth NCAA title team.