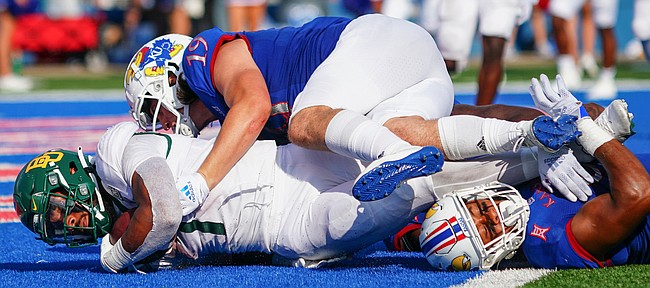 Four games into his first season directing the Kansas football program, head coach Lance Leipold can't help but notice an unpleasant tendency developing: the Jayhawks' opponents are taking command in a hurry once halftime is over.
In KU's two most recent defeats — in Lawrence versus Baylor, and on the road at Duke — the team was outscored 35-3 in the third quarters. On the season, foes hold a decisive 49-13 advantage in third-quarter scoring.
Leipold said Tuesday during his press conference one of the problem areas he looked at this week was KU's second-half scoring. The Jayhawks didn't score a single point in the fourth quarter in losses to Coastal Carolina and Baylor, and opponents are outscoring KU, 48-13, in fourth quarters.
"And the third quarter becomes the most concerning, of course, because we talk about wanting to get games into the fourth quarter," Leipold said of his desire to make the rebuilding program more competitive on game days.
Obviously, KU's coach said, the Jayhawks have to play better in third quarters. The past couple of weeks, KU led at Duke, 24-21, entering the third, and only trailed Baylor, 14-7, when the second half kicked off. Both games began to unravel, Leipold noted, when KU's offense didn't give the team a boost to open the third quarter, and the opponents quickly executed a counterstrike in the form of a touchdown drive.
"Everything that we've battled and built up, that confidence subsides. We've got to maintain that. We've got to answer that," Leipold said. "We've gone into halftime in good positions. And we've got to maintain that confidence, but then also answer."
Even a third quarter that began at Duke this past weekend with true freshman running back Devin Neal breaking a 62-yard rush didn't result in a TD for the Jayhawks (1-3 overall, 0-1 Big 12).
With a potential 10-point lead 13 yards away mere seconds into the third quarter, the offense hit a pot hole in the red zone and had to settle for a 29-yard Jacob Borcila field goal.
"We had the answer and we had a chance to really gain big momentum and we got a little momentum," Leipold said.
The Blue Devils immediately responded with a TD drive, their first of four in the second half.
Third downs on both sides of the ball are contributing to KU's third quarter setbacks. The KU offense was 1-for-9 on third-quarter third downs the past two weeks, and is 4-for-15 on the season. Opponents, meanwhile, have converted nine of their 12 third down plays during third quarters through four games.
From what Leipold has seen, though, he doesn't consider lack of effort to be an issue for his Jayhawks in these lopsided third quarters and second halves. During his long coaching career, Leipold said he has been in situations before when a coaching staff in the midst of changing a culture and direction of a program had different expectations about effort than the players were ready to handle.
"We don't have that right now," Leipold said, adding he's "very proud" of the way players have embraced the effort component of what the staff continues to preach.
Consistency with assignments and execution, KU's coach said, have more to do with games swinging the wrong way for them in third quarters than effort does.
There's also a psychological component to how the Jayhawks respond when a team begins to create some separation. The program's veterans have been on the losing end of numerous blowouts in recent seasons.
However, Leipold said he didn't see much of a "here we go again" response in KU's loss at Duke.
The game was all but officially over when the KU offense took the field with more than five minutes to play.
"You see our guys with urgency and fighting and finding a way to try and score," Leipold said of a drive that included six plays that picked up 9 or more yards.
That particular series included a TD nullified by an offensive pass interference penalty, and concluded with a pass from Jason Bean getting intercepted in the end zone. But what happened before that, the coach said, showed him examples of effort and confidence that he found encouraging. "And that's what I like."
Leipold also insisted he isn't into moral victories. And even though he said the team's confidence and youth could potentially lead to wearing down in the fourth quarter, he thinks if the Jayhawks can get into the final 15 minutes with a victory still in reach the players will respond in a positive fashion.
KU's next chance at conquering its third quarter woes comes on Saturday (6 p.m., FOX Sports 1) at Iowa State (2-2, 0-1).